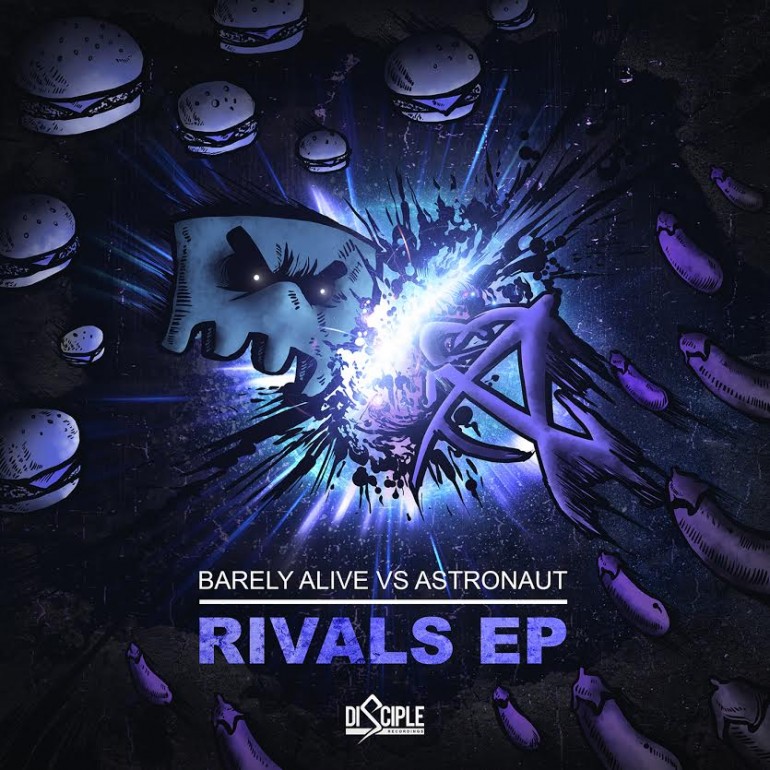 Collaborative EPs are on the rise in EDM, and Astronaut and Barely Alive have combined their talents in the form of the Rivals EP. Both of their styles are evident across all four songs, with Barely Alive's heavy style and Astronaut's lighter and spaced-out style fusing to form a unique sound; one that is very heavy but can still be applied to many different genres.
The EP begins with Rivals, which showcases the mix of the two artists' sounds. Astronaut's spacey synths start the song, with Barely Alive's bass growls foreshadowing the death and destruction that the drop brings. It's a huge Dubstep tune, with a massive sound design signature to Barely Alive taking pride of place in the drop. It doesn't pulverize Astronaut though, as their effects complement Barely Alive's sound in the drop and they also take the reins for the breakdown. A solid opener to the EP.
Bad Fellas brings a change of pace in the form of Glitch Hop, and starts off with a funky beat. It quickly drops into a heavy beat instead, with the bass this time sounding like it's trying to talk. Again both styles are evident, with Astronaut's signature background effects complementing the bass perfectly.
The pace gets faster again with Raga, which sounds somewhat Egyptian before it drops into a glitched-out Electro House tune that could very well have been made by Botnek. It's short and a bit too fast for casual listening, but would go off live with louder speakers to properly respect the mixing and bass.
Some Kind Of Monster closes the EP, and brings low brass and a Glitch Hop beat before it drops into a fuzzy bass with high-pitched, heavily filtered vocals. It reminds you of Justice, except a lot heavier as you'd expect from these two artists.
All in all, Rivals is a diverse EP in terms of the places that the artists go with their styles, characterized by a cacophony of sounds that never let you rest. The styles and sounds unique to Astronaut and Barely Alive are mixed so evenly that it makes it very hard to choose a winner (apart from your ears), and so it's your choice: Team Hamburger or Team Eggplant?
Leave a Reply