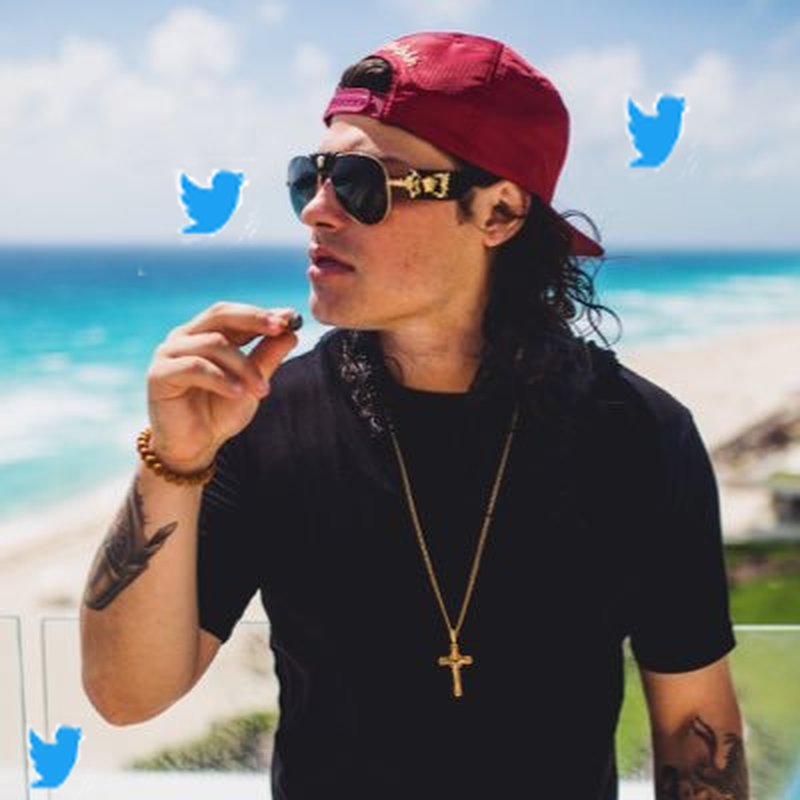 Back in February, we learned about the united front that consisted of artists who were in support of Kesha. During her legal battles with Dr. Luke, Kesha wanted to produce music through other means. Producers and other artists felt that they needed to voice their support for Kesha, and did so in a way that many individuals feel it is best to express themselves; social media. To read more on this, as well as see these tweets, you can go here.
Unfortunately, not all artists have felt called to support Kesha as strongly as the artists like Zedd, Jack Antonoff, Kelly Clarkson, Lorde, and Halsey (amongst others) did. Many individuals take to social media in order to claim less responsibility for something they have said or to e able to easily recant something. One such example is Chris Chronicles (born Christopher van den Hoef), one half of the Big Room duo known as DVBBS.
Early on April 4th, Chris posted this tweet: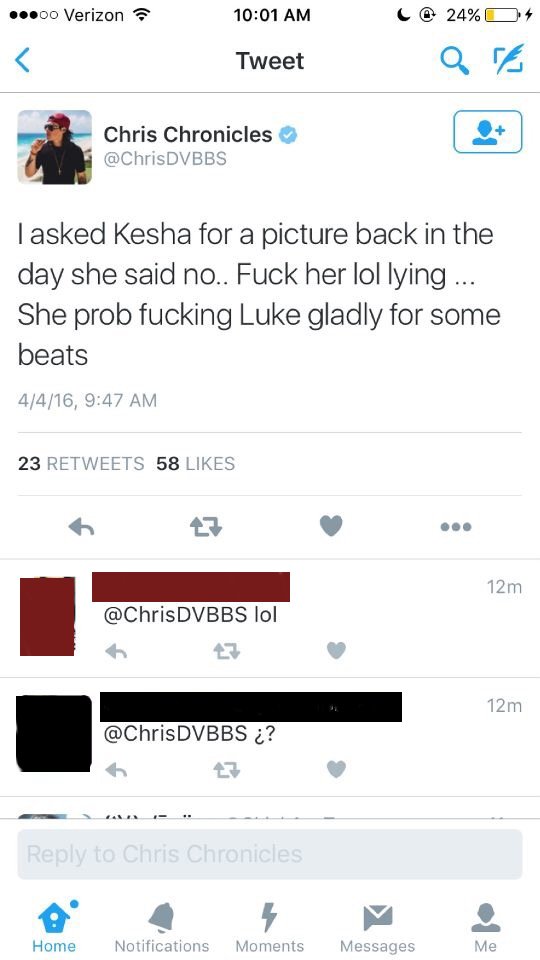 *others involved in the screenshot were made anonymous for their own security*

After tweeting this out, he deleted it. Following deleting the tweet, Chris posted these following tweets.  They are in chronological order from top to bottom:
EDIT: Since the creation of this blog, the tweets have been deleted, these will not link you to anything on Chris' twitter.
https://twitter.com/ChrisDVBBS/status/716986912016244738
https://twitter.com/ChrisDVBBS/status/716987048729554944
https://twitter.com/ChrisDVBBS/status/716998709683179520
Going on with his day as if he didn't say anything after these three tweets is an interesting take.
Assumption is that he was tweeting because of this post on Instagram by Kesha:
Though the case itself has not be in the new lately, you cannot deny that this is still a pretty serious issue that people are advocating both sides off.  Whether you believe that Kesha was lying or that Dr. Luke is lying, there is one think that should be agreed upon by anyon who may be reading this article.
Rape is not something to make sly comments about or something that should be "jokingly" commented on.
By deleting the tweet, Chris admits that what he wrote is wrong and he knows it, no matter what the following tweets are saying.  There is a fine line between being honest and not completely thinking of repercussions before stating something.  It is even a more heavily scrutinized topic when you involve something like rape allegations.
In the final tweet, Chris did apologize for the comments that he made.  The impact, however, was already made, as he showed he was not taking the current situation serious.  Kesha posted on Instagram because she felt that the claim needed to be made public.  Using Instagram is how Kesha often posts important information, considering the extended amount you can post compared to twitter.  Not knowing the validity behind the statement does not give individuals the right to comment on if they believe it to be true or not.
Important Note: I have listened to DVBBS, I have listened to Kesha, and I have even listened to other artists who have been produced by Dr. Luke.  I have not tried to take sides with anyone in this article.  I have, instead, wanted to point out that whether one sides with one person or another in a case like this, it is unfair to make light of the situation.
Leave a Reply