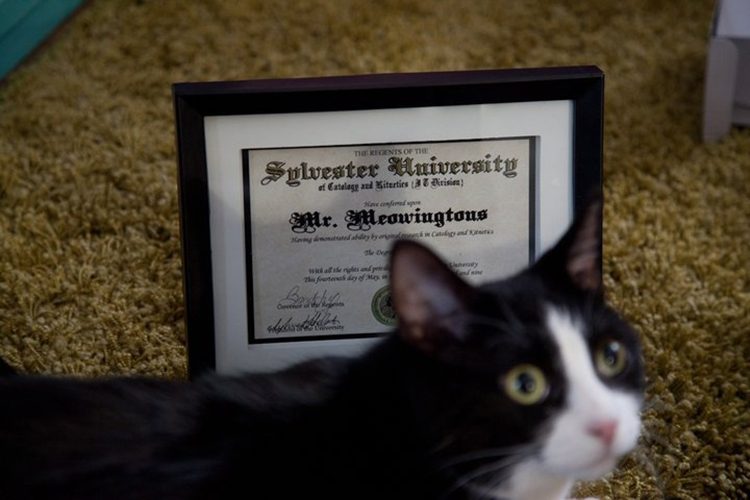 I feel like I am taking crazy pills after reading this properly. Emma Bassiri who owns Meowingtons.com, a site to sell cat stuff, is suing Deadmau5 over "Meowingtons" and "Prof. Meowingtons" trademark. Like, is this for real? Well, back in December 2016, Deadmau5 filed a petition with the U.S. Patent and Trademark Office to cancel the trademark after his own application was rejected.
Now, Bassiri is taking this to court and suing Joel Zimmerman (Deadmau5). Deadmau5 believes she is a fan and aware of his cat's name. She says that is false and is damaging her reputation and business. You can read the full complaint here. The lawsuit is over trademark infringement and unfair competition. She is currently asking the court for a declaration that she has senior use and priority right to the disputed trademark.
A spokeswoman for Bassiri put out this statement Monday:
The act of naming your pet animal is not protected by the trademark laws of any country of which I am aware. The mouse (Zimmerman) is clearly the copycat in this case, and our legal team is confident that Ms. Bassiri, a creative and hardworking entrepreneur who has built a successful online retailing business, Meowingtons.com, inspired by her love of cats, will prevail as the rightful and sole owner of the mark 'Meowingtons.'
Dina LaPolt, Deadmau5's attorney sent The Hollywood Reporter a statement in response to the complaint:
deadmau5 has been extremely generous and attempted to resolve this matter amicably. However, as demonstrated by their legal action, they have no intention to address and remedy their intentional infringement and now attempt to extort and deprive our client of his rights and we will take all available measures to protect and enforce his rights.
Deadmau5 also sent The Hollywood Reporter a statement:
From the very beginning I was working to find a way to resolve this situation amicably. Now I am forced to litigate this woman out of existence. Bye bye Emma Bassiri. I am going to protect the trademark I have been using since 2011.
He also followed up with a number of tweets:
basically if this meowingtons goons win… guys, i hate to say it, but the meowingtons hax world tour NEVER ACTUALLY HAPPENED. lol

— dead mow cinco (@deadmau5) March 15, 2017
the complaint basically says ill need to invent time travel and delete all that stuff while she was still in school.

— dead mow cinco (@deadmau5) March 15, 2017
YES! they never happened. lololol ill also have to rename my cat apparently. https://t.co/CgJXY88HQh

— dead mow cinco (@deadmau5) March 15, 2017
Marty… we have to go back https://t.co/UuCGB8GUMB

— dead mow cinco (@deadmau5) March 15, 2017
sorry @meowingtons your new name might be "dumbshit". I can name a cat after a plaintiff right?

— dead mow cinco (@deadmau5) March 15, 2017
A few things to note. According to whois records, she created the domain name on February 11th, 2014. Deadmau5 adopted in 2010. Emma Bassiri is allegedly from Toronto. Deadmau5's Meowingtons Hax Tour took place in Toronto on November 5th, 2011 as shown below.
Deadmau5's Meowingtons Hax Tour Trax compilation album released on August 25th, 2011 which included Feed Me, Tommy Lee, DJ Aero, Excision, Datsik, Zedd, Moguai, James Njie, and Al Bizzare along with Deadmau5. Seriously, how did this make it to court? We predict an overwhelming win.
Leave a Reply