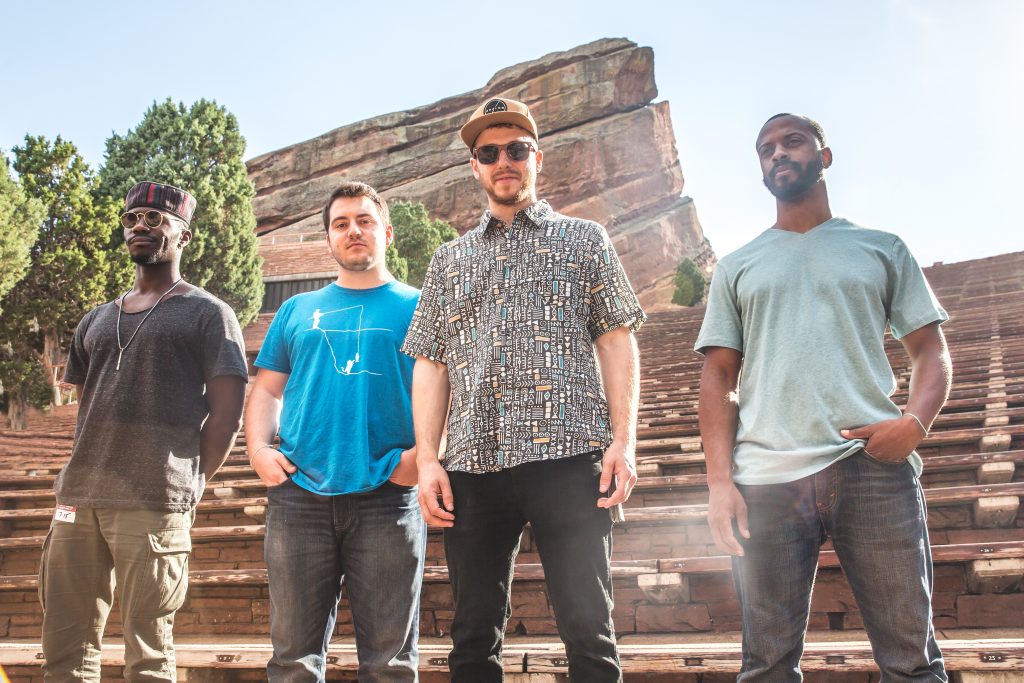 To start off, would you mind introducing yourself and your band for our readers?
My name is Charlie Dolan, and I play for a band called TAUK.
How long have you guys been in a band together?
This configuration of the group has been together for almost five years now. ME, Matt the guitar player the keyboard board player A.C. have been playing since 14 to 15 years old. Isaac, the drummer joined the band four or five years ago.
How did you guys develop your passion to music that directed you towards the current band you're in?
I grew up with the guys, it's always been our parents to encourage us to play music together. We start playing talent shows and pit bands, Jazz bands and parties and then started playing in Manhattan, playing our own shows. It's always been part of our life, always part of the plan. So I think even if we weren't playing together, we'd still be playing music and s-me stuff. Its really just kinda in our blood andin our bones.
Growing up did the band as a whole or you indivudally have any artists or performers who were your motivation to create music?
The cool thing about our band, is that we all come from different musical backgrounds and tastes and we're such good friends that we're able to put all that stuff together and not really try to force anyone's own agenda. Its always been "Oh what do you bring to the table, what do I bring to the table and how can we turn that into something else." So there's a lot of bands that I love. There's bands like Return Forever, Herbie Hancock, Radiohead's is one of the bands that is around now that we all used to go see when came to town. Phish was one of the bands that I used to see a lot when I was younger; they were one of the first. Allman Brothers were one of the first concerts I've ever been too. It blew my mind so I've been going to see good music my entire life.
What's your particular music background?
Definitely listened to rock when younger. Definitely listened to more jazz when I was a little older, got into the jam scene when I was in middle school. I went to school for jazz music and music technology so that's a little bit of the academic background that I got. I would do pit bands and orchestra, and that's a little bit of the classical side as well. It's all over the place.
Your album took a psychedelic/electric twist to it. What was it like creating that kind of sound, that kind of album?
The cool thing about an album for us is that we tour so much, it's our off time. A time to just focus on the music and just really kicking it in new directions. For this album the big part of it is the keyboard, you know that kinda creates the biggest changes in the musical palette.
AC used old keyboards, I don't know if you're familiar you are with Stranger Things, the whole soundtrack to the show is done by the keyboard the Juno. It's also used a lot in this album. Where it has that 80's Synth vibe. But we also use the more modern, Pads and Sounds. There's a lot of atmospheric stuff going on. Probably the most we've ever done on a record like this. It definitely created that –lack of a better word – spacey vibe.   We kind of embrased that, right off the bat we knew we would be going with some sort of space name for the album cause we already know we were heading in that direction.
What has performing been like to you?
That's really our bread and butter, what keeps this train going. We love touring, we love playing for fans. We started developing parts of the country. This next tour that we are doing, we are doing a national tour. It will be our first time headlining a tour on the west coast. It's tough with a long tour, we really have a lot of ups and downs. We really love it. We really appreciate how much we've grown in the past years and seeing that develop every night with people coming out to places we've barely been to, places we've only been to a few times and its growing, its really gratifying. It makes you want to do it more.
What's your favorite event or venue you've played at?
I would have to say Red Rocks in Colorado. We got to play there for the second time this year and it's one of the most special places to pplay on earth, without a doubt.
Can you talk a little bit about how Sir Nebula was created?
Most of the songs were written while we were on the road. We knew we wanted to put out an album. We didn't take a lot of time for ourselves while on tour. Like if we had a day off or a couple days off we were pretty much just spending the time locking ourselves in a room and working stuff out. Once we got time to record, this is the first time we were actually able to just do nothing else but to the whole record from start to end. Normally it would be, alright we have two weeks off from tour. We are gonna do some tracking and a month later we got another week so we just spread it out. This time we got to keep everything, once you get into a zone of listening and playing in a studio its so different than live. There was no changing gears. We were able to stay in gear for the month and a half while we did the whole thing. That was the first time we've been able to do that.
For any young musicians that may be reading, do you have any advice?
A big part of it is just perseverance. There are so many great bands that maybe didn't make it weren't at it for long enough. Like I've been playing with some of these guys for almost 16 years now. We've been trying for  lo ng time. We kept putting out there and seeing how people reacted and how we thought it was working. Kept trying to improve ourselves and what we are doing. There is always room to improve; you just have to keep pushing and not have a big ego about it and develop your craft.
How are fans reacting to the new album?
It's been really great so far. We've been sitting on this record for a little bit. We finished about six months ago, so its kinda old news to me in my mind so it's like now that we finalterada put it out its fresh to all our friends. It's made me excited to see how everyone is reacting to it. It's definitely our most complete work and the ongest record we've put out. I think the most solid and coherent. Haven't seen a bad review yet. I am definitely excited about it, and I think I am glad we waited for this fall tour. Definitely help us push it to the next level.
Do you have any final thoughts?
The fans really push us together and forwards. We appreciate what they've done so far, it seem like we have a long path ahead of us to keep going. It wouldn't seem possible without them. Last night we played a hometown show in New York. It was our first headline show at one of my favorite venues, Brooklyn Bowl. I was our first headline at one of my favorite venues, Brooklyn Bowl. Getting off the stage, it's a dream come true to do what we are doing. It's hard to say how much I appreciate it.
Cover Photo Courtesy of Mason Jar Media
Leave a Reply