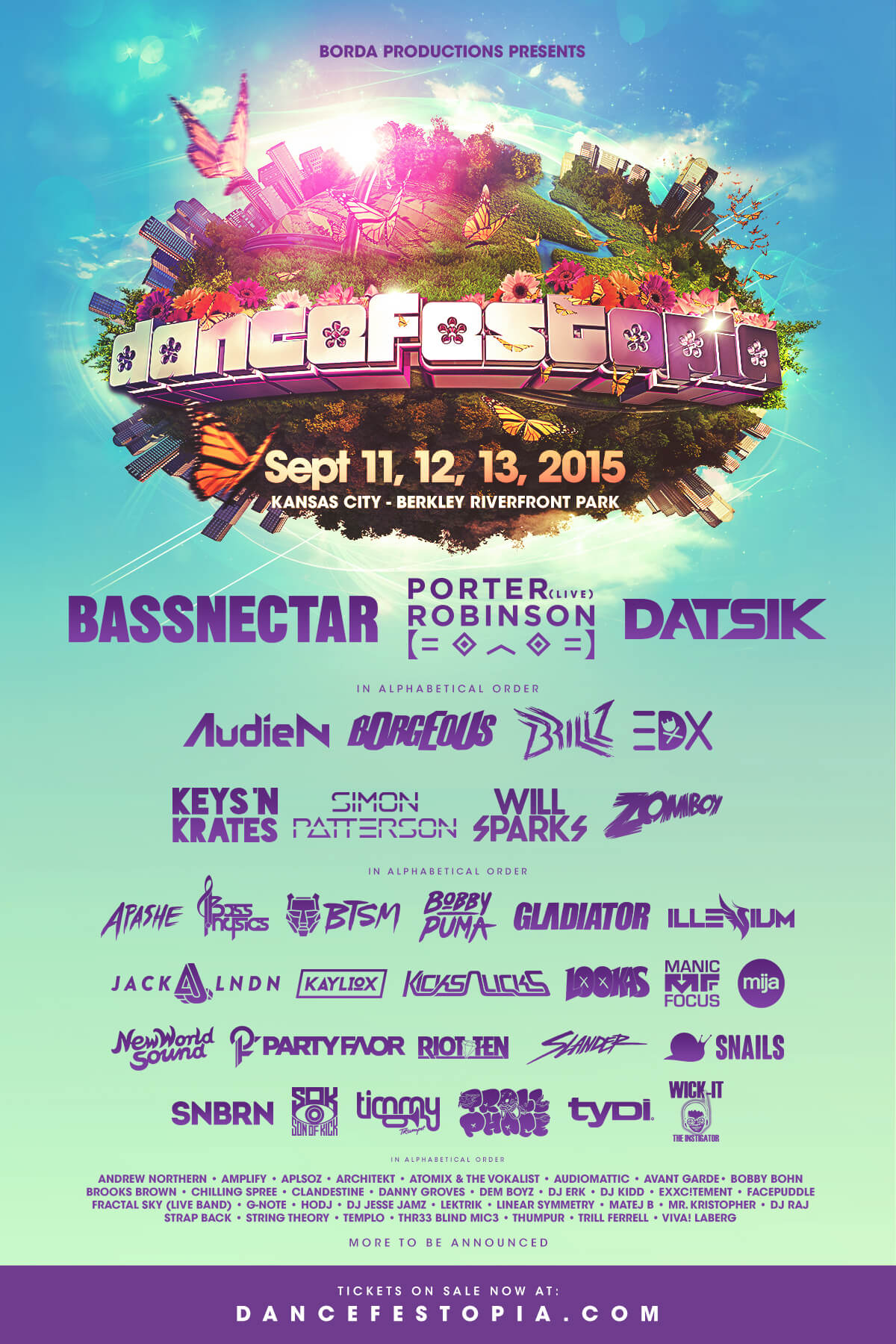 The countdown is finally almost done! We are just days away from one of the biggest festivals of the year. Not only does it feature an insane lineup, but both Grant and I will be attending, representing EDM Assassin when The EDM Families unveil their masterplan to take over the world.
Just kidding. But seriously, The EDM Families (@TheEDMFamilies ) will be at Dancefestopia as part of a concentrated effort to bring the edm families from around the country together. Look for the flyer below for official meetups! Ok, enough of that business, lets get down to what you have all been waiting for, the music.
With 3 full days of 24/7 non-stop music across 3 stages, and more bass than last year, Dancefestopia 2015 is going to be incredible. With acts such as Mija, Bassnectar, EDX, Porter Robinson, Party Favor, Bass Physics, TyDi, Will Sparks, and plenty of local talent, there is certainly something for everyone. As for EDM Assassin, well I am most excited to see Porter Robinson again for the 4th time as well as hometown favorites Bass Physics. Some of the late night sets from Mija and TyDi should prove to be just as fun as those where the sun is just beginning to set, or high in the sky.
Hopefully, a special surprise from EDX comes our way as one of EDM Assassin's closest friends has something huge planned. You might want to make your way over to his set on Saturday before about 7:30pm. You won't want to miss this.
We are also lucky enough to score an interview with the Australian maestro of trance and now multiple genres, TyDi, as I have been a longtime fan and bug him to death on Twitter about meeting him finally. Grant was the lucky one and met him before me… But I think interviewing him and asking about his Aussie title will be extra fun. (Thanks Chez!). Be on the lookout for the interview that will come back as soon as I can get back to town Monday night and get everything uploaded. It will be one wild interview as TyDi goes on at 2:30 on Monday morning.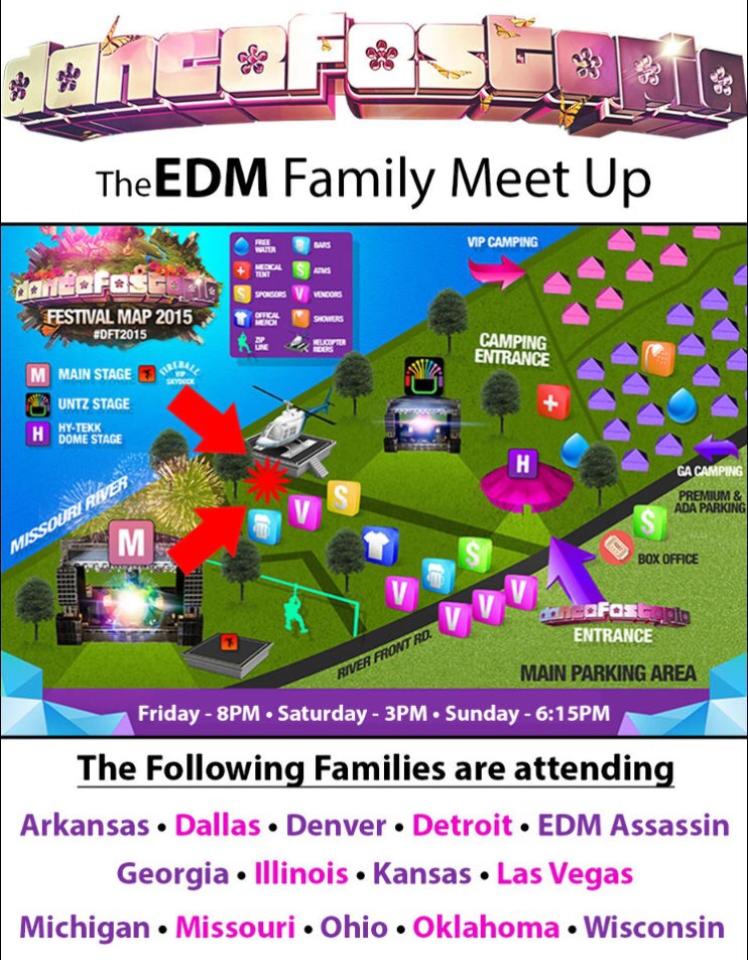 Not only will there be amazing music and plenty of things to do, BUT WE GET TO CAMP. I love camping festivals as they really let you get close with your neighbors (I'm currently dating my neighbor from Euphoria) and party long after the main stage has shut down. Those early mornings and late nights make for tired ravers, but with the amount of fun you'll be having, some gatorade otta do the trick to get you up and going for another day of music. I cannot wait to set up the tent and then never physically go into it as the weather in Kansas City looks to be beautiful the entire weekend!
There are three stages and plenty of local and national artists to check out. I'd recommend Lektrik on Friday, Kannibalean Records Takeover on Saturday, and SC7TH3 on Sunday. There is plenty of music going on 24/7, all you have to do is wander around!
You can check out the official meet-ups in the flyer above! Grant and I have been excited about Dancefestopia and it is FINALLY here. This weekend will be one for the books with the great music, camping, and plenty of good friends. Make sure if you haven't, you get your ass to Dancefestopia and get tickets with camping to come hang with us!
Leave a Reply