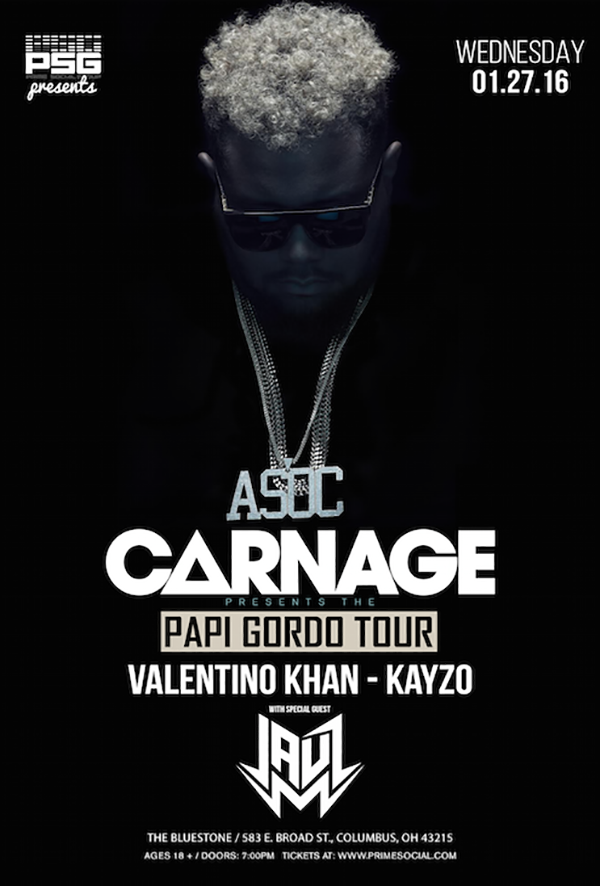 Carnage, also known as self-named Papi Gordo, recently launched his multi-city, United States tour. Within less than two weeks, Carnage has made his mark in more 8 cities spanning from Louisiana all the way to the Midwest. Tomorrow, Carnage brings his sound to Columbus, OH at the Bluestone where big named artists such as Excision, Above & Beyond, and Griz have performed in months passed. The Bluestone is a remodeled church that lies in the heart of Columbus is definitely a crowd favorite in terms of venues. Although it is a smaller space, it creates a very intimate show for guests which overall enhances the experience.
With the help of hardstyle producer Kayzo, Valentino Khan, and the renowned bass house king, Jauz, this show is going to be huge. Kayzo rose to the surface in the past year after wowing EDM lovers with his hardstyle beats and versatile festival sets so having the show open with his set will really get the party going. It was made clear in 2014 when Valetino Khan was last in Columbus for Skrillex's tour that he absolutely loved playing in this city. His ability to hype up a crowd for the main act is insane and we're so ready to see what he comes up with.
Jauz shot to the top of EDM charts in 2015 with his bass house beats and filthy mixes that were just too hard ignore. He is sure to leave the crowd wanting more which is when Carnage will come in and do what he does best. This show is sure to bring out the real music lovers of Columbus and is bound to create some more.
I've personally been waiting for this show for a few weeks and I'm excited to see what each of the artists have up their sleeve for this show. Papi Gordo is known for leaving his crowds wowed and impressed which I know I will be by the end of this event!
Leave a Reply