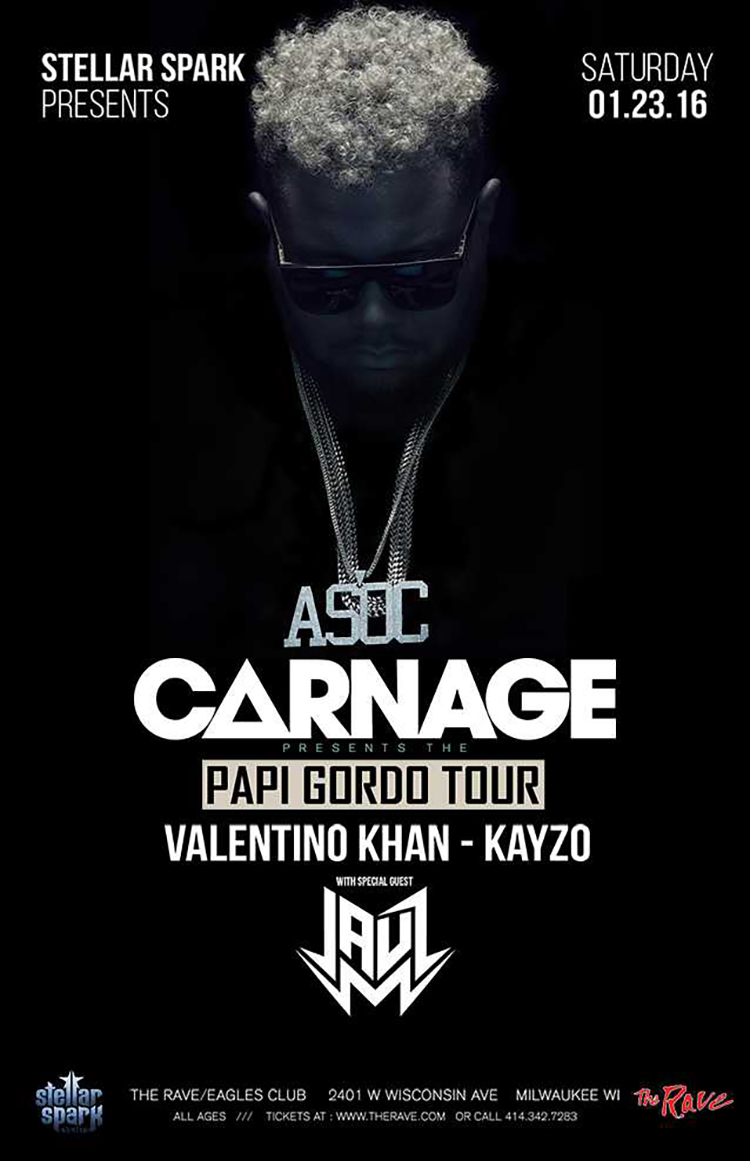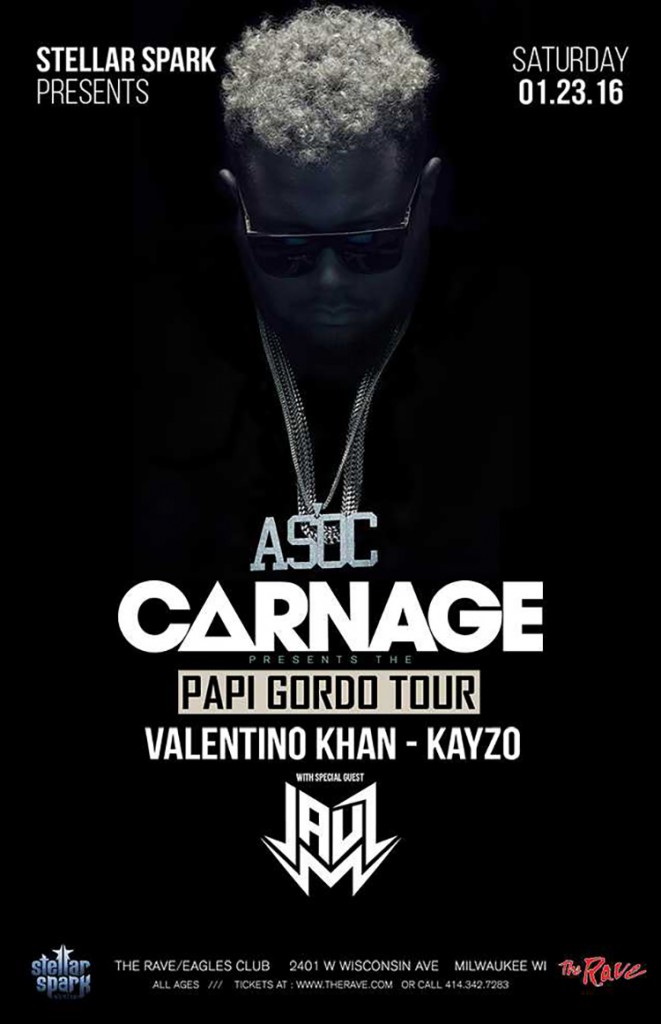 This Saturday, January 23rd, the EDM and hip-hop prodigy known as DJ Carnage will be hitting the decks at a sold out show in Milwaukee, WI at The Rave/Eagles Ballroom alongside supporting acts from Valentino Khan, Jauz, and Kayzo. This stop is just one of many along his Papi Gordo tour which spans all across the US, and is a follow up to support the release of his recent debut album, Papi Gordo. The album features many legendary acts, such as Ty Dolla $ign, Milo & Otis, Migos, Rick Ross, and many more.
One of the supporting acts, Valentino Khan, has become a massive hit over summer with his single "Deep Down Low", which has been awarded the most played song by DJ's everywhere. Valentino produces it all, from fast paced trap, to house anthems, to heavy hitting hardstyle. Personally, Valentino would even be considered one of my top 5 artists.
Another one of the supporting artists would be Kayzo. While the tide of EDM has led many artists to start producing slower, "deeper" music, that is not the case with Kayzo. The sounds of Kayzo's hardstyle and trap will undoubtedly keep an audience jumping, moshing, and on their toes for the entirety of the show.
The final supporting act, Jauz, is no amateur when it comes to EDM. Ever since his massive track "Feel the Volume" was released, Jauz has been playing main stages all over the world. He has acquired much success with other unbelievable singles, such as "Rock the Party", "Get On Up", and his remix of "Plur Police". He is definitely an artist you won't want to miss.
In case you've never heard of The Rave/Eagles Ballroom, it is a venue located in Milwaukee, WI which holds 8 different clubs. The capacity of these clubs vary all the way from 400-4000 people. While this show may be sold out, the tour will be making multiple other stops across the US, and with some of these artists and more playing at each stop, it'd be foolish to miss out on such a show. If you cannot make it to this show but wish to catch another tour date, click here.
These shows are selling out left and right, so make sure you cop your tickets quickly! You don't want to miss out on this massive tour.
Leave a Reply