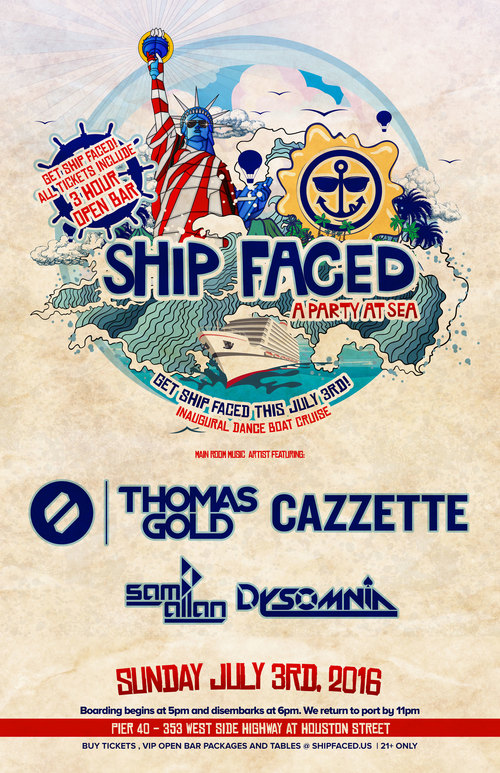 The inaugural voyage of Ship Faced on the Hornblower Infinity yacht will be on Sunday, July 3rd, out of Pier 40 in New York. Thomas Gold, Cazzette, Sam Allan and Dysomnia will be performing on this five-hour cruise.
I've only seen the duo, Cazzette perform out of the artists released. However, Sam Allan and Dysomnia are New York's own so I'm, of course, excited to see how they do. I have never seen a performance on a yacht before so this is going to be an awesome experience, in my opinion.  Its the first time this is happening here, so it is going to be an interesting experience for sure.  I cannot wait.
In the original announcement that came out earlier this moth, the tickets were released and so was information on the yacht.
Pier 40's address: 353 West Side Highway at Houston Street
Boarding begins at 5:00pm, leaving at 6:00pm and arrives back 5 hours later at 11:00pm.
Hornblower Infinity yacht is 210-feet and will hold 1,200 guests.
There will be a three-hour open bar.
Below you can check out some of the music from these artists to hold you over until Sunday afternoon.
[soundcloud url="https://api.soundcloud.com/tracks/226098682″ params="color=ff5500&auto_play=false&hide_related=false&show_comments=true&show_user=true&show_reposts=false" width="100%" height="166″ iframe="true" /]
[soundcloud url="https://api.soundcloud.com/tracks/158625286″ params="color=ff5500&auto_play=false&hide_related=false&show_comments=true&show_user=true&show_reposts=false" width="100%" height="166″ iframe="true" /]
[soundcloud url="https://api.soundcloud.com/tracks/230475238″ params="color=ff5500&auto_play=false&hide_related=false&show_comments=true&show_user=true&show_reposts=false" width="100%" height="166″ iframe="true" /]
[soundcloud url="https://api.soundcloud.com/tracks/163556789″ params="color=ff5500&auto_play=false&hide_related=false&show_comments=true&show_user=true&show_reposts=false" width="100%" height="166″ iframe="true" /]
[soundcloud url="https://api.soundcloud.com/tracks/146489605″ params="color=ff5500&auto_play=false&hide_related=false&show_comments=true&show_user=true&show_reposts=false" width="100%" height="166″ iframe="true" /]
[soundcloud url="https://api.soundcloud.com/tracks/148411220″ params="color=ff5500&auto_play=false&hide_related=false&show_comments=true&show_user=true&show_reposts=false" width="100%" height="166″ iframe="true" /]
Leave a Reply