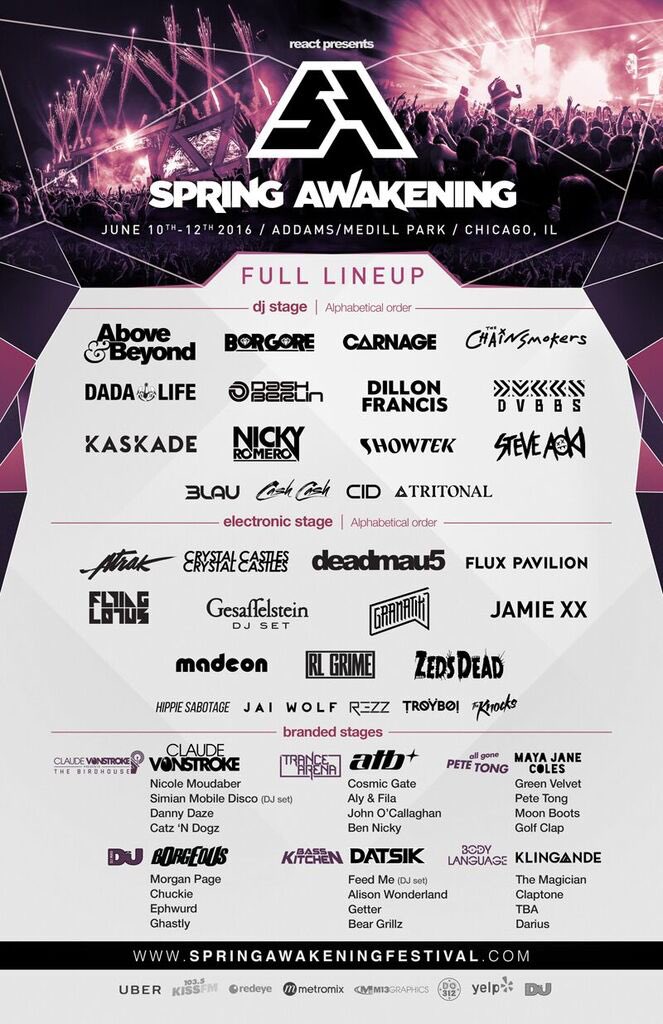 Who's ready for one of Chicago's biggest EDM festivals? Spring Awakening is back again on its fifth year with a new location! They definitely didn't disappoint on the lineup this year as well. It may not be as bass heavy as other years, however if you're a fan of techno or house.. This lineup is a wonderland. Another thing is… how often do you get a chance to see deadmau5? I've been dying to see him for at least five years now, and that wish will finally be fulfilled. Another person I finally get to experience a set from is Madeon. If you've followed him from his beginning, you've seen how far he's come for his age and his creativity is next level. There's plenty of other big names on the lineup such as Kaskade, Zeds Dead, Above & Beyond, The Chainsmokers, you name it!
The curated stages also are going to be very interesting to see as they're going to be in tents. Friday you've got the Bass Kitchen lead by Datsik, Bear Grillz, Alison Wonderland and Feed Me, as well as the Body Language stage ran by Klingande, The Magician, Claptone, Autograf and Darius. On Friday I personally will be in the Bass Kitchen most of the day because no matter how much I love my house I've got to get my fill of bass for the weekend. On Friday there's also Deadmau5, Flux Pavilion, Steve Aoki, Dillon Francis and many others headlining on the DJ and Electronic stages, which are the two "main stages" so to speak. To compare with other years, the DJ Stage is like the main stage which was in Soldier Field, whereas the Electronic Stage is more like the Equinox Stage from past years.
Saturday you've got the Trance Arena and the Bird House as your curated stages. The Trance Arena will be run by ATB, Cosmic Gate, Aly & Fila, John O'Callaghan and Ben Nicky. The Bird House, is ran by none other than Claude VonStroke, Nicole Moudaber, a DJ Set from Simian Mobile Disco, Danny Daze and Catz 'N Dogz. And that's not all for you house fans, Gesaffelstein is also playing a DJ set on the Electronic Stage. Other notable names that day are Kaskade, Zeds Dead, Nicky Romero, Flying Lotus, and the scratch master A-Trak. SAMF always tends to make their Saturday the best day as well so if you can only make it to the festival for one day, this is the one to go to!
Last but not least, on Sunday you've got your curated stages being the DJ Mag Stage and All Gone Pete Tong stage. The DJ Mag Stage being run by Borgeous, Morgan Page, Chuckie, Ephwurd, and Ghastly. Also, on the All Gone Pete Tong stage you'll have Maya Jane Coles, Green Velvet, the man himself Pete Tong, Moon Boots and Golf Clap. Now call me crazy but I wouldn't be too surprised if Claude VonStroke came out during Green Velvet's set or vice versa on Saturday and they played as their duo Get Real. And that would be one for the books let me tell you, I sadly couldn't catch them on New Years but I heard nothing but positive words of that set.
So apart from the various types of music here, there's plenty of other amenities that SAMF has to offer! They have free water fountains spread out around the festival for safety since it can get real hot when you're dancing for hours on end, especially at the tented stages where the heat can't escape as well. There will also be the Celebrate Safe team present at the festival that will provide free water to people that need it, and they also have a direct line to medical and safety staff so if you or someone else needs help don't hesitate to ask them! Their tents will be easy to find. There will also be ATMs around the festival in case you forget to bring cash and a certain vendor only accepts cash, or if you just feel more comfortable using cash and then putting your card away for the weekend. Out of sight, out of mind and cash allows you to limit yourself! Also as a recommendation personally, if it rains even the slightest bit your shoes will get really muddy so I'd recommend not wearing your nicest pair of shoes to the festival each day.
The gates open to the festival each day at 1 PM CST, and the last acts end at 10 PM CST each day, stay safe and stay hydrated! Let's make this year another great year for Spring Awakening and welcome festival season with open arms. Who are you most excited to see? Any schedule conflicts you need a second opinion on? Let us know on Twitter or Facebook, see you all there!
Leave a Reply