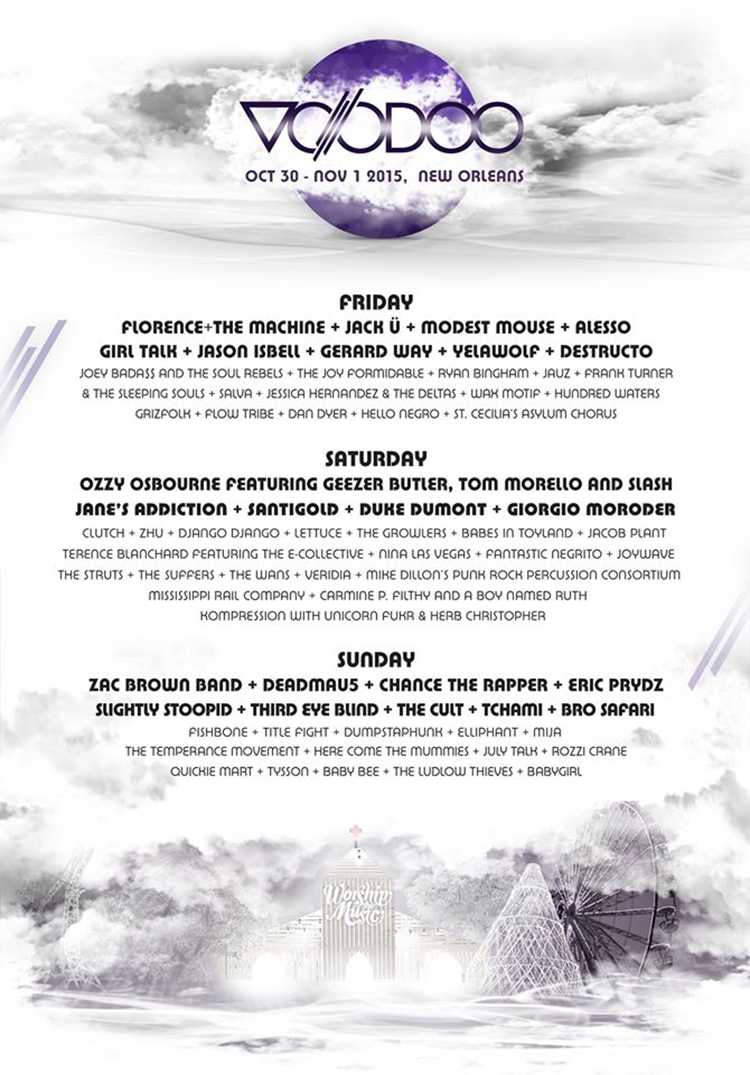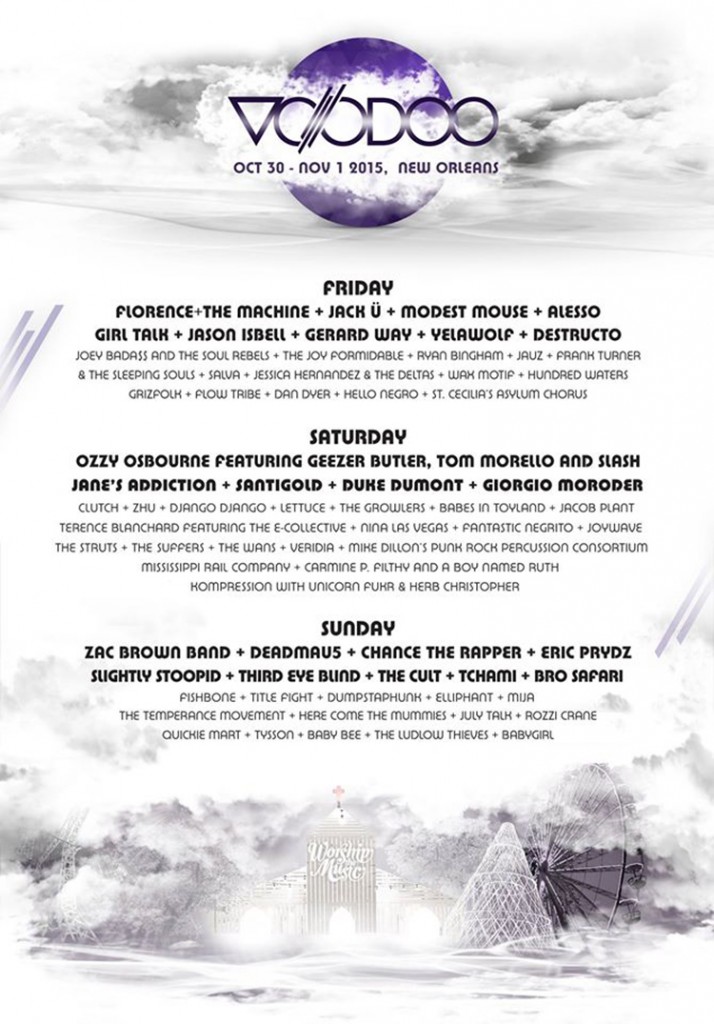 It's almost mid-October and my favorite holiday, Halloween! This year, i'm attending my first Voodoo Festival in New Orleans, Louisiana. Despite being born and raised in South Louisiana, I've never been to Voodoo and I'm really excited about the hugely diverse lineup ranging from Jack Ü, to Florence and the Machines, to Ozzy Osbourne, to the Zac Brown Band. There's a stage and artist for literally everyone in your family.
A little history about the festival for noobs like myself, Voodoo is a cultural music festival held around Halloween in NoLa.  It was started 15 years ago and is known widely for bringing in artists from every genre. Metallica, Ozzy(who's headlining this year), Green Day, 50 Cent, The Cure, Tiesto, Eminem, and deadmau5(also headlining this year) are a few examples of previous talent. The city of New Orleans itself is known for being the melting pot of cultures, art, food, and music, so imagine all of those thrown into a three-day festival and you've got Voodoo Fest.
Each year Voodoo features four stages: Altar, Carnival, Le Plur, and Flambeau. The Le Plur stage was an addition made in 2011 to accommodate the rapidly growing electronic dance music genre. This year, Le Plur is hosting some of my personal favorites and where I'll be spending most of my time. Aside from seeing my highschool crush, Gerard Way of My Chemical Romance, and of course the legend Ozzy Osborne being accompanied by Slash and Tom Morello. Artists of Le Plur stage range from Bro Safari to Steve Angello and everywhere in between. But the three sets i'm most excited to see are Mija, Jauz, and Zhu.
Mija is an up-incoming female producer, signed to OWSLA earlier this year. Killing the industry with her anti-genre style, and playing nearly every major festival this summer she's definitely not one to miss. Mija is set to play for an hour on Le Plur stage Sunday at 2:15.
Jauz, another artists recognized for not being sorted into a genre, also takes Le Plur this year. Friday at 4:50, wander over to hear some wubs and listen to his new tracks like one of my new favorites, a collaboration with duo Ephwurd titled Rock the Party.
Zhu, well not much is really known about him, but that's okay because that's how he likes it. But his mystery is only half of the fun, as I can promise you the he throws out some amazing tracks. He is closing out the Carnival Stage on Saturday at 9:25 so if there's any time to catch me, I guarantee I'll be in the crowd for this set.
I've thrown together a few tracks I think are perfect to prepare yourself for the EDM aspect of Voodoo Fest, get familiar with the artists, or just fall in love with. Now excuse me while I go plan my Halloween costume!
[soundcloud url="https://api.soundcloud.com/tracks/220835785″ params="color=ff5500&auto_play=false&hide_related=false&show_comments=true&show_user=true&show_reposts=false" width="100%" height="166″ iframe="true" /]
[soundcloud url="https://api.soundcloud.com/tracks/193270660″ params="color=ff5500&auto_play=false&hide_related=false&show_comments=true&show_user=true&show_reposts=false" width="100%" height="166″ iframe="true" /]
[soundcloud url="https://api.soundcloud.com/tracks/224168057″ params="color=ff5500&auto_play=false&hide_related=false&show_comments=true&show_user=true&show_reposts=false" width="100%" height="166″ iframe="true" /]
[soundcloud url="https://api.soundcloud.com/tracks/7907153″ params="color=ff5500&auto_play=false&hide_related=false&show_comments=true&show_user=true&show_reposts=false" width="100%" height="166″ iframe="true" /]
[soundcloud url="https://api.soundcloud.com/tracks/216135918″ params="color=ff5500&auto_play=false&hide_related=false&show_comments=true&show_user=true&show_reposts=false" width="100%" height="166″ iframe="true" /]
[soundcloud url="https://api.soundcloud.com/tracks/215165843″ params="color=ff5500&auto_play=false&hide_related=false&show_comments=true&show_user=true&show_reposts=false" width="100%" height="166″ iframe="true" /]
Leave a Reply