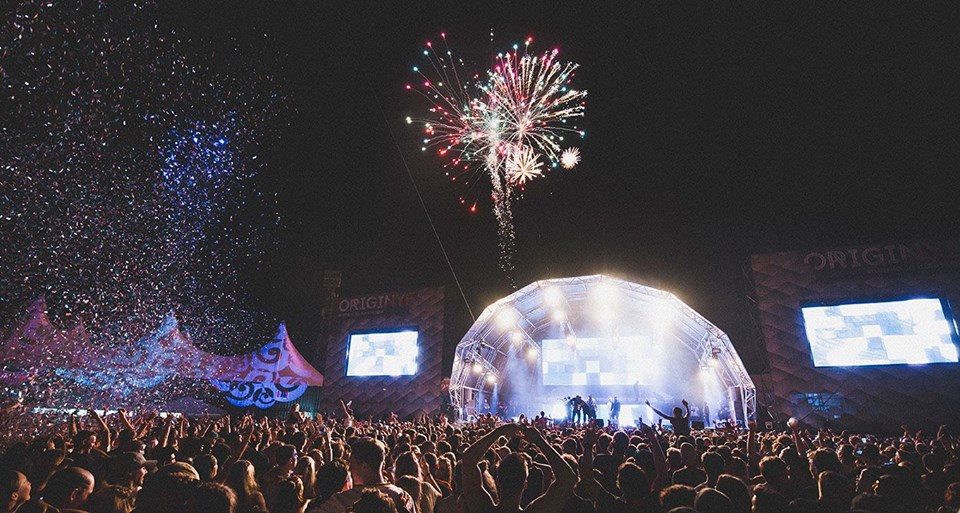 It may be surprising to find that one of the biggest New Year's Eve electronic music festivals in the world is in one of the most isolated cities in the world, but having gone to it for the last two years it's easy to see why it's so successful. The lineup is always quality and caters to multiple tastes in music. It's very well run and a lot of fun. And now 10 years in, there's only one way for the festival: up.
The lineup was absolute quality. Look at the set times below and try to pick who you'd see. Clashes are guaranteed. Even though people were initially unhappy about so much clashing, given the calibre of the lineup I think the organisers did very well.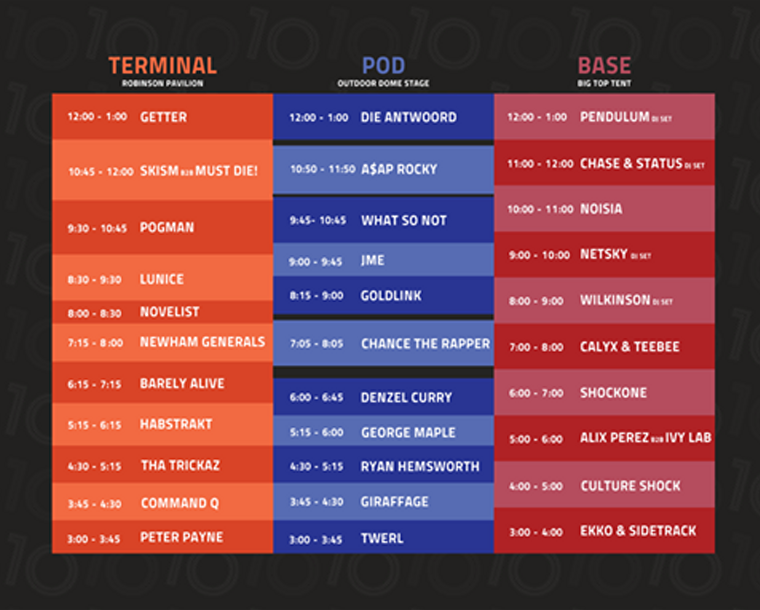 Origin 2016 was held in a venue that it saw great success in last year. Set in a portion of the Showgrounds, there was enough room for three stages and areas for people to relax in. There was enough room for food trucks, bars, toilets and the other necessities of a large festival. Layout wise, it was planned well with the sole exception of crowds bottlenecking around the food trucks at dinner time, and long 15-20 minute lines for each truck. However, there were no lines for the toilets and it did not take much time at all to get in to the one stage inside a pavilion, or get drinks at the bar.
My one other (minor) grievance regarding the layout was that the venue was brimming with people everywhere you went around the Pod and Base areas, and I would have appreciated a slightly larger space, which would have been entirely possible given that the festival occupied about a quarter (if that) of the Showground area. It wasn't unsafe at all, but it just would have been more enjoyable with a little bit more room.
The festival opened at 3PM, and I got there an hour later along with very large crowds of (mostly) intoxicated and drugged people. Outside the venue I walked past girls lying down vomiting, guys dragging their staggering friends away from the venue and thousands of people heading towards the entrance: one five metre wide gate. After going past the initial security check at that gate (which was there to bounce anyone obviously too messed up), I got through the ticket and bag check lines within 2-3 minutes. I was very impressed. Not only that, there were hardly any obviously messed up people when I got inside. Key word being "obviously". So essentially, security did their job well, and they did it efficiently.
Before going to the first set, I dropped by the bar and the toilets, and as I said above there was minimal waiting. $12 for a can of spirits and cola was standard festival pricing (but still a rip off in the average punter's eyes), so it's no wonder that a large amount of people try to get their own alcohol in every year. There was a used condom in the toilet. Expected.
Next I headed to the Terminal (warehouse) stage for Tha Trickaz, but caught the end of hometown heroes Command Q first. Known for having a live drum set up for one of them to play with their Trap oriented tunes, I immediately wondered why that set up wasn't more popular. It was another level to see one of the members go to the kit and bash away at one of their songs. Definitely a winning formula. They finished off the set by premiering an unreleased tune of theirs, a collaboration with fellow hometown hero ShockOne, and his sister Reija Lee. It's an absolute TUNE. Get excited.
Tha Trickaz have been producing for over 12 years, and even though Pho wasn't able to make it to Australia, iRaize still did an awesome job behind the decks. He played a lot of their collaborations with other Trap artists (such as Antiserum and Apashe), and also played a lot of music off their forthcoming album. A song called Shit The Bed was one of my favorites, which they've actually released in the day or two between the festival performance and the time of writing of this article. I can also confirm that their Getter & Trollphace collab, as well as Otomatic (with ETC!ETC!) are face melters. Get really excited.
Habstrakt was up next, and I was keen to see him as I'd wanted to for a while and he had been recommended by multiple people. He started off his set with Dubstep then went to Breaks, and even though the music he played was seriously hard, the mixing was fast paced and he engaged with the crowd well, I found it underwhelming, so I left early. I'm putting it down to personal taste in music though, and still will probably see him again if I get the chance.
Another reason that I left Habstrakt early was so that I didn't miss out on Alix Perez b2b Ivy Lab, which was much more to my taste than Habstrakt. Only one member of Ivy Lab made it to Australia (Halogenix), which was a bit disappointing, but that being said they killed it with a unique mix of deep beats and Drum and Bass skankers, which is exactly what they're known for.
ShockOne was next, and having seen him before and been blown away I had high expectations. He did not disappoint. His MC killed it yet again, and he even invited Reija Lee out to sing their song Home. Chaos Theory went off, as did Harmonize, as did Crucify Me, as did all of his other songs that he played. He also premiered another killer DnB tune that I think is called Here Comes The Night, along with a Dubstep smasher too. Given the Command Q collab happening along with those, he's probably got an EP coming soon. Hopefully an album. We'll see. Either way it's gonna be awesome.
Barely Alive was next, and he killed it. He knows how to make an audience go wild, that's for sure, and I joined in the fun. He played a few unreleased songs, but the song that struck gold was a remix of Snails & Pegboard Nerds' Deep In The Night. I think it's by him (not sure), but what I do know is that it's utter filth.
I want to stop here to praise the security guards again. I was trying to take pictures of Barely Alive, and the guard behind the barrier asked me for my phone and took a video of him playing It's Chodegang Motherfucker and the crowd going bonkers, which was very much appreciated even though the quality was very poor. Not only this, later in the night they gave out free water bottles to everyone at the front of the crowd, which definitely saved me, and probably many others.
Next up I stopped partying to have dinner, and after waiting 20 minutes in line to pay $11 for a soggy burrito with a few slices of chicken and a bit of lettuce I sat and watched the main stage. Twerl were playing bangers, but I got confused when I remembered that they were meant to have opened the festival at 3PM. It turned out that Chance The Rapper had had his flight delayed, which made for an unhappy crowd. Toi be fair though, given the very late notice it wasn't possible for Origin to do anything about it except ask the DJs to play and let everyone know what was happening via social media.
After a bit of a rest I entered the DnB tent (Pod), to remain there for the next 4 and a half hours. I caught the last half of Wilkinson's set, and wished that I caught the first half. He's as good at DJing as he is producing DnB, although his quality productions certainly helped set the vibe. He played quite a few songs from his upcoming album Hypnotic, and like all the previous acts that I saw who are gearing up for a release, it was deadly.
Netsky was next, and played a DJ set that would more than appease any fan of his. He played a lot of his back catalogue, from the radio oriented tunes like Rio to classics like Memory Lane, and even my personal favourite of his, Go 2. Then Noisia came on, but like Ivy Lab only one of the three members was there. Like Netsky, he played a lot of his own music, and it went down an absolute treat. Especially Dead Limit, Tentacles and Asteroids. If either of Netsky or Noisia play near you, drop everything and get a ticket. You won't regret it.
Chase & Status were next with their MC, although only Chase was behind the decks. I hadn't been a huge fan previously, but it's fair to say that I got schooled. It turns out they're releasing another album this year, and from the four or five new songs that I heard they're stepping away from radio friendly Breaks back into filthy DnB territory, and they're better at it than ever. Another great experience, especially their MC counting down to New Year.
The final act of the night was a Pendulum DJ Set, except this one was special because Rob and Gareth played with El Hornet. The three original members were there, and they played the crowd like a fiddle. They started with an unidentifiable intro before dropping into Witchcraft. After that they played underground DnB for most of the set, which was not exactly what I was expecting from them, but was still awesome. The Island and a DnB remix of Bonfire went down a treat, as did unreleased VIPs of Blood Sugar and their Voodoo People remix. I really, really hope that both of those get released. Unfortunately there were no obvious Pendulum IDs apart from those two, so we'll still have to wait and see if they premiere anything when they play live again at Nova Rock festival later this year. Either way, it was the highlight of the night for me as a die hard fan, even though a drugged guy tried to jump on stage (and failed miserably). The crowd stayed for at least 10 minutes after they finished yelling "encore" and "one more song", if that's an indicator of how good they were.
All in all, Origin 2016 was a great experience, and even though there were some minor issues it was very well run, and the lineup was second to none. Credit to the team behind it for running it as smoothly as they did, and here's hoping that the winning formula will be continued next year.
Photo Credits: Origin NYE Facebook Page
Leave a Reply