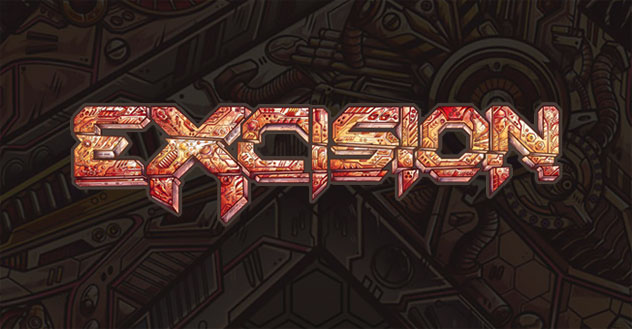 "Am I ready for this?" <– That's one question you need to ask yourself before listening to the newest Shambhala mix that Excision has released today. Once you start, you're not going to want to stop because it goes so hard the entire time. Excision is still fairly new to me, I just started listening to him after I saw him kill it at Imagine, and this mix is easily one of the best things I have ever heard. Seeing him at Imagine completely blew my mind, the visuals and the drops he played just fit the vibe so perfectly. After I heard he had a new mix coming out, I was pumped so that I could relive the fun I had at Imagine.
This. Mix. Is. Bonkers. There is no other adjective to describe it. Excision, aka Jeff Able, went his absolute hardest in producing this for Shambhala. There is not one moment in the mix where what he drops isn't straight filth. If you're a headbanger (which I don't see how you wouldn't be if you're listening to Excision), you're going to need a neck brace for this. Listen to the mix below:
In addition to the announcement of the Shambhala mix, he also has a new single out called "The Paradox" along with the announcement of a 2017 tour on the way.
2016 Sham mix approximately a week away from release, new album about a month away, tour announce a few weeks after album.

— Excision (@Excision) September 1, 2016
Excision 2016 Mix Compilation Tracklist
The Paradox -Excision
Swipe My Swords – The Frim
Plug Me In – Dion Timmer
Game Over – Lookas & Crankdat
BATman – Mantis
Kill Em (feat. Messinian) – The Frim
Final Boss – Dion Timmer & Excision
Party Drink Smoke (feat. Jarren Benton) – Doctor P & Flux Pavilion
Scoop (Mayhem & Antiserum Remix) – Barely Alive
Full Control – Ray Volpe
Bang – Wavedash
Back On Top – Bear Grillz
Destruktion – LAXX & Brillz
This Is Good Dubstep (feat. Phetsta) – ShockOne
Emotional (Must Die! Remix) – Flux Pavilion & Matthew Koma
Lights Out – Zomboy
Jotaro – Phiso Raxx – Benasis & Cherney
Armada – Black Tiger Sex Machine & LeKtriQue
White Flag (Tisoki Remix) – Delta Heavy
Wifi Tears – Slips & Slurs & Mihka!
Fresh (feat. DJ Skillz) [Basstrick Remix] – TBBT & Dirty Zblu
Wonderbread – Debroka & TYNVN
Hugs and Stuff – Spag Heddy
Heartbit (feat. Tia Simone) [Sikdope Remix] – Pegboard Nerds
Fuk Ur Management (Snails Remix) – Kill The Noise
Codename X (Virtual Riot Remix) – Excision
Leave a Reply