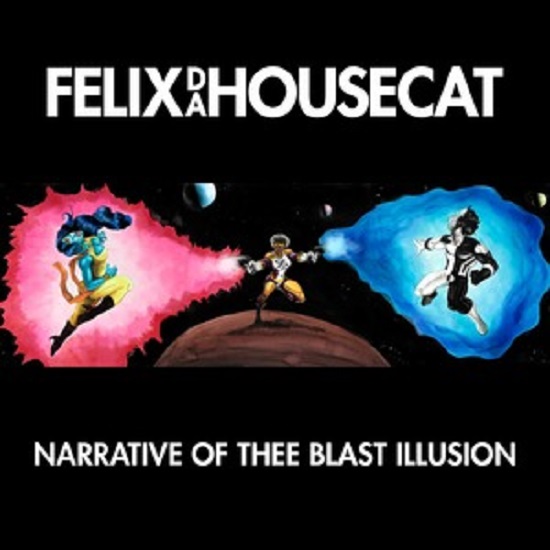 Felix in his element. The 11 track album titled Narrative Of Thee Blast Illusion will be far more than a record to make some money and see people dance. In Felix's own words "My intention is not to make a million from this album. It's all about moods."
Due out on New York's No Shame imprint July 10th, Narrative Of Thee Blast Illusion combines the best of Felix and will showcase his ability to evolve while still hold the audiences attention.
The first single from the album is currently out, "Is Everything OK" and can be heard below. The album can be pre-ordered on iTunes, where you'll also find the first single available for purchase.
Narrative Of Thee Blast Illusion is one album to make sure you include in your catalog this summer, especially if you plan to see Felix live.
World Tour Dates
Fri Jun 5: Prince Charles, Berlin, Germany
Sat Jun 13: Pacha, Ibiza, Spain
Fri Jun 19: Almogavers 86, Barcelona, Spain
Sat Jun 20: Zilvermeer, Mol, Belgium
Sat Jun 27: Pratersauna, Vienna, Austria
Sun Jun 28: Scorpios Beach Club, Mykonos, Greece
Thu Jul 2: Verboten, NYC USA
Fri Jul 3: Temple, San Francisco, USA
Fri Jul 10: Sound Nightclub, Los Angeles, USA
Sat Jul 11: Mamby On The Beach, Chicago, USA
Fri Jul 17: Provocateur, Dubai, UAE
Thu Jul 23: The Day Before Tomorrow, Antwerp, Belgium
Sat Aug 1: Country Club, Porto Rotondo Sardinia, Italy
Fri Aug 7: Razzmatazz, Barcelona, Spain
Wed Aug 12: Kitsch, Knokke, Belgium
Sat Aug 22: Vista Club, Ibiza, Spain
Fri Aug 28: Kyo, Singapore
Sat Aug 29: Ku De Ta, Bali, Indonesia
Fri Sept 4: Bar Rouge, Shanghai, China
Sat Sept 5: Vision, Tokyo, Japan
Leave a Reply