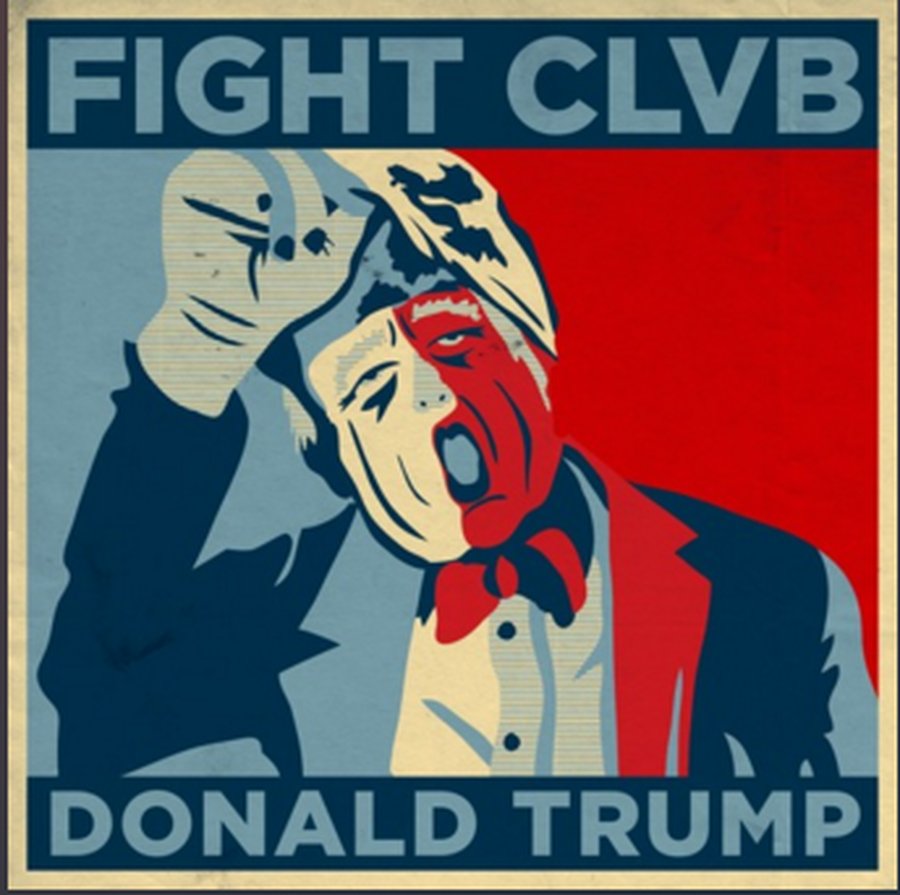 When it comes to EDM jokes are made about those in the spotlight all the time. The latest to get this treatment is Donald J Trump. About two weeks ago FIGHT CLVB released a new track entitled Donald Trump. The song is right up their alley with heavy bass, a huge build and a trap drop. At the end of the article is the Soundcloud track and the Music Video for the track.
Before getting into this discussion, the First Amendment allows for freedom of religion and freedom of expression with no fear of the government being involved. For our purposes, freedom of expression means speech, press, assembly, and allows for the public to petition the government for a redress of grievances, and the implied rights of association and belief.
That being said, it is unfortunate, the man who is running to be the Republican Candidate does not like that his name is being used in such a "profane" way as FIGHT CLVB is doing. By profane way we mean the track, as far as vocals go, only use 4 words. Those words being "Donald", "Trump", "Mother", and "Fucking".
When Mr. Trump's campaign found out about the track on February 20th, they felt the need to contact Stephen Alex Vasquez, part of the FIGHT CLVB camp for those who don't know.  FIGHT CLVB was very willing to share the letter with fans.
https://www.facebook.com/FIGHTCLVB/photos/a.402588253173578.1073741833.387821304650273/903622169736848/?type=3&theater
Did you guys get hit up with something like this for your 'Kanye' song? @TheChainsmokers ? pic.twitter.com/6YXOPXJWFt

— Club De Pelea (@FIGHTCLVBMUSIC) February 25, 2016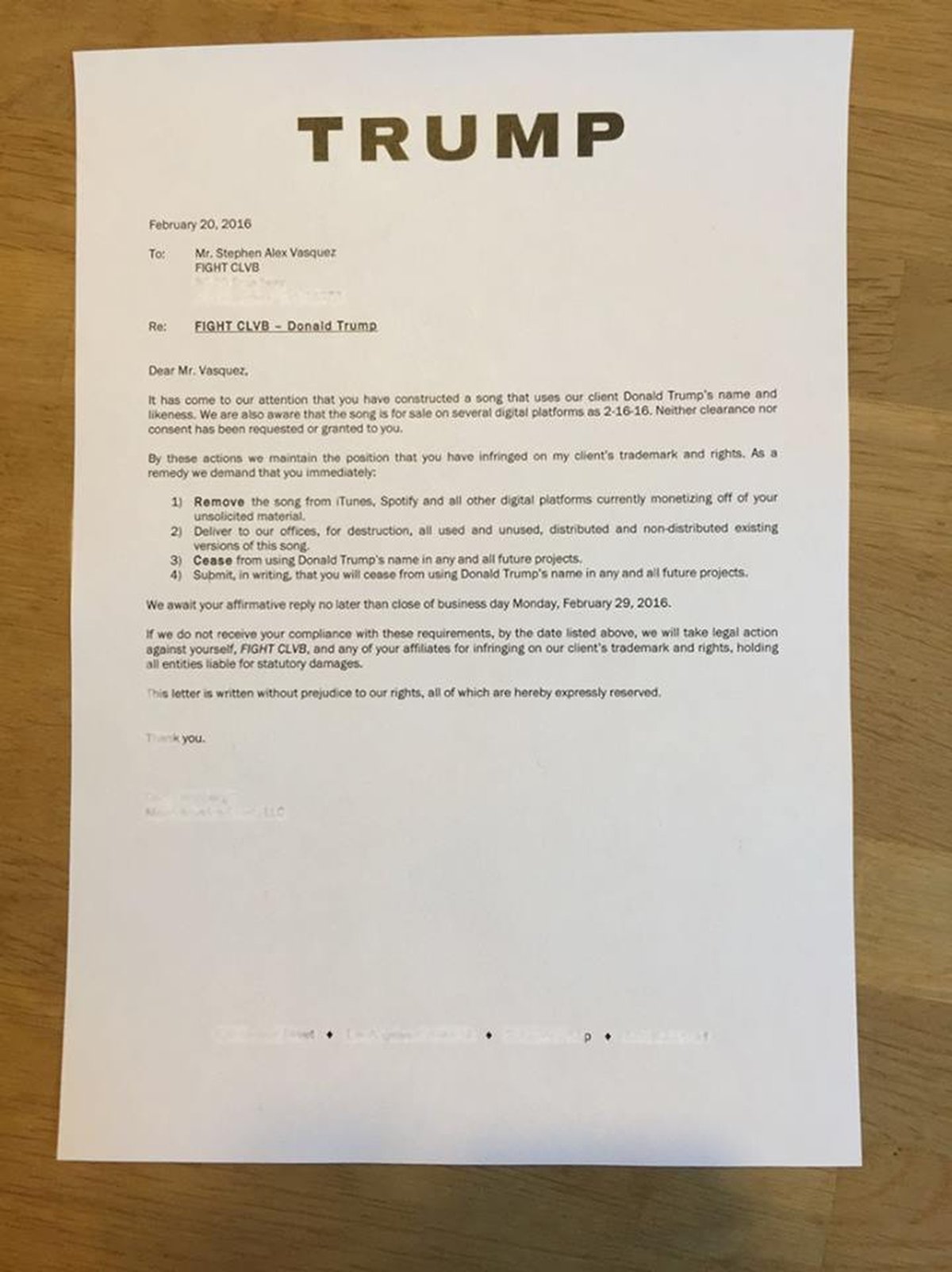 In the letter it said the following:
Dear. Mr. Vasquez,

It has come to our attention that you have constructed a song that uses out client Donald Trump's name and likeness. We are also aware that the song is for sale on several digital platforms as 2-16-16. Neither clearance nor consent has been requested or granted to you

By these actions we maintain the position that you have infringed on my client's trademark and rights. As a remedy we demand that you immediately:

Remove the song from iTunes, Spotify and all other digital platforms currently monetizing off of your unsolicited material.
Deliver to our offices, for destruction, all used and unused, distributed and non-distributed existing versions of this song.
Cease from using Donald Trump's name in any and all future projects.
Submit, in writing that you will cease from using Donald Trump's name in any and all future projects

We await your affirmative reply no later than close of business day Monday, February 29, 2016.

If we do not receive your compliance with these requirements, by the date listed above, we will take legal action against yourself, FIGHT CLVB, and any of your affiliates for infringing on our client's trademark and rights, holding all entities liable for statutory damages.

This letter is written without prejudice to our rights, all of which are hereby expressly reserved.

Thank You.
It looks like the Trump campaign might not know about the idea of any publicity being good publicity… But hey, this is the same candidate who will go after other running candidates but will throw a hissy fit when he is attacked for what he says or does.
With every evil villainous act, however, there is always a heroic reaction. And FIGHT CLVB, being the well-spoken individuals that they are, have written the response letter that the Trump campaign asked for. Again, FIGHT CLVB wanted to share with the fans…
https://www.facebook.com/FIGHTCLVB/photos/a.402588253173578.1073741833.387821304650273/906259196139812/?type=3&theater
Our response to @realDonaldTrump's C&D #MakeDonaldDrumpfAgain #FIGHTTRUMPFIGHTCLVB pic.twitter.com/xIYHWqC3rW

— Club De Pelea (@FIGHTCLVBMUSIC) February 29, 2016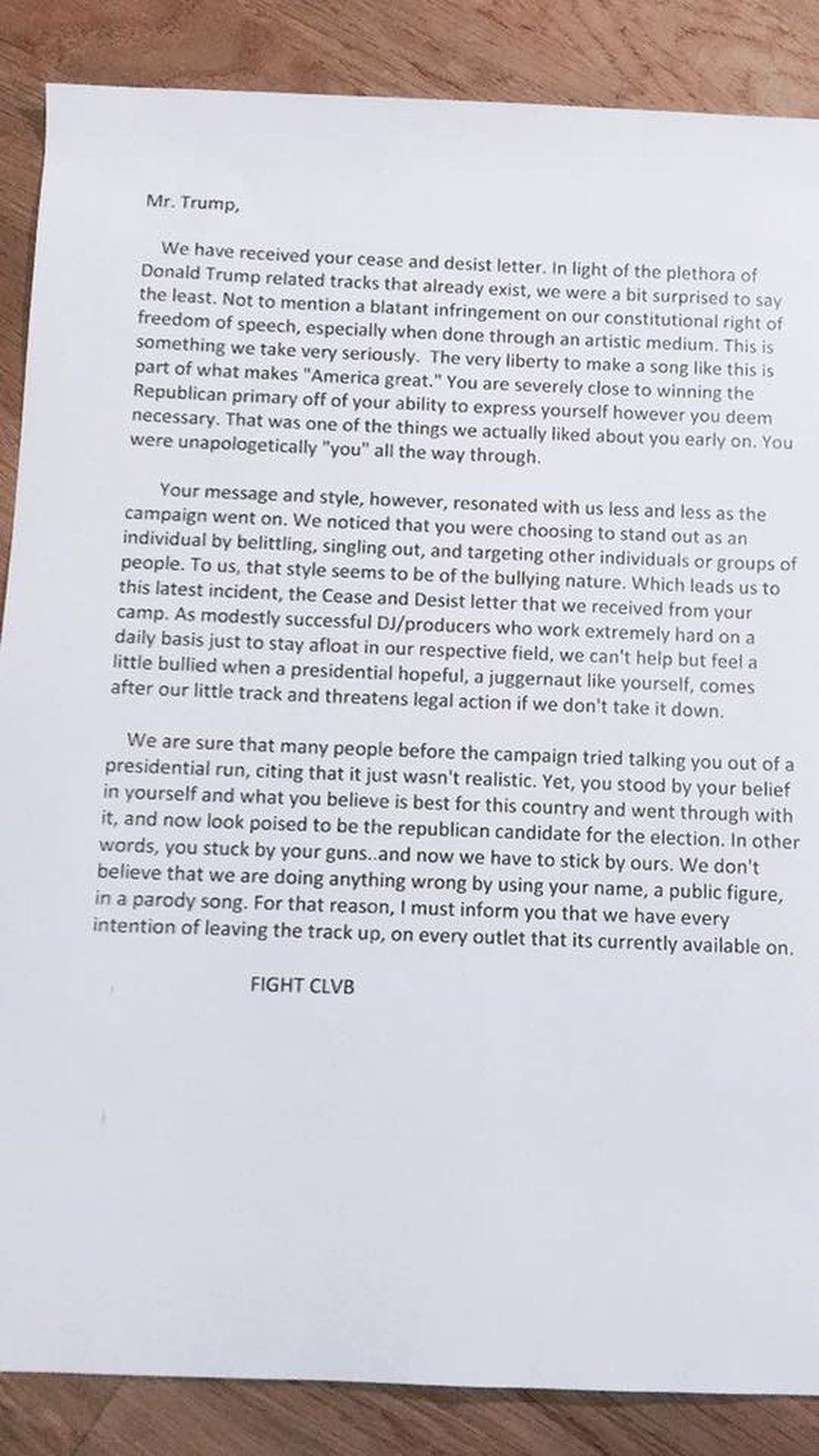 The only problem is, I don't think it is the letter that they were looking for
Mr. Trump,

We have received your cease and desist letter. In light of the plethora of Donald Trump related tracks that already exist, we were a bit surprised to say the least. Not to mention a blatant infringement on our constitutional right of freedom of speech, especially when done through an artistic medium. This is something we take very seriously. The very liberty to make a song like this is part of what makes "America great." You are severely close to winning the republican primary off of your ability to express yourself however you deem necessary. That was one of the things we actually liked about you early on. You were unapologetically "you" all the way through.

Your message and style, however, resonated with us less and less as the campaign went on. We noticed that you were choosing to stand out as an individual by belittling, singling out, and targeting other individual or groups of people. To us, that style seems to be of the bullying nature. Which leads us to this latest incident, the Cease and Desist letter that we received from your camp. As modestly successful DJ/producers who work extremely hard on a daily basis just to stay afloat in our respective field, we can't help but feel a little bullied when a presidential hopeful, a juggernaut like yourself, comes after our little track and threatens legal action if we don't take it down.

We are sure that many people before the campaign tried talking you out of a presidential run, citing that it just wasn't realistic. Yet, you stood by your belief in yourself and what you believe is better for this country and went through with it, and now look poised to be the republican candidate for the election. In other words, you stick by your guns..and now we have to stick by ours. We don't believe that we are doing anything wrong by using your name, a public figure, in a parody song. For that reason, I mist inform you that we have every intention of leaving the track up, on every outlet that its currently available on.

FIGHT CLVB
Freedom of speech issue becomes a grey area when people claiming to trademark, but FIGHT CLVB made some brilliant points in this letter. Trump is a weird dude, always trying to be the one making the jokes but never being the butt of the jokes. They were also right that his "don't care" attitude towards others has enticed people, but this "I cant be mocked" attitude has taken it too far.
It is interesting to see where this goes next, because as FIGHT CLVB points out, they are not the only ones who are using Donald Trump's name. You would think, though, Trump would be happy having a song repeats his name.
Seperate to this conrrespondance between Donald Trump and FIGHT CLVB, John Oliver took to Last Week Tonight to discuss the candidate in ways that are relevant to what is happening between the Trump Campaign and the FIGHT CLVB camp.  According to John Oliver, "Every time [Donald Trump's] name is said out loud he has a shattering orgasm." Oliver also points out how quickly Trump is to overreact when anyone makes comments about him.   Oliver points out Trump likes to "take people to court for fun".
"He's repeatedly threatens people will law suits, and not followed through." One example Oliver used was Donald Trump threatening to sue the rapper Mac Miller, who wrote a song titled "Donald Trump"; an example of what FIGHT CLVB pointed out.
A final note on the video, There is another new song coming out using Donald Trump's name "Donald Drumpf" by John Oliver (Starting at 20:20) so there should be another lawsuit threat soon! We wont get into the whole video,  butplease feel free to watch it here:
[youtube https://www.youtube.com/watch?v=DnpO_RTSNmQ&w=560&h=315]
If you want to support FIGHT CLVB please feel free to play it on Spotify, Tidal, the soon to be running Deezer, Napster, Rhapsody, or Soundcloud or the Yotube video added below.
And finally, buy it from Google Play, Amazon MP3, or iTunes.
[soundcloud url="https://api.soundcloud.com/tracks/247701961″ params="color=ff5500&auto_play=false&hide_related=false&show_comments=true&show_user=true&show_reposts=false" width="100%" height="166″ iframe="true" /]
[youtube https://www.youtube.com/watch?v=VC6dBneW7gU&w=560&h=315]
Leave a Reply