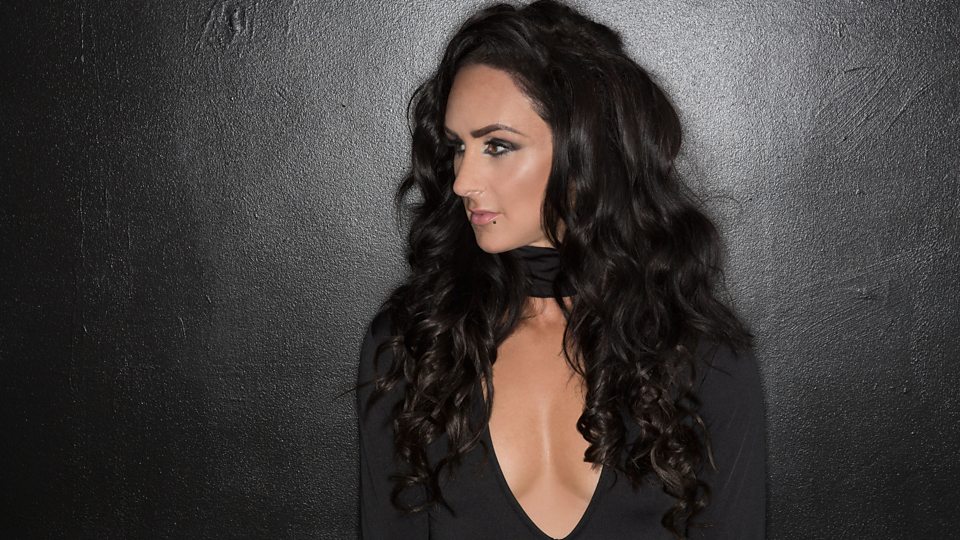 I do not like writing these. I really and truly don't. I, also, believe in innocent until proven guilty. Although, the evidence here is pretty clear. There is a video floating on Facebook by Patrick Nazemi. He is on his Macbook Pro using the DJay application with both Hannah Wants' upcoming track, "Found the Ground" and Boddika's VIP remix of Boddika and Joy Orbison's "Mercy" queued up. Now, Hannah Wants' track recently came out as of like three days ago.
Here is the video that Patrick recorded and shared all over Facebook through a live stream.
Unfortunately, I am unable to recreate what he did because I am quite sure almost all evidence of the track is gone.Thankfully, we have Google on our side and found a bit of proof that her track did at least exist.
Exhibit A: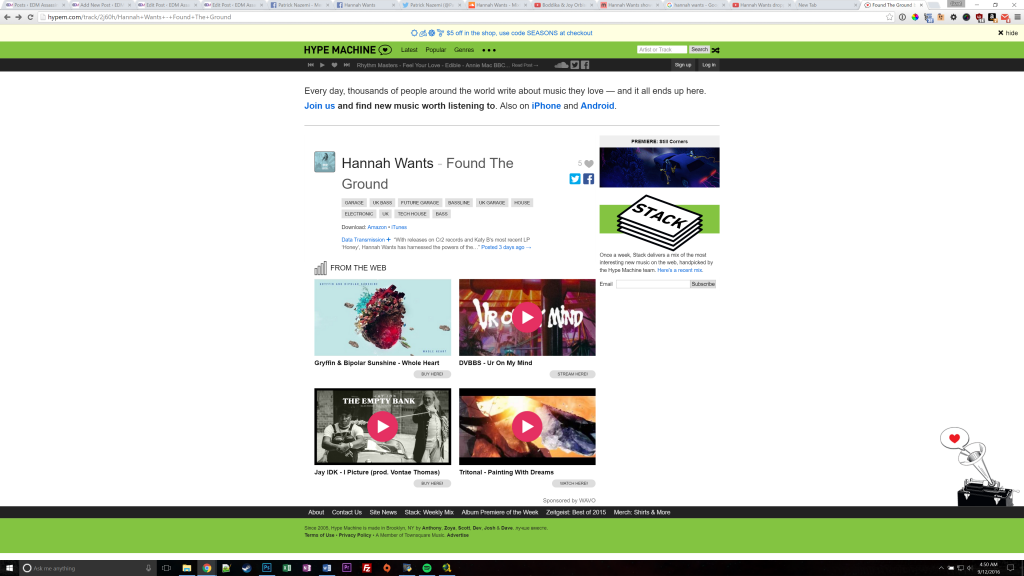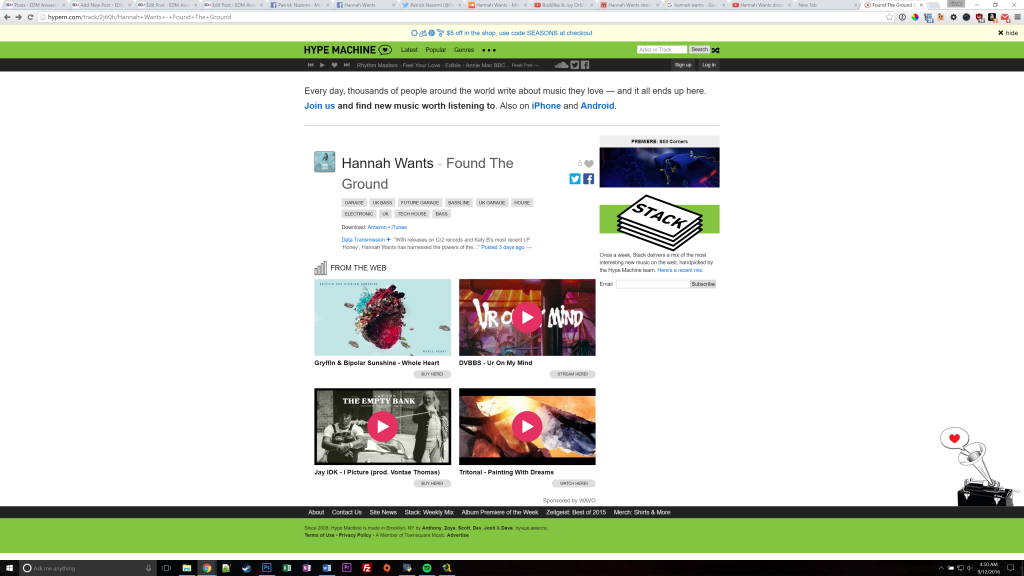 Note: Going to Data Transmission leads to a 404 error.
Exhibit B: Places to purchase the track and find the track.
Exhibit C (Go to 36:02):
Exhibit C – 1 (if Exhibit C disappears):


Here is where everything gets sticky and is a bit incriminating. Still not proven guilty, but it doesn't help her case. As linked above in Exhibit B (the last link under track), Hannah Wants did an interview with Creamfields. Now, the article itself doesn't show a date. Thankfully, if you go into the Page Source, the interview was done at August 5th 2016.
Exhibit D: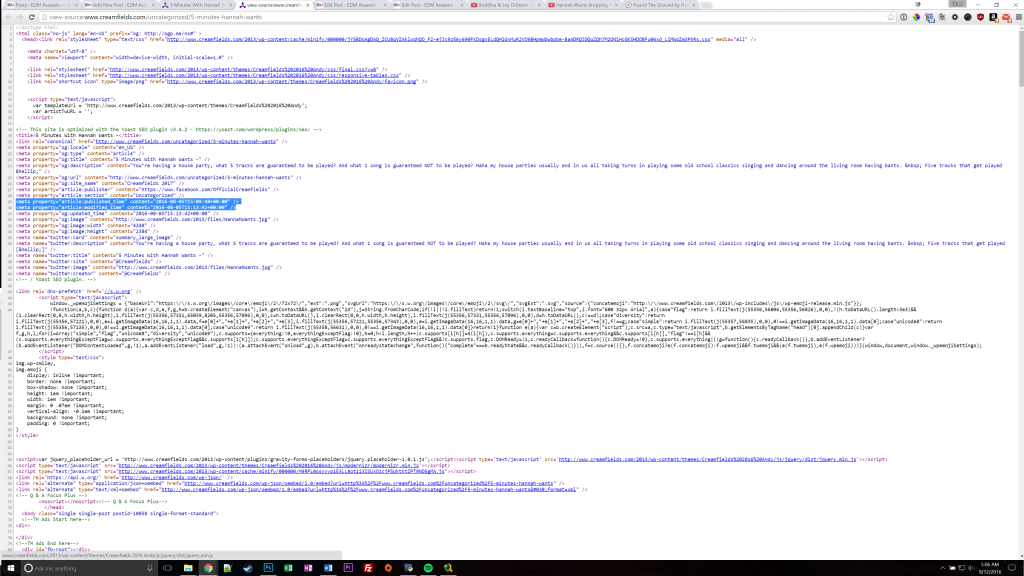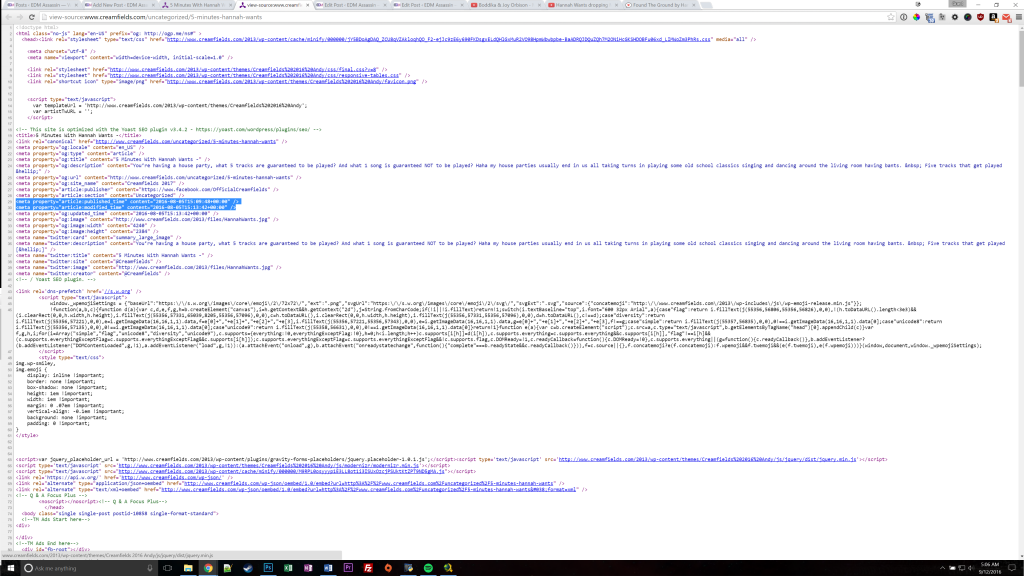 Hannah Wants is asked this question "What have you been up to lately? Any new music, upcoming news we can get excited about?" from Creamfields to which she responds and will be our Exhibit E:
I'm deep into my crazy summer schedule so I'm currently in America for a few gigs across the weekend before I head back to Scotland for TITP and then straight to Ibiza so yeah it's pretty hectic but I love it.

In terms of new music I've got loads in the pipeline. Annie Mac just literally premiered my latest release called Hidden Love. It's a collaboration with the vocalist Detour City and it's out real soon via Cr2 Records. I've also got another record coming out called Found The Ground, I think it'll be dropping next month and I'm mega excited for that release too.

In other news I'm already working on next years What Hannah Wants UK Tour. It's a yearly highlight and honour and it might be seven months away but I'm still ridiculously hyped now that things are getting put into motion.
New track! Awesome. Found the ground! Sounds good. Blatantly copying off a track. I don't want to believe it. Maybe it was a coincidence?
That is highly unlikely. Unless she worked on the new track (for August 2016) prior to her being live at Canal Mills August 3rd, 2014 (or March 8th, 2014…doesn't matter) to the point where the track was ready to be shared, she happened to drop Boddika's VIP remix of Boddika and Joy Orbison's "Mercy" in her set found here in Exhibit F:
Here is the original track to compare to the track she dropped in the set and what Patrick Nazemi shared.
Exhibit G:
While I am not outright stating that Hannah Wants stole this track, the evidence I found doesn't help her. I am not even mad, but rather disappointed like a parent. Not cool, Hannah Wants, not cool! That said, maybe there is a reasonable explanation that I cannot think of. We'll wait and see what happens. In the meantime, don't use this as an excuse to shit on female producers / DJ's. Gender isn't the issue here or will ever be the issue. Morals are the issue here.
Leave a Reply