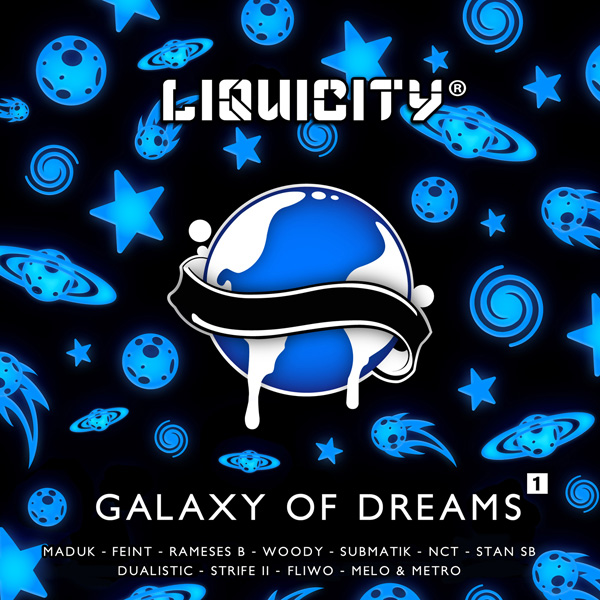 Liquicity's new compilation album "Galaxy Of Dreams" was released earlier this week.  Since then, it has taken the internet by storm.  It's biggest tracks have already received thousands of hits on Youtube and EDM lovers everywhere are falling for this CD, me included.  Every song on this compilation is, in my opinion, unbelievably amazing.  They are catchy, beautiful, and just make you want to dance.  Here is the tracklist:
01. Woody – Bandit
02. NCT – Frozen In Time (ft. Andreas Ort & Charlene)
03. Stan SB – Anyone Out There (Maduk Remix)
04. Feint – Promises
05. Rameses B – Hope (feat. Charlotte Haining)
06. Strife II – How Do I (Maduk Remix)
07. Woody – Revelate
08. Stan SB – Get What I Can
09. Submatik & Dualistic – Let Me Feel
10. Fliwo – So Strong
11. Melo & Metro – Exposure
One song, however, stands out better than the rest and that song is "Promises" by Feint.
Promises features amazing synth riffs and a beautiful dance worthy beat.  It's also perfect for just sitting around on a Saturday night waiting to go out or if you're cruising down the city streets at 3:00 in the morning.  "How Do I" by Strife II and remixed by Maduk is another amazing track off this compilation.
You can download these two songs plus the other 11 at Itunes and Beatport
Twitter: Follow Me                       Facebook:  Like Me
Leave a Reply