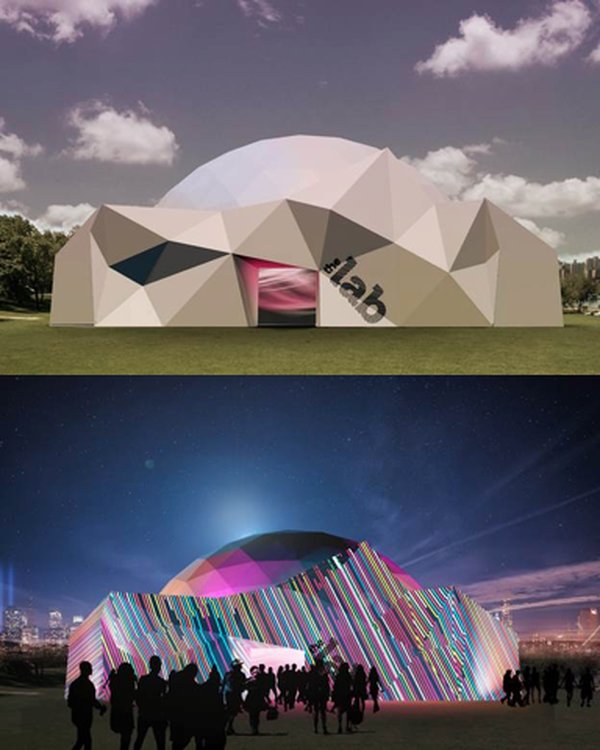 Panorama is the newest festival to hit Governors Island this summer. The festival celebrates all forms of art. The latest announcement to come is the visual art and technology experience. The newest announcement is THE LAB, an immersive experience presented by The Very and powered by HP, Inc. This experience allows the attendees to experience hands-on art that has been created by New York City natives.
Being curated by META.is, THE LAB will house installations that combine artistry, design and technology. This experience will create a unique adult playground for interactive fun. THE LAB is considered to be not only the trademark of Panorama, that sets it apart from all other festivals, but will also be the focal point for the 3-day festival.
Here is the announcement trailer:
https://www.youtube.com/watch?v=DtSC8oh_U00
There will be three sections to THE LAB:
The Façade: The exterior of THE LAB serves to heighten the experience for attendees.  The exterior will be covered in an HD projection creating a new visual experience for the festival. This is produced by VolvoxLabs
The Exhibition:  The exhibition will feature a series of diverse and immersive art installations focused by technology. Artists designing installations include Emilie Baltz, FutureWife, Dave & Gabe, Gabriel Pulecio (AKA Lustix), Mountain Gods, Red Paper Heart, and Zachary Lieberman. All of whose exhibits are listed below.
The Dome: Invisible Light Network and Dirt Empire will produce the visuals for the dome. Antfood will be producing original music, audio adaption for the sphere shape and sound. The sound will be filling the 700 foot dome and will be a 360 degree audio experience for up to 400 festival attendees at a time.
Art Instillations as Part of The Exhibition of THE LAB:
Cotton Candy Theremin created by Emilie Baltz & Philip Sierzega, Creative Coding by Charlie Whitney and Audio by Antfood.
DESCRIPTION: The Cotton Candy Theremin is an interactive performance piece that remixes the interface of making cotton candy by transforming it into a multi-sensory orchestration. By spinning a cotton candy cone over wisps of candy floss, festivalgoers trigger sounds and visuals that transform a Cotton Candy Machine into an instrument for play.
Visceral Recess created by Future Wife
DESCRIPTION: A highly-responsive playground for festivalgoers, this inflatable structure encourages bouncing, hugging, rolling, and squeezing to create a unique auditory and visual environment that encourages its inhabitants to become more familiar with their intrinsic selves.
Hyper Thread created by Dave & Gabe
DESCRIPTION: Hyper Thread is a large-scale interactive sonic experience that invites the audience to explore, manipulate, and create sounds in real time through tactile engagement. Via a series of silk cocoons inside of a larger undulating silk envelope, tension and movement of the audience are translated into various components of the 3D soundscape and immersive lighting environment.
Infinite Wall created by Gabriel Pulecio AKA Lustix
DESCRIPTION: Infinite Wall is an interactive installation consisting of mirrors, lights, and sounds that responds to an individual's presence. Equipped with a motion sensor, the sculpture can capture the position of one or more festivalgoers and trigger a ripple in time resulting in an ever changing visual and auditory environment.
Giant Gestures created by Mountain Gods
DESCRIPTION: The small finger gestures that we use to operate our mobile devices suddenly becomes supersized body language movements through the Giant Gestures installation. Here, festivalgoers will be given the opportunity to manipulate an oversized touch sensitive screen through the use of giant props. Tapping, swiping, and playing mini games takes on a new personality as simple micro gestures are reinterpreted for the human body.
The Art of Pinball created by Red Paper Heart
DESCRIPTION: The Art of Pinball reimagines the experience of a vintage pinball machine, into a tool of digital art performance. The delightful clicks, hums, and whirs of a mechanical machine are all grounded in real tactile sensation. The installation imagines the world around these tactile responses and explores what it means to turn pinball into an instrument of performance. As festivalgoers play the game, visuals appear to emanate from the machine itself and rise above into dynamic compositions. A player's actions become larger than life, turning a mere game into something to behold.
Reflection Study created by Zachary Lieberman
DESCRIPTION: Reflection Study is based on a series of software explorations of how light reflects and refracts and the various patterns like caustics which emerge. A special light table will be created to allow the festivalgoers to interact, explore, and create with light and shadow in a playful and exploratory way.
More announcements will be coming out as it gets closer to the awesome weekend.
So this is happening. . . https://t.co/2ytEnn503h

— Panorama (@PanoramaNYC) June 9, 2016
Introducing the Labhttps://t.co/SCO2hXhpX1

— Panorama (@PanoramaNYC) June 9, 2016
Leave a Reply