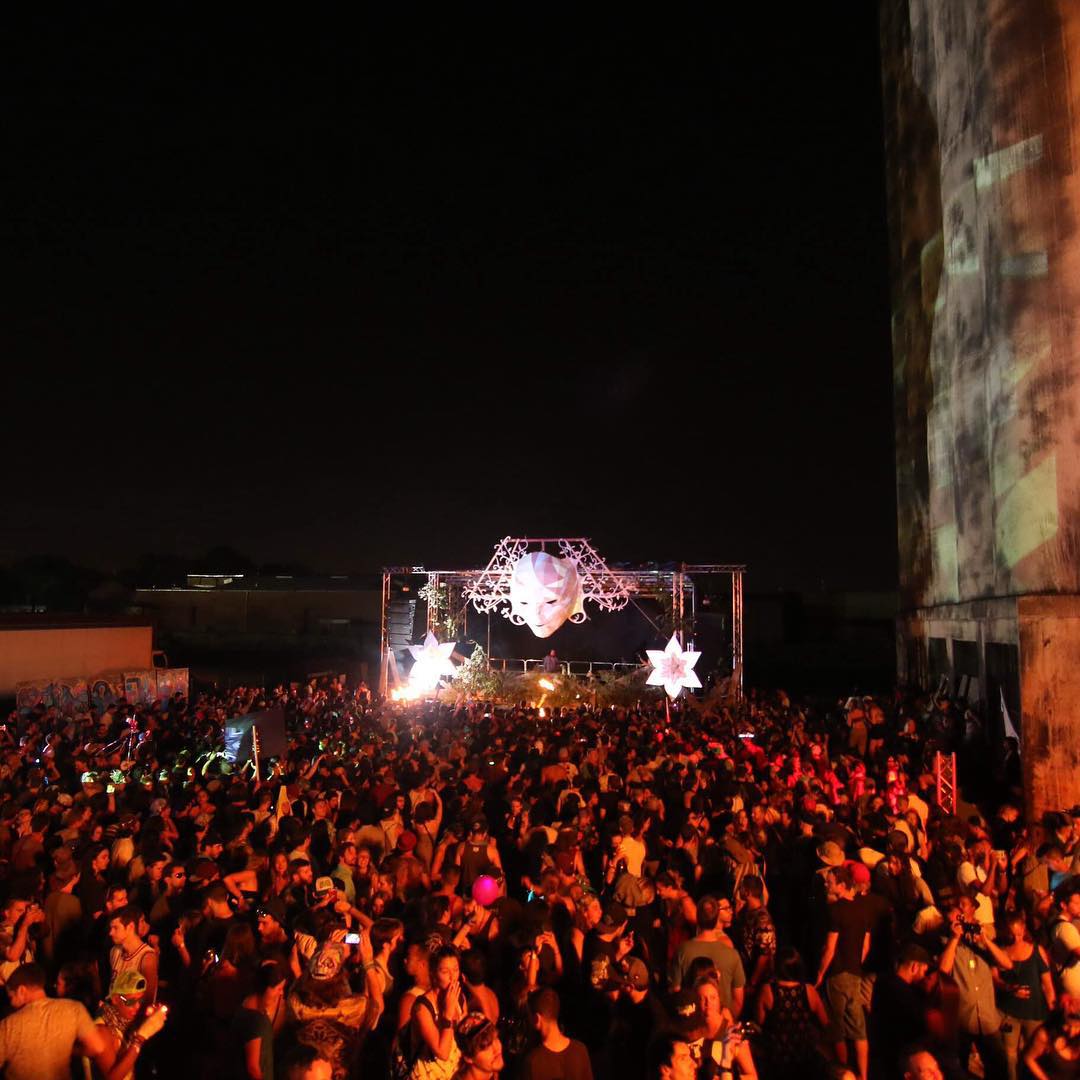 This past weekend, I traveled up to New York last moment to attend the ELEMENTS Outdoor Music & Art Festival. We were fortunate to be invited so I jumped at the opportunity to attend. I decided to bring a squad with me as I was allowed and off we went to Brooklyn. Well, three of us went to Brooklyn, the other member, lived there already yet he was the latest one to show up. Besides that I read, I had zero clue about anything. The venue was secret until the last moment. I never heard of BangOn! NYC. The only thing I based it upon was the artists.
Let me tell you this. Cheers to this festival for being one of the coolest festivals that I have ever attended. It wasn't the normal big open area, bunch of stages with food and merchants in the middle. This place was in a freaking industrial yard. There were tractor trailers, debris, vacant buildings, and empty warehouse and (debatable) vacant boats. The area was set. You walk into the gate and you get ID'ed immediately. Cool. Got in and got into the guest list line. Cool. I had brought my buddy since he let me stay at his place. He's never been to an event like this and I was excited to show him what EDM Assassin was all about.
We weren't on the guest list. That was a big bust. I was told by this woman that I wasn't on the list when I explicitly stated that I was here to review the festival. It seems so common for these situations to happen and always to me. Thankfully, I had a contact's number because showing her an email didn't do shit. Called my contact and after some back and forth between them and a lot of hostility towards me because I wasn't on the list (sorry, I couldn't control the list), we got in. Not with the bracelets we expected because I was supposed to be doing interviews, but whatever. She wasn't very nice and we happily thanked her for her time and walked right in.
The area was an L shaped area. I was so confused because I heard music and saw food trucks. That was an area for music. Freaking neat! We roam around and realize you had to find the other stages. There were such cool things constantly going on and multiple areas for food and drinks. Prior to going, they said no open toed shoes. Made sense. We're in a freaking industrial yard where there is rocks broken stuff. We go and see the music.
Everyone who performed did amazing. Even our resident DJ was shocked with some of the artists because he personally never heard of them, but were amazed by their skill. There was literally so much around. There was exhibits and artists and music. People were dancing up high, while others were using fire. There was a BMX demo while artists were going on. This wasn't your average festival. In the preview, I stated that I read that they wanted this festival to be one with the earth as it is a combination of Berlin, Burning Man, and Bushwick. I've never been to any, but now I want to go to all of them after experiencing this.
The stages were elegantly done even though there was only one true stage. It felt right though and not like other festivals that didn't do real stages because it fit in with the area. People were loving it. I know the Bad Kids all showed up and were loving it with me. Even my friends who never been to festivals said they loved it. Unfortunately, they didn't understand the aspect of no judgement and felt the need for liquid courage.
I went into this festival with an open mind knowing that the artists that were performing were amazing. They're great artists that aren't necessarily mainstage artists. That's what made it especially amazing. You got quality and quantity, but not repetitive. The music was diverse and truly reflected the mood. Every artists from start to finish killed it. The festival was small enough that I could easily bounce around between the sets because I had to see everyone. ELEMENTS Outdoor Music & Art Festival is a festival that I fell in love with. They really did it great. Anything and everything was fantastic. It felt homey, yet it was packed. This is something that I am thankful Camille and the people at Magnum PR invited me to. Thank you so much!
Pros
Staff walking around selling beer and water (similar to a sports game).
Prices were very well done INCLUDING THE ALCOHOL! $7 for a beer and $3 for a water? That's reasonable for a festival.
Stages and art all around the festival.
Food trucks with great food.
Awesome location.
Cons
Two small banners out front. We actually missed it the first time when trying to get there. Although, with the number of people by midday, you would know you were there.
Rocks were kicked at my ankles. Not intentional, but that is the downside of industrial yard
Areas were considered off-limits after people climbed on them. Sorta silly as they were available to begin with and I guess didn't plan on it.
Editor's note: I apologies for the image quality. I never share potato cell phone quality photos, but I had to share them as they're neat. Normally, we have a photographer.
Leave a Reply