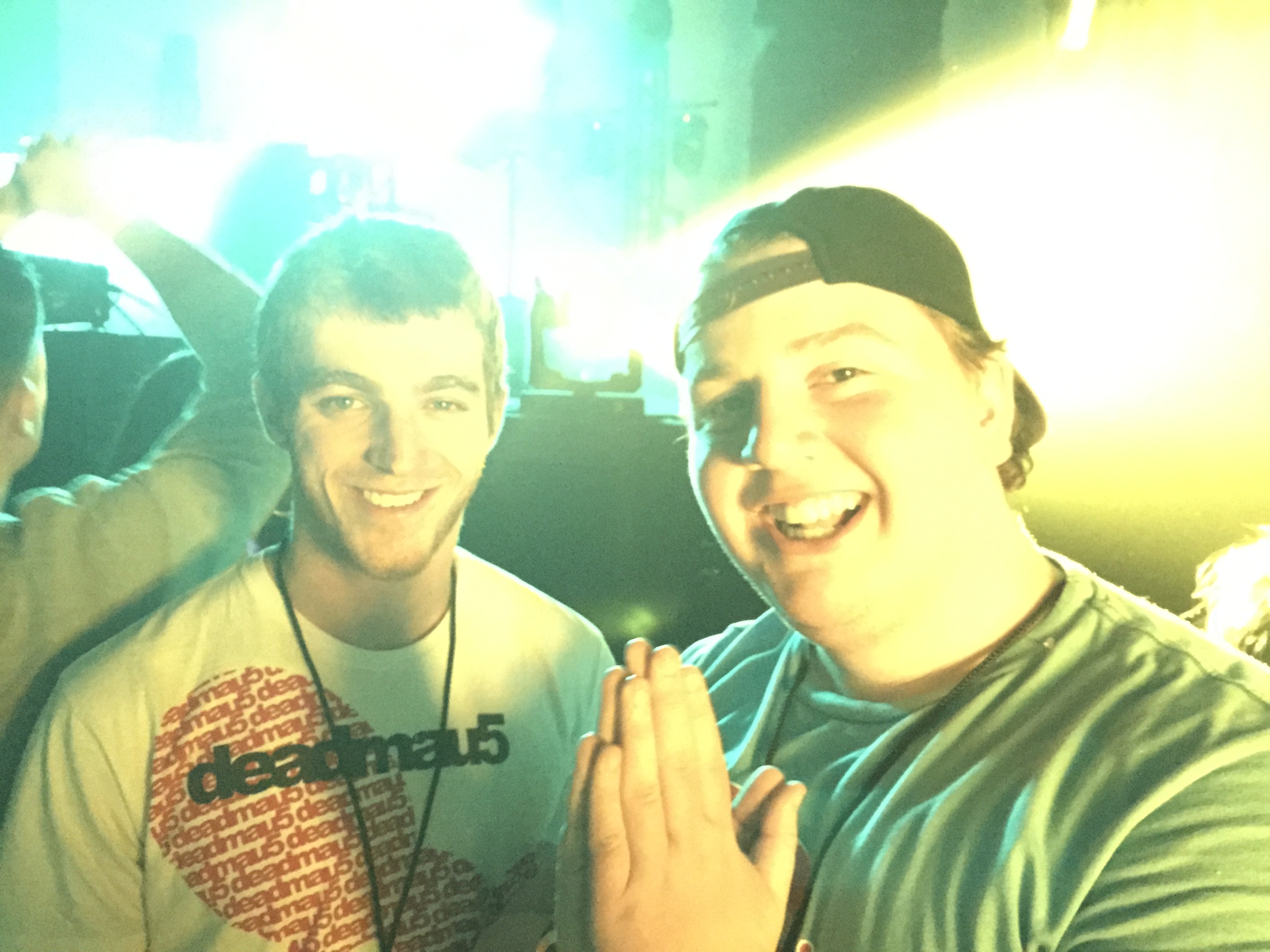 2015 for me started just about 365 days ago, planning what I would wear to Decadence, how we would survive the below 0 temperatures, and of course, who we would be seeing. I don't exactly remember what happened one year ago, but I do remember the joy I felt as the clock struck midnight, and with Big Grizmatik on the stage, we ushered in the new year. What I can tell you about the beginning of my 2015 was that there was tremendous personal change just about to happen. I wasn't particularly aware of it yet, but it certainly got it's start when I reached back out to Grant and asked him for the opportunity to write some articles. Events in my personal life led to some reflection and writing became my habit.
Grant invited me to do Backstage With The EDM Assassins, and we were off to the races. I wrote a few editorials in the first weeks of 2015, all of which I am extremely proud of. I also started making music something of a routine. Not just checking out music we were sent, or the latest from my favorite artist, but listening to new music whenever I had the chance, keeping my headphones in until someone needed me to respond. It was calming, clarifying, and above all, it was satisfying. Music was nurturing my soul in ways I could have never imagined.
That image you see at the beginning of the article, the one of Grant and I amongst the shower of confetti? Well, I wasn't exactly supposed to ever show it. However, Grant is in Israel and I am now supreme leader of the site, and with such power comes Nick doing whatever the hell he wants. 2015 was the year that I would travel more, and it started with an invitation to see Janet perform with Trillium in New York, along with a day trip to Chicago for a new festival called Snowstorm at Navy Pier. Now, I had never been to either city and so I immediately did what any rational adult would do, and spend $500 on one-way tickets around the country without any sort of plan for where to stay or what to eat. If you've been following us for most of the year, you'll know I was seemingly on my deathbed as I sat in the Denver Airport, talking on the phone with my mom, telling her I really wanted to go and I couldn't waste $500 despite how sick I was. If you listen to Grant's side of the story, you'll find out I was the most annoying travel companion to ever walk the Earth. We are both right. For everyone wondering, it was an amazing trip. I will go back, when I'm not sick and annoying, and I will probably get to taste my food this time and be able to actually interview some of the artists, instead of sit and smile, hoping I don't keel over any second.
This brings me well into my second trip of the year. It occurred just two weeks after that first one, and this one had a massively different feel to it. Phoenix. I was driving to one of the hottest cities in America, in March, with my brother and my mom, to go to an inaugural festival, Phoenix Lights. It was my mom's first electronic festival/concert/event/show and I wanted to make sure she enjoyed every second of it. I can proudly say that I have raved with my mom, as she also used MY photo pass to go into the photo pit with a borrowed GoPro for the #1 DJ in the world. Jokes on her though, as I got to meet him later in the year! As the photo below shows, my mom means the world to me and getting to share that experience with her is something I will never forget. It was so much fun that I took her to Global Dance in July for the first day to celebrate her birthday as well.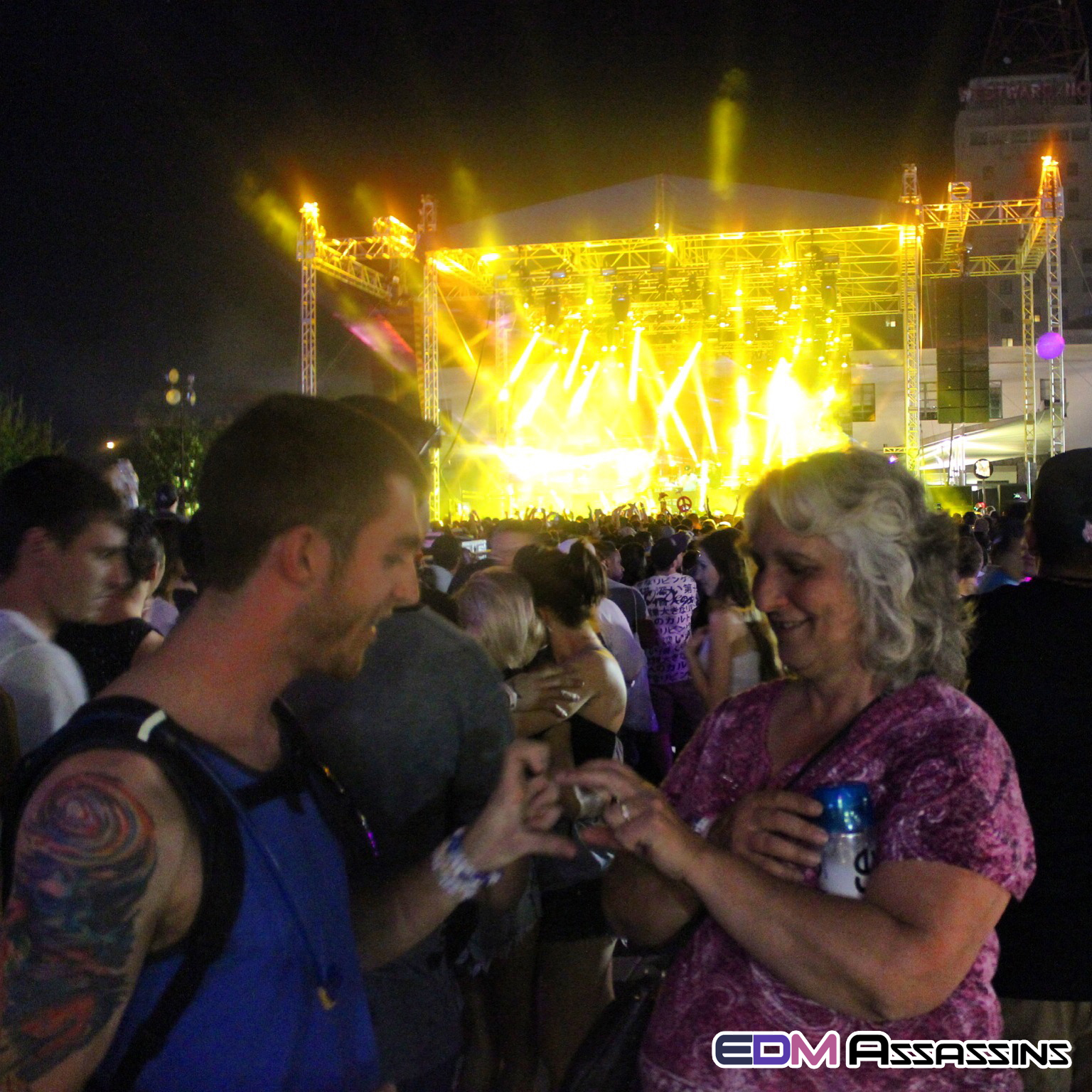 On to April, and probably my favorite festival of the year, Euphoria Music and Camping Festival. I had been working for this since January and it all led up to me traveling again and borrowing camping gear and spending some rain soaked nights in a tent with some of the best people I had met. Euphoria, was… indescribable. The energy, the vibes, the people, the laughs and the immeasurable amount of smiling I did is only barely captured on the 2000 photos I took that weekend. The picture below is one of two that I included myself in from the weekend I spent in Austin, Texas. There is truly something special about the people you meet while you are camping, staying up early into the morning, only to get up and walk around waiting for your favorite artists to come on stage. If you haven't done a camping festival, I highly recommend it, there is no greater joy than sitting around your campsite with people you've never met, acting like you've been friends for decades. You form friendships that transcend the conventional bonds of everyday life. You're connected by music and an undying passion to sound that your brain translates into emotions. There is truly nothing like it.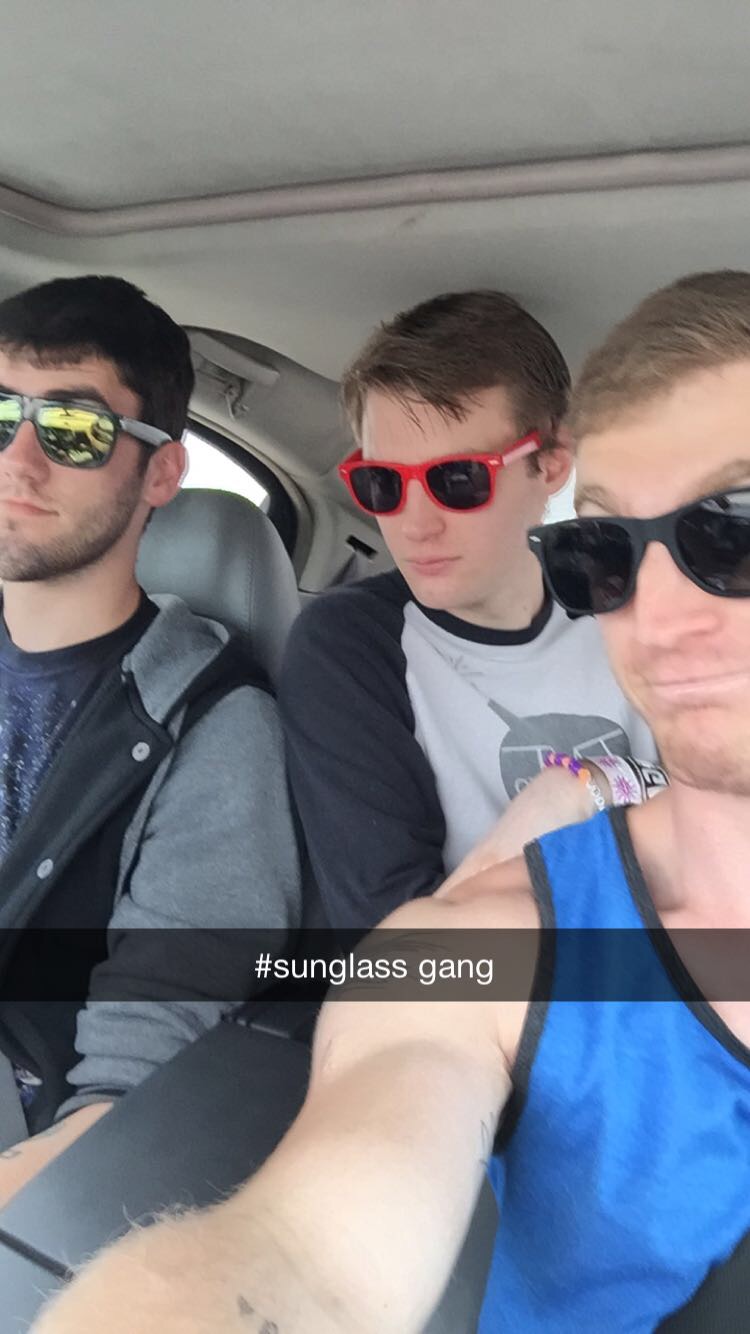 The rest of April and beginning of May, worked themselves through with me finishing up school, planning a few more vacations through the end of June, and generally being happy.I finished out May in style at Sunset Music Festival in Tampa, Florida where I saw some of the best trance music of my life, and got more rain than I could have ever hoped for in two day's time. It's at this point that I would like to draw your attention to the fact that I haven't mentioned much of the music I've heard up till now. That's purposeful, you see, you are more than likely going to get a chance to see those artists again, and hear a lot of the same songs, at least one more time. I found that I absolutely enjoyed the sets and I can definitely tell you who I saw at each show I went to, but it was about more than that. Music has a wondrous power of bringing people together. If you've been around the electronic scene, you know that and you see it whenever you go to shows. Through the doors, and past the ticket scanners and security guards lies a place that seems to defy reality. Generally, the only rules that seem to apply are to help your neighbor and to be respectful of one another. Of course these rules are broken, but 95% of the time, you can make friends with everyone around you and all enjoy the show. I stopped worrying so much about who I was seeing and started focusing on the music I was listening to and the people I surrounded myself with. Turning to your friends and seeing them headbang, shuffle, silently dance, or smile right back at you is one of the most satisfying feelings there is. Look for it the next time you are at a show with your friends. It's obvious.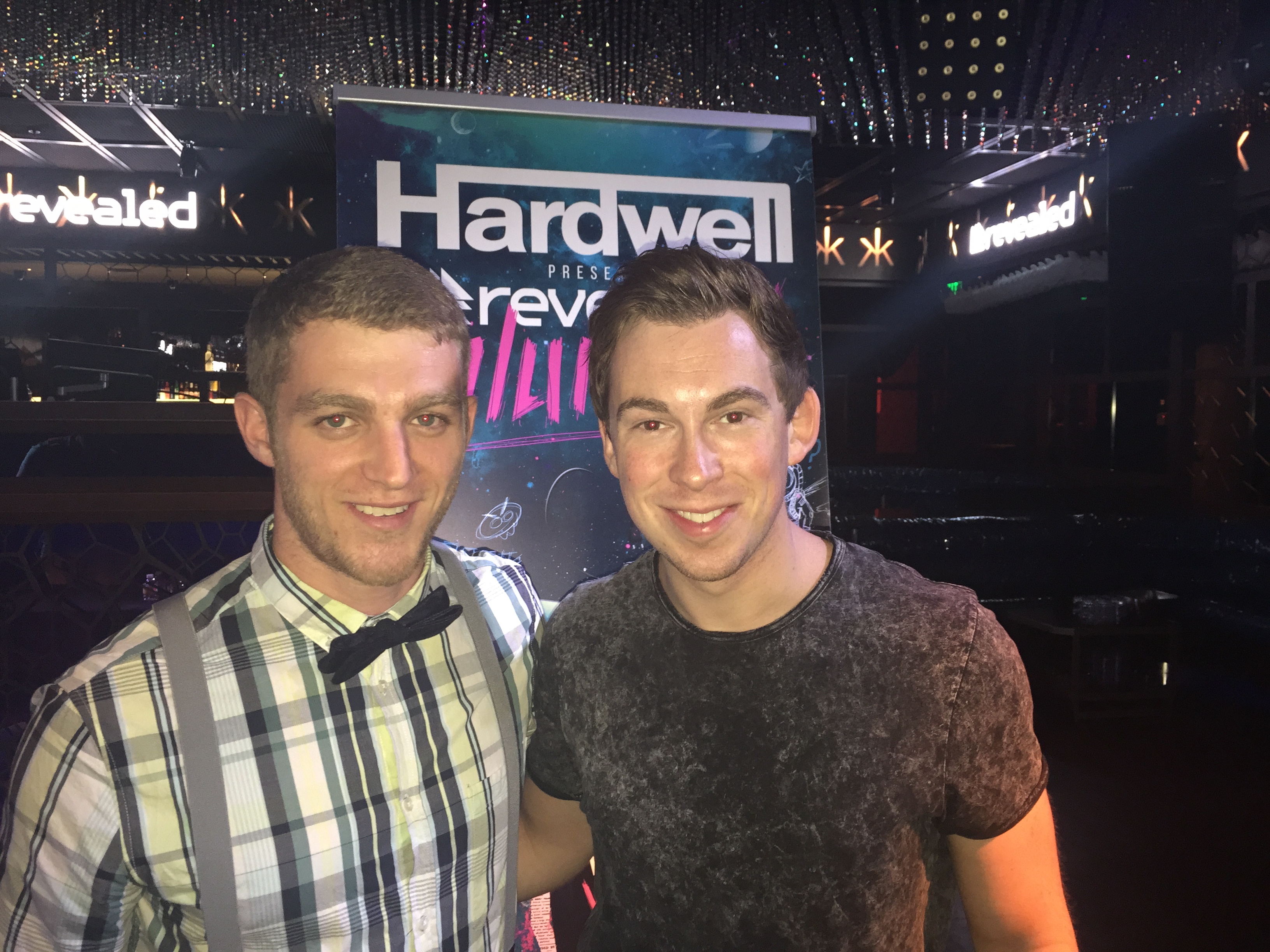 Yes, in your face mom, I met the #1 DJ in the world at a private event for the media in Las Vegas. You can see I wore my Sunday best during the 115 degree weather we so gratefully experienced out in the desert. EDC Las Vegas round two. I was mentally prepared for another weekend in Vegas, traversing the never-ending crowds to finally get to the furthest point from all of the stages and squint towards the booth. While this was reality, the ideals of EDC live on and I can certainly attest to the magic that comes with EDC and especially Las Vegas. 100,000 people really do descend on Vegas each summer and you can tell you're there with the rousing chants of "EDC" walking along the strip, at any time of day. I suggest sleeping all day with the AC cranked, and then heading out around 6 or 7 to get into EDC by about 8:30-9. From experience, you miss a lot of the worst traffic, the worst heat, and sets don't even start until almost 7:30pm. Dance hard, be safe, and make sure you drink as much water as you can because 8-9 hours of dancing for three days in a row is torture on your body.
In all seriousness though, EDC is one of my favorite places. It holds a special place in my heart and it is a place full of love and smiling people. You'll meet people from all over the world (mostly California), you'll hear some of the greatest music on the planet, all in one night, and you have the privilege of choosing any genre, any time you want, as there is absolutely something for everyone. The stages are insanely detailed and the performers deserve every dollar they earn as EDC is easily on of the most wonderful festivals this country has to offer. That being said, after 2 years in the desert heat and braving the insane lines, I have decided to find new festivals to explore, though I'm sure this isn't the last of me that EDC will see.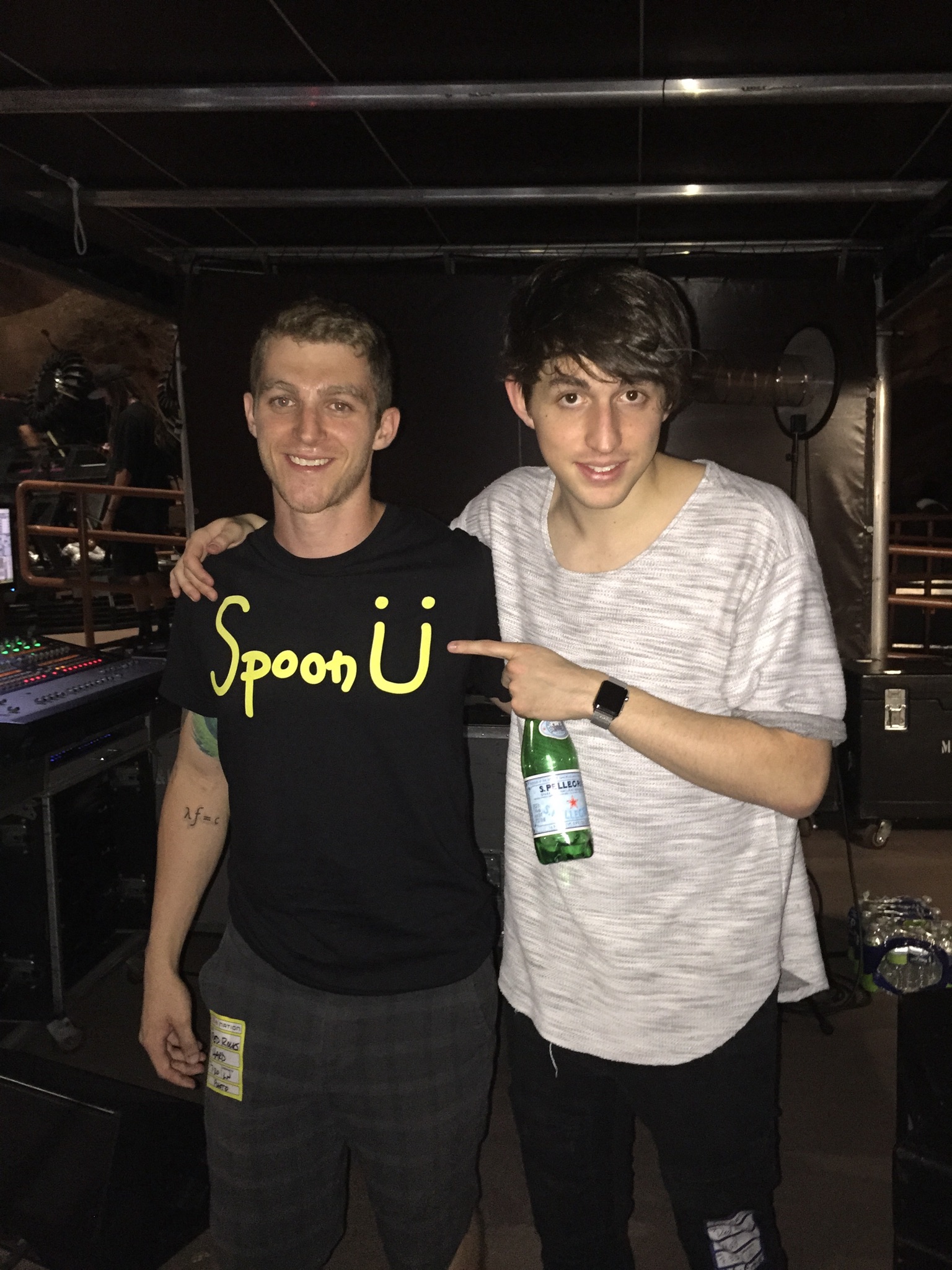 In the process of writing for EDM Assassin for the past year, I have had the wonderful opportunity to meet and interview some of my favorite artists. The picture you see above, well that was not an interview. I was actually interviewing Destructo (nicest guy ever) when he decided that 9pm was the perfect time to go and see Sonny (Skrillex) before his set at HARD Red Rocks started. He turned to me as he walked out the door and said "Aren't you coming?"
Gary Richards you are my hero.
Aside from being one of the funnest people to interview, HARD Red Rocks was definitely one of my favorite shows of the year. I spent much of the night backstage after this offer from Destructo himself where I was able to see Destructo, Skrillex, Boys Noize, The Glitch Mob, Tommy Lee, Porter, and who I think may have been Zhu. If you know me, then you know how big of a Porter fan I am and with the night winding down, my desire to not sound like a screaming fangirl was quickly being overridden by my desire to finally meet Porter. As you can see above, Porter noticed my shirt and spoke to me first, talking about how he loved my shirt and asking me where I got it. A gift from my girlfriend, I told him, and we continued talking about the video that made Spoon Ü one of my favorite things of 2015. It truly is a crazy world when Destructo asks if you're coming backstage to see Skrillex before he goes on, and you end up meeting a music idol of yours in Porter and one of the most legendary drummers alive, Tommy Lee, from Motley Cruë.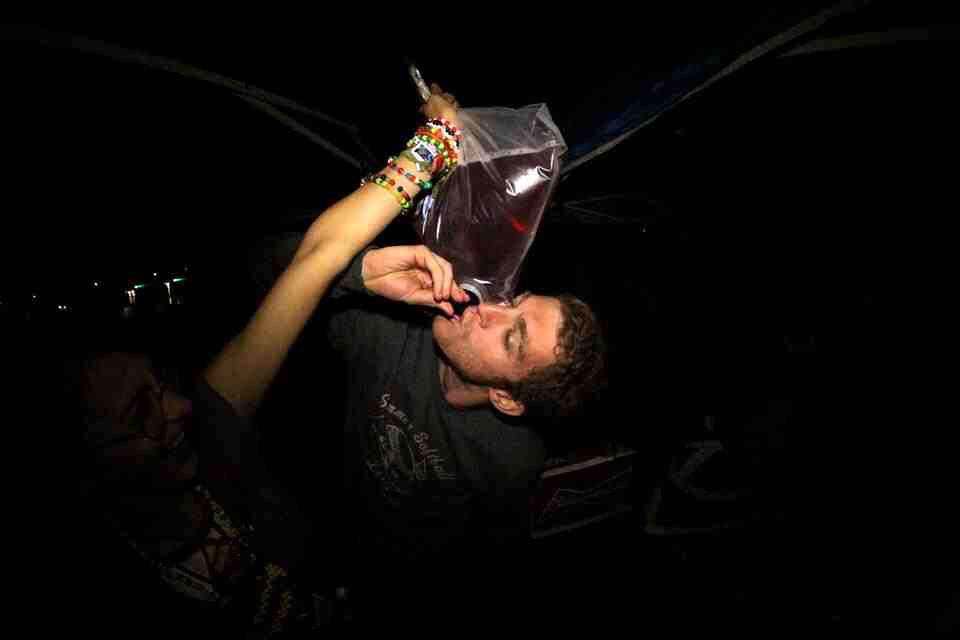 You may see the above picture as not being directly related to music, but where you would be wrong is for one, the Kandi on the arm of the person holding the bag, and two, this was at Dancefestopia 2015. By this time, writing had become almost a full-time gig, with me making sure all of my emails from PR reps were answered as well as reviews and previews from festivals we were sending writers to. Grant brought me into the folds of The EDM Families and we haven't looked back since. If you hang around on Twitter, you'll notice city and state EDM Families that reach a massive audience, not only in their state or city, but around the country. Grant helped bring many of these families together under The EDM Families, and Dancefestopia was going to be our first festival as a family and place to really make a name for ourselves.
In Kansas City we all converged with our camping gear and plenty of frustration as we figured out press, tickets, camping, and where everyone was going to put all their crap. After finally getting everything situated, we were able to enjoy three days of music and friends that felt like it would never end. Since this time, we have grown extremely close as a family, not only helping each other with social media, but also being friends outside of the music. We all live around the country and definitely don't get to see each other as much as we'd like, but it is such a cool thing to see 30 or so people come together under the love of electronic music and become some of my closest friends. I know that I can go to any one of them with a problem and they will respond with generosity, kindness, and the spirit of someone in your life for good. I am eternally grateful for it.
Dancefestopia was the first, but it certainly will not be the last festival that we all attend. It was only September, but the year was already a smashing success and with plenty of friends and experiences to write about, I spend the last 3 months of the year at smaller shows, keeping up with the fam, and writing, always more writing.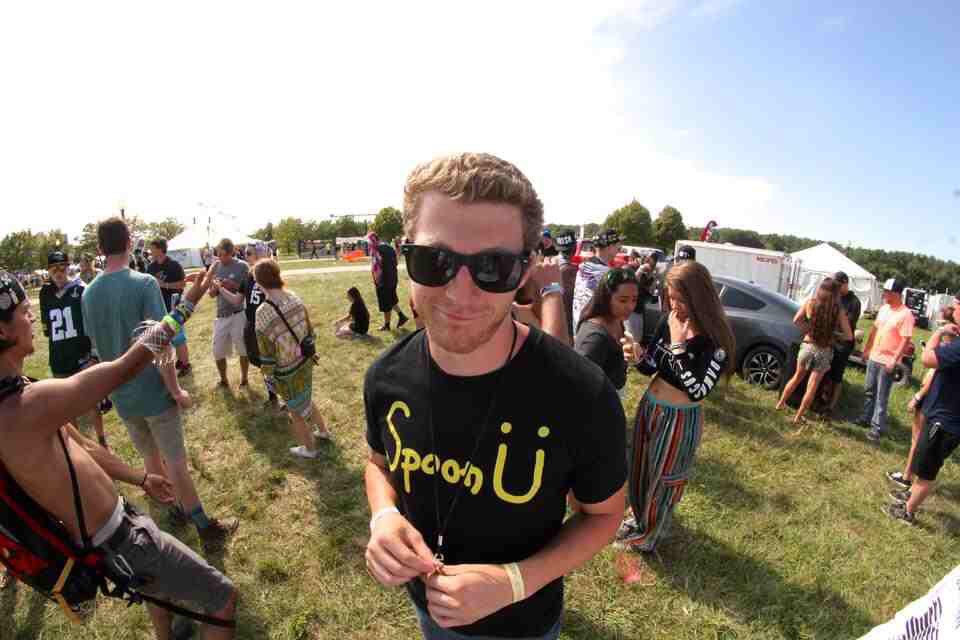 As I sit here on December 30th at 4:30 am my time, writing this, I think of the past 364 days of 2015 and memories and experiences flood my thoughts. The title of this piece is "2015: A [Musical] Year In Review" and while it might not have been what you expected, it is what I lived. Music has become engrained in my life in one form or another; forming connections between friends, turning up the volume on the DJ Hanzel set I love so much, writing reviews for music that I am sent as Editor of this website. Each day I wake up, and while I don't always play music, it always has an impact on my life. The people I have met in 2015 are some of my best friends and without music, I know for a fact they wouldn't be around to laugh at my stupid jokes, or smile at me when the next great song comes on. I've spent countless hours clicking and dragging pictures to make these posts look good, and just as many hours listening to music live and feeling the bass reverberate through each of my bones. At every concert I attend there is a moment where I close my eyes and look up, embracing the moment, feeling every beat as it floods my system with emotions. Music is part of me now. It took me this last year to see how important it has become, but without it, I can't begin to imagine. I went into 2015 thinking about personal growth and change, and I am leaving 2015 a changed man. I have made many new friends and more than a few I am happy to call some of my best friends, I have written more music articles than I ever thought possible (this is 889), and I have traveled to 7 new cities this year, all because of my love for music.
2015 was a year of discovery; I can hardly wait to see what 2016 brings.
Leave a Reply