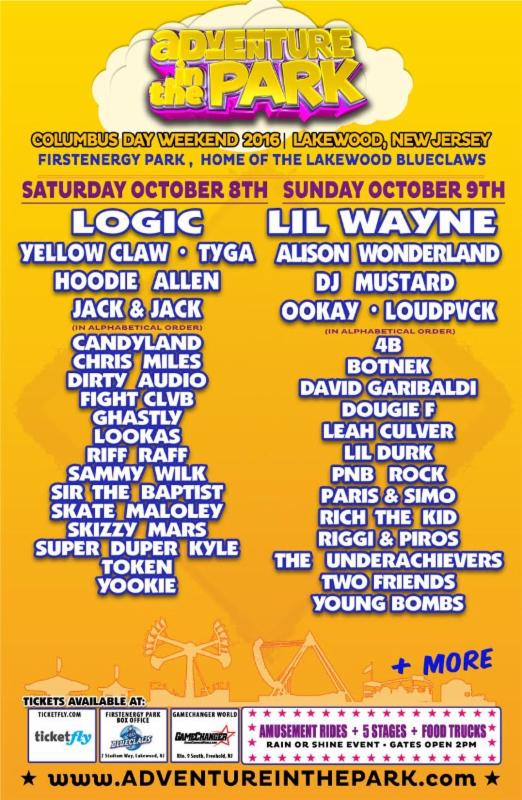 Adventure in the Park has been slowly becoming an amazing festival for Lakewood, New Jersey this fall. October 8th and 9th, the Saturday and Sunday of Columbus Weekend this year is building up to be the musical weekend you need to relax during this entry into fall. Hip-hop, dance and the combination of the two are the genres that make this festival something to look forward to. Well, that and the Amusement Park rides, the five different stages, and the food trucks that will be present.
The lineups are almost completely announced, with the current lists being broken down by day, listed below.
Saturday, October 8th:
Initial Artists:
Logic
Yellow Claw
Tyga
Hoodie Allen
Jack & Jack
Supporting Artists:
Candyland
Chris Miles
Dirty Audio
Fight Clvb
Ghastly
Lookas
Riff Raff
Sammy Wolk
Sir the Baptist
Skate Mololey
Skizzy Mars
Super Duper Kyle
Token
Yookie
Sunday, October 9th:
Initial Artists:
Lil Wayne
Alison Wonderland
DJ Mustard
Ookay
Loudpvck
Supporting Arists:
4B
Botnek
David Garibaldi
Dougie F
Leah Culver
Lil Durk
PNB Rock
Paris & Simo
Rich the Kid
Riggi & Piros
The Underachievers
Two Friends
Young Bombs
According to flyers, there will be more artists present. So make sure to be buy tickets to this awesome, fun-filled weekend.
Leave a Reply