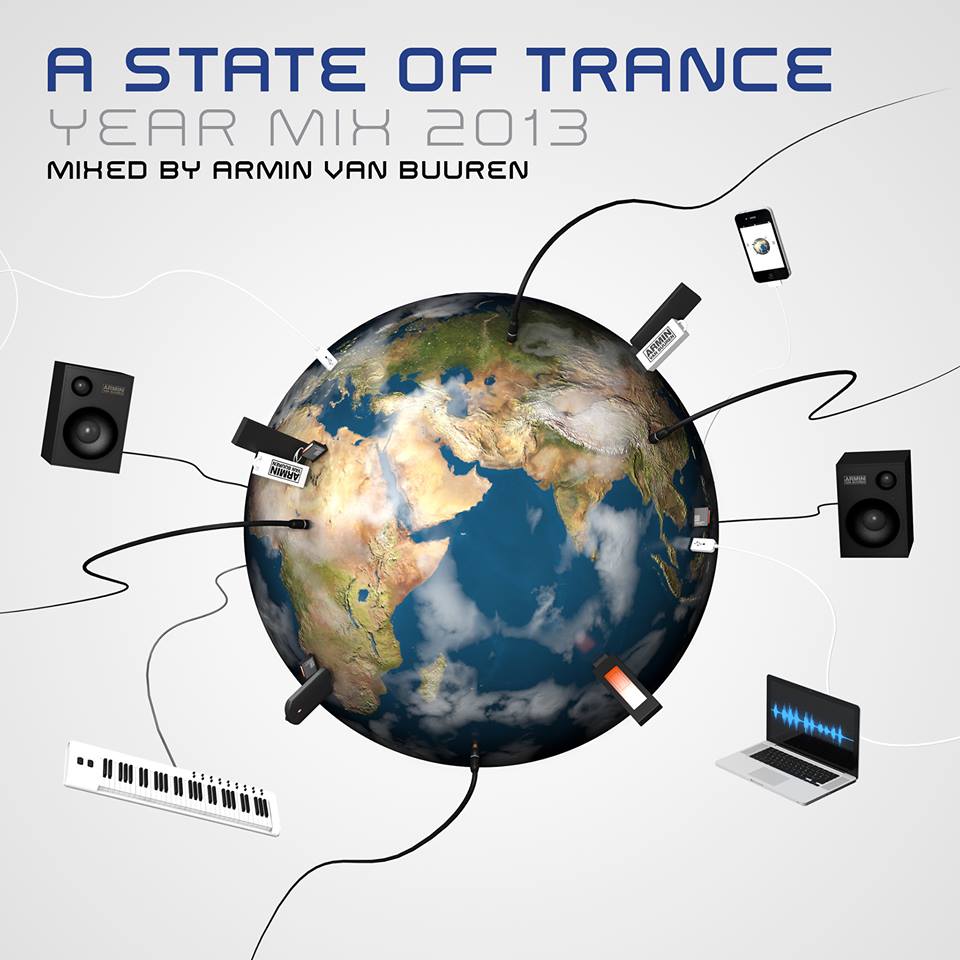 The year's end is coming and 2013 is about to end. Just like prior years, Armin Van Buuren captures the best moments of trance through his 'A State of Trance Year Mix.' This year's compilation consists of over 100 tracks that consists of over two hours of pure awesomeness. What is better is that the whole thing is mixed perfectly by Armin Van Buuren. There are many top artists such as Dash Berlin, W&W, Above & Beyond, Paul Oakenfold, Ferry Corsten, and more! If you haven't already purchased this album, let this video tease you you until you purchase the 2013 year mix.
Here is what the label had to say:
Order your copy before the 20th of December and you have a chance at receiving a signed copy! There are only 50 signed copies available, so hurry and grab your copy now! Recipients of the signed copies will be drawn at random.

Creating the perfect, musical recap of our year in music – is Armin van Buuren. Keeping up on tradition, he proudly presents the official A State of Trance Year Mix of 2013. With over a 100 essential tracks coming together in a 2 hour mega-mix, Armin's unrivalled Year Mix commemorates another thrilling year in electronic dance music! Who's ready to enter the rabbit hole, once again?

Going strong for nearly a decade, the ASOT Year Mix has always been a favourite of the A State of Trance radio show listeners. Packing all of 2013's highlights into a flawless mix, it's not only Armin who selects the final tracklist. Each year, Armin presents the A State of Trance Top 20, based on the votes of the ASOT listeners. And so, the sounds of 2013 brings you the tracks of Omnia, W&W, Audien, Orjan Nilsen, Above & Beyond, Ferry Corsten, Dash Berlin, Mark Sixma, RAM, Andrew Rayel, Super 8 & Tab and of course Armin van Buuren himself.

One of the most anticipated releases, a must-have anthem for trance fans and A State of Trance listeners. 'A State of Trance Year Mix 2013' brings you a musical journey, travelling through 2013!
A State Of Trance Year Mix 2013 Tracks:
Disc 1
Intro – The Oath (01:28)
Omnia – The Light (01:14)
Ilan Bluestone – Sinai (00:44)
Headstrong feat. Stine Grove – Satellite (Aurosonic Progressive Mix) (00:59)
BT – Skylarking (01:14)
Andy Duguid feat. Jaren – 7even (00:44)
Omnia feat. Everything By Elec – Bones (00:44)
Christian Burns, Paul Oakenfol – As We Collide (Orjan Nilsen Remix) (00:30)
Band Of Horses – The Funeral (Dash Berlin Remix) (01:34)
Denis Kenzo feat. Sveta B. – Lullaby Lonely (Progressive Mix) (00:37)
Dash Berlin & Alexander Popov – Steal You Away (Club Mix) (01:00)
Hardwell feat. Amba Shepherd – Apollo (Dash Berlin 4AM Remix) (00:44)
Armin van Buuren feat. Emma He – Forever Is Ours (01:14)
Above & Beyond feat. Zoe Johns – Alchemy (Above & Beyond Club Mix) (01:14)
Audien – Wayfarer (00:44)
Omnia – Immersion (00:59)
Orjan Nilsen – Violetta (00:59)
W&W – Thunder (00:30)
W&W & Ummet Ozcan – The Code (00:15)
Mark Sixma – Requiem (00:44)
Orjan Nilsen – XIING (01:07)
Ferry Corsten feat. Jenny Wahl – Many Ways (01:05)
Lange feat. Ilseviolin Violin' – Revenge (Dark Club Mix) (00:44)
Ronski Speed feat. Lucy Saunde – Rise Again (Omnia Remix) (01:13)
Johan de Kock & Stefan Viljoen – Silence (Tommy Johnson Remix) (02:11)
Kat Krazy feat. elkka – Siren (Armin van Buuren Remix) (00:44)
Bobina with Ana Criado – For Who I Am (Beat Service Remix) (01:49)
Armin van Buuren vs Arty – Nehalennia (01:13)
Super8 & Tab – L.A. (00:59)
Armin van Buuren feat. Richard – Love Never Came (00:59)
BT & Aqualung – Surrounded (Super8 & Tab Remix) (01:07)
Mark Knight & D. Ramirez V Und – Downpipe (Armin van Buuren Remix) (00:59)
Armin van Buuren & W&W – D# Fat (01:35)
Armin van Buuren feat. Cindy A – Beautiful Life (Protoculture Remix) (00:45)
Armin van Buuren feat. Trevor – This Is What It Feels Like (W&W Remix) (01:24)
Armin van Buuren feat. Laura J – Sound Of The Drums (00:29)
Estiva – Dinodrums (00:29)
Andy Moor & Betsie Larkin – Love Again (Andrew Rayel Remix) (01:40)
Conjure One feat. Aruna – Still Holding On (Arisen Flame Remix) (01:55)
Arisen Flame – Gladius (00:57)
Shogun feat. Tania Zygar – Find Me (00:58)
Alex M.O.R.P.H. feat. Natalie – Dreams (Original Club Mix) (01:27)
Heatbeat – Game Over (00:55)
Cosmic Gate – So Get Up (00:29)
Emma Hewitt – Rewind (Mikkas Remix) (00:44)
Above & Beyond – Walter White (00:44)
Armin van Buuren feat. Fiora – Waiting For The Night (00:58)
Dash Berlin feat. Christina No – Jar Of Hearts (Club Mix) (01:42)
Dash Berlin feat. Sarah Howell – Go It Alone (Andrew Rayel Remix) (01:20)
Giuseppe Ottaviani & Eric Lumi – Love Will Bring It All Around (01:49)
Mark Sixma – Character (00:44)
Beat Service – Aurora (00:43)
W&W – Lift Off! (00:16)
Andrew Rayel & Jwaydan – Until The End (Club Mix) (02:08)
Armin van Buuren presents Gaia – Humming The Lights (00:57)
Alexandre Bergheau – Damavand (01:12)
Rank 1 vs M.I.K.E. – Elements Of Nature (01:26)
Disc 2
Markus Schulz – Remember This (01:13)
Skytech – The Other Side (01:26)
Max Graham – The Evil ID (00:43)
Bobina with Andrew Rayel – Sacramentum (Andrew Rayel Aether Mix) (01:26)
Andrew Rayel – Musa (01:25)
RAM – Grotesque (Alex M.O.R.P.H. and RAM Origin) (01:33)
Alex M.O.R.P.H. feat. Silvia T – An Angel's Love (Andrew Rayel Aether Remix) (01:25)
Woody van Eyden – Nangulan (00:57)
Andrew Rayel – Dark Warrior (00:57)
Armin van Buuren & Markus Schu – The Expedition (A State Of Trance 600 Anthem) (01:11)
Armin van Buuren feat. Miri Be – Intense (00:57)
Solarstone – Love Theme From Blade Runner (Pure Mix) (01:38)
Orjan Nilsen – Mafioso (Mark Sixma Remix) (00:29)
MaRLo – Visions (00:57)
Arisen Flame – Unity (00:57)
Jorn van Deynhoven – Six Zero Zero (00:42)
Andrew Rayel – Zeus (00:57)
Simon Patterson feat. Lucy Pul – The One (01:40)
MaRLo – BOOM (01:52)
Fisherman & Hawkins – Apache (01:13)
Ferry Corsten F – The Bull$h1t (00:57)
Antony Waldhorn – Theatrum (00:42)
Driftmoon & Andy Blueman feat. – Exodus (01:39)
Alexander Popov – Lost Language (00:56)
Solarstone & Clare Stagg – Jewel (Pure Mix) (01:41)
Craig Connelly & Christina Nov – Black Hole (Jorn van Deynhoven Remix) (02:19)
Abstract Vision & Elite Electr – Conqueror (01:24)
Matt Bukovski vs Andy Elliass – Cheops (01:24)
A.R.D.I. – Beyond The Time (01:24)
Aly & Fila and Susana – Without You (02:05)
RAM & Susana – RAMelia (Tribute To Amelia) (02:19)
The Thrillseekers feat. Stine – Anywhere With You (Solarstone Pure Mix) (01:44)
Bjorn Akesson – Gunsmoke (00:56)
Sergey Nevone & Simon O'Shine – Apprehension (Aly & Fila Mix) (01:39)
Armin van Buuren – Who's Afraid Of 138?! (Photographer Remix) (01:10)
Adam Ellis – Napalm Poet (01:10)
Aly & Fila feat. Sue McLaren – Mysteries Unfold (Uplifting Mix) (01:10)
Simon Patterson – Brush Strokes (01:10)
Dart Rayne & Yura Moonlight an – Silhouette (Allen & Envy Remix) (01:58)
The Avengers – Yugen (00:56)
M.I.K.E & Fred Baker presents – Never Ending (Bryan Kearney Remix) (00:56)
Ciro Visone – First Coming (Ian Standerwick Remix) (01:24)
ReOrder & Ian Standerwick pres – Folding Your Universe (00:56)
RAM – RAMnesia (01:24)
Andain – What It's Like (Sneijder Remix) (01:37)
Sneijder & Bryan Kearney – Proper Order (01:22)
Outro – A Matter Of What You Believe I (00:47)
Update: I just found the album on Spotify so here is the album:
Leave a Reply