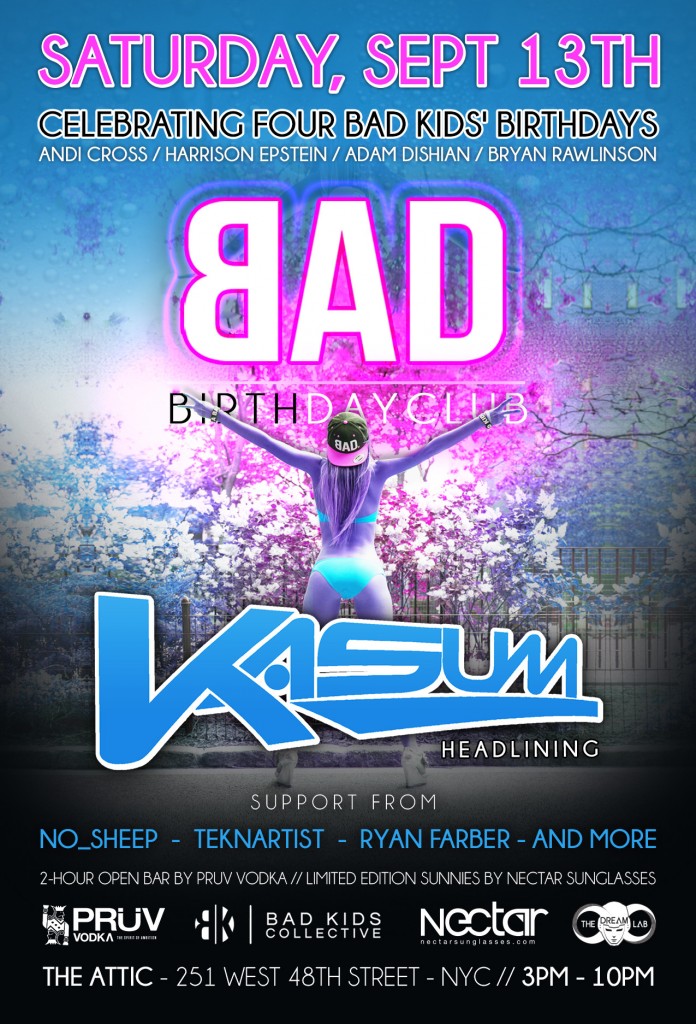 About a month ago, I got a call from Lex telling me about another brunch by the Bad Kids. There wasn't much details besides the fact that it was on the 13th and that I need to go. I said yes. I've been waiting for details. I didn't get details. I had to go on their site and grab the details. HERE IS THE THING. I will be there. I will be in New York again. This time, I will be meeting followers…rather bad kids. If they remember, they will have me in booty shorts. Great. So let's give you the details.
First off, this is a birthday bash for Andi Cross, Harrison Epstein, Adam Dishian and Bryan Rawlinson. I know one of those names. The rest seem like awesome people.
This is taking place on Saturday, September 13th, 2014. It will take place from 3:00pm to 10:00pm. WHAT IS AWESOME IS THERE IS AN OPEN BAR FROM 3:00PM TO 5:00PM thanks to PRUV VODKA!
This is located at The Attic Rooftop & Lounge. (251 W. 48th Street, New York, NY – located at 8th Avenue)
Something, something…buy tickets here.
There will be dancers, robots, the Bad Kid's fall line, Nectar sunglasses. Confetti. Plenty of shenanigans.
What I am expecting? A table to sit at. I like to sit down. Free swag. A drunk me. Maybe take some photos. That's about it.
What I expect you to do? COME JOIN ME AND THE BAD KIDS!
Leave a Reply