Our good friends at Bad Kids Collective are kick starting their 2015 with a new Bad Day Club that is better, bigger, and badder. On February 21st, 4pm to 10pm at Stage 48 in New York City. With this new party, they're pulling out all the stops. The awesomeness includes:
2 Hour Open Bar

– #BlackOutTrain #Choo #choo
Live Performance Art
Launch of their 2015 Spring / Summer collection
ROBOTS!
DANCERS!
Contests!
Interactive activations
PIZZA, PIZZA, and PIZZA!
Sound awesome? They're not done. They're having Elephante and The Disco Fries to headline the event along with SiriusXM's Liquid Todd, Aylen, and Jess Marquis!
One of the baddest girls around, Andi Cross, the CEO of Bad Kids Collective had this to say:
You will see everything from choreographed fashion shows, day drinking, Vegas in NYC theming, performing arts, SWAG, dancers, robots, battling dance circles, outrageous costumes, PIZZA and our favorite party add-on – a rocking open bar! That isn't all that we are concocting, but we can't give away every party secret quite yet … you just need to experience it for yourself!
Gabe Mendoza who does the events part had this to say:
This is what separates us from other event production companies. We put on a spectacle that, we as dance music lovers are pining for – something wild, different, unique. Most importantly, we create an atmosphere straight from our imagination. This will be the ultimate Bad Kids party to date, we are sure of that.
So while this is a 21+ event, do not worry. If you're younger than 21, I'll enjoy the event for you! As for their spring / summer collection, they took their talents to New York from Philly (which upsets me), but it is appropriate. Kayla Colby who does design had this to say:
The collection is fun, colorful, electric and will remind those loyal to Bad Kids of our roots and brand ethos. The careful combination of Bad Kids-inspired designs and dance music sayings and phrases, makes for a robust set that will be sure to grace the presence of major upcoming festivals this year on both guys and girls.
This event is going to be their best event yet. GUARANTEED! I can promise you that. PURCHASE TICKETS HERE!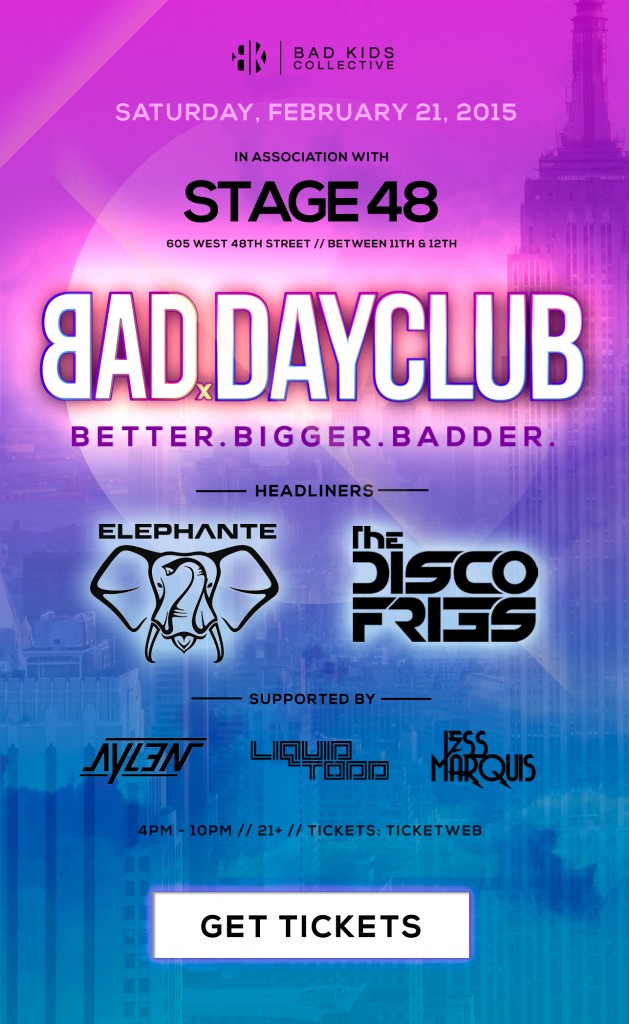 Leave a Reply