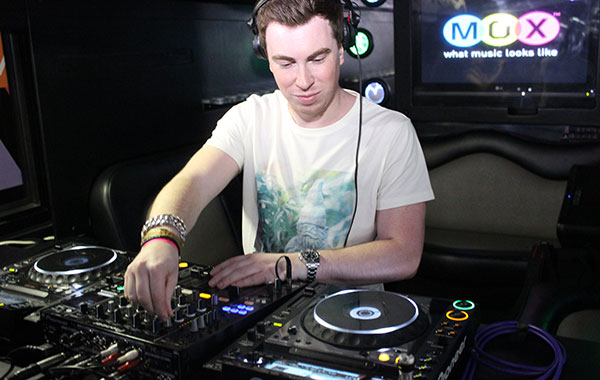 BBC Radio 1 released an essential mix for none other then Hardwell.  On it are a bunch of exclusive material  including a ton of Revealed Record releases, mashups, and a collaboration between Hardwell and Laidback Luke.  Here is the tracklist.
Dannic, DJ Spen & Karizma – Clobber vs 4 The Love [Toolroom]
Example – Say Nothing (Hardwell & Dannic Remix) [Ministry Of Sound]
Tommy Trash – Truffle Pig [Fool's Gold]
Hardwell – Three Triangles (Losing My Religion Vocal Mix) [Toolroom]
Jochen Miller, Gary Go & Benny Benassi – Cheer Up vs Cinema (Acapella) [Big & Dirty]
Hardwell – Apollo (feat. Amba Shepherd) [Revealed]
Porter Robinson – Language
Syn Cole – April [Le7els]
Hardwell – Spaceman [Revealed]
Bingo Players – Out Of My Mind [Hysteria]
Hardwell & Empire Of The Sun – Cobra vs Three Triangles vs We Are The People (Acapella) [Revealed vs Atlantic]
Joe Ghost & Joachim Garraud – Are You Ready (Hardwell Rework) vs Are You Ready (Acapella) [Revealed vs CDR]
Mr Fluff, Calvin Harris & Alesso – Fearless Hearts (Jordy Dazz Instrumental Remix) vs Raise Your Head vs We'll Be (feat. Example) [Vicious/Refune/EMI]
Tiesto & Hardwell – Zero76 [Musical Freedom]
Sebastian Ingrosso & Tommy Trash – Reload [Refune]
Jordy Dazz, Chuckie & Linkin Park – Unknown vs Who's Ready To Jump (GlowInTheDark Remix) vs Numb [CDR/Dirty Dutch/Warner]
Tony Romera & Ansol & Dyro – Pandor vs Top Of The World (Acapella) [Protocol/Wall Recordings]
Marcel Woods, Chuckie, Hardwell & Syndicate Of L.A.W. – Ready vs Right On Time (2000 Countdown The Holly Digit) vs Move It 2 The Dru (feat. Allure & Ambush) [Revealed/Bring The Noise]
Skrillex – Scary Monsters And Nice Sprites [MAU5TRAP]
Sander Van Doorn & Julian Jordan – Kangaroo [Spinnin Records]
Zedd & Lucky Date – Fall Into the Sky
Tiesto, Wolfgang Gartner & Unknown – Unknown vs We Own The Night (Acapella) (feat. Luciana) [Revealed/Musical Freedom]
Nicky Romero – Symphonica [Protocol]
Zedd – Spectrum (Gregori Klosman & Tristan Garner Remix) (feat. Matthew Koma) [Interscope]
Hardwell & Dannic – Kontiki (Dyro Remix) [Revealed]
Firebeatz – Here We F***ing Go [Revealed]
Icona Pop – I Love It (Sick IndivUnknownuals Club Mix) [BIG BEAT]
Swedish House Mafia – Don't You Worry Child (Original vs Promise Land Remix) (feat. John Martin) [EMI]
Hardwell & Showtek – How We Do [Revealed Recordings]
Daft Punk & Jordy Dazz – Claymore vs Technologic [REVEALED/Virgin]
Hardwell – Encoded (Dada Life Remix) [REVEALED/Ministry of Sound]
Tom Fall, Chuckie & Empire Of The Sun – iRok vs Who's Ready To Jump vs Walking On A Dream [Trice/Big Beat/Capitol]
Showtek & Daft Punk – Canonball vs Around The World (Acapella) (feat. Justin Prime) [Musical Freedom/Virgin]
Jordy Dazz – OMG [Revealed Recordings]
Knife Party – Rage Valley [EarStorm]
Hardwell, Laidback Luke & Dada Life – Dynamo vs Kick Out The Epic Motherf**** [Mixmash]
You can listen to the mix below or download it Here.
Leave a Reply