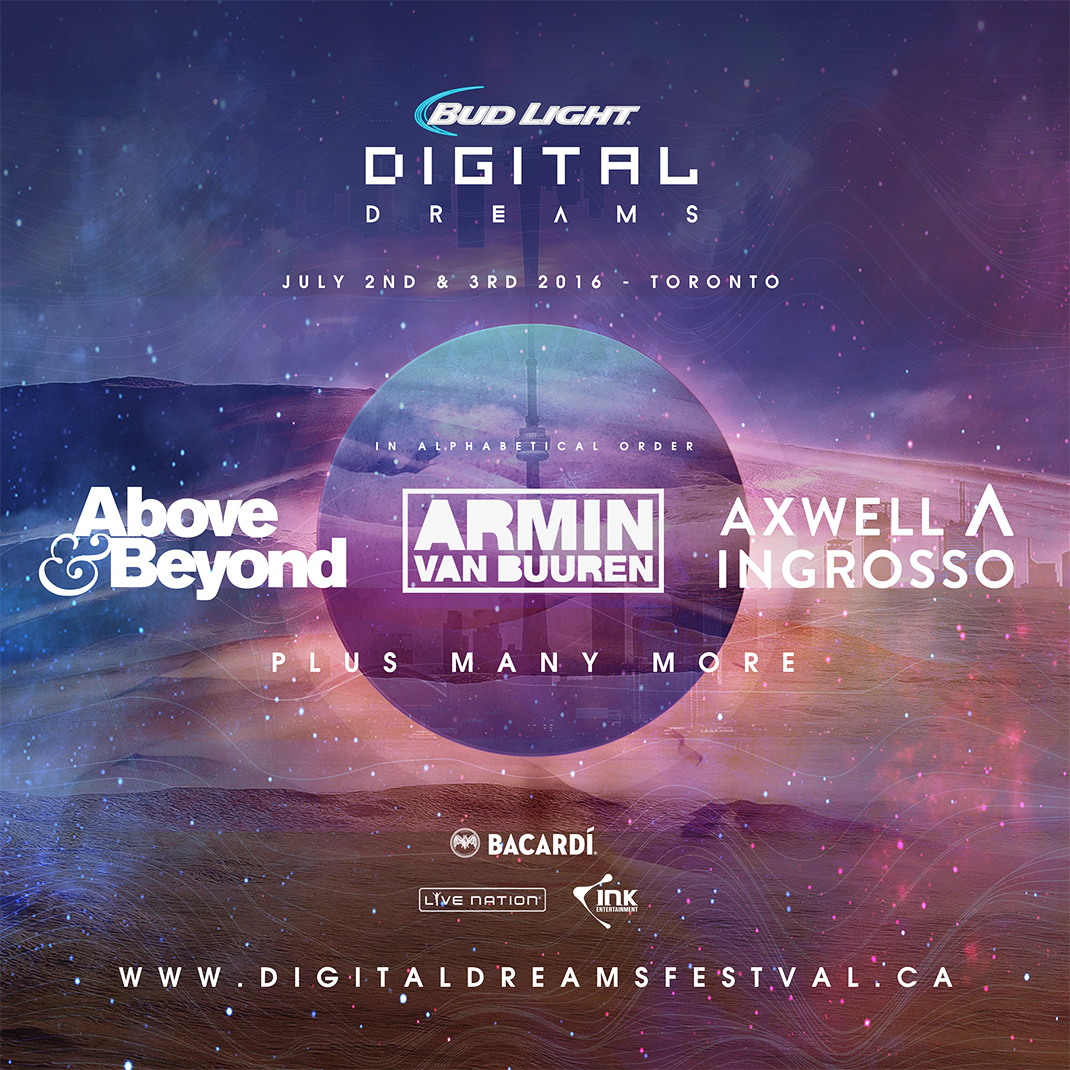 Bud Light's Digital Dreams Fest has released a lot of information regarding their 2-day festival that is happening in Toronto, Canada this July. The codes for pre-sale purchases have been released. They have also announced that Above & Beyond, Armin Van Buuren and Axwell Λ Ingrosso will be headlining with, "many more." This festival has the start to something amazing with three big names already confirmed attending.
Co-sponsoring the event will be Live Nation, Ink Entertainment and Bacardi.
If you are in the Toronto area I would suggest you attend this festival. Currently, or the two days, they are offering 2 forms of tickets, each with their own payment plans. It should be pointed out that these plans are influenced by Canadian Dollars and Canadian drinking laws.
For General Admission you must be at least 16 years old. It is $149.99, plus service feels for the tickets. The payment plan breaks it into 3 payments of $49.99 each, with the first payment also charging service fees.
For VIP admissions, you must be 19 years old. This ticket costs $209.99 and is also broken down into three payment plans. Each payment is $69.99 and the first payment also has added service fees.
The festival also has an added feature where you can reserve lockers to keep your belongings as well as a cell phone charging pack. To reserve this locker it is $15.00 for one day and $25.00 for both days.
I would say that for one of the first announcements, Digital Dreams has made some pretty big announcements.  For more information, click here for their website.
To buy tickets on a payment plan click here
To reserve a locker click here
Click each link for the respective social medias: Instagram Facebook Twitter
https://www.facebook.com/DigitalDreamsFest/photos/a.174303916023476.36804.174217712698763/944464985674028/?type=3
Leave a Reply