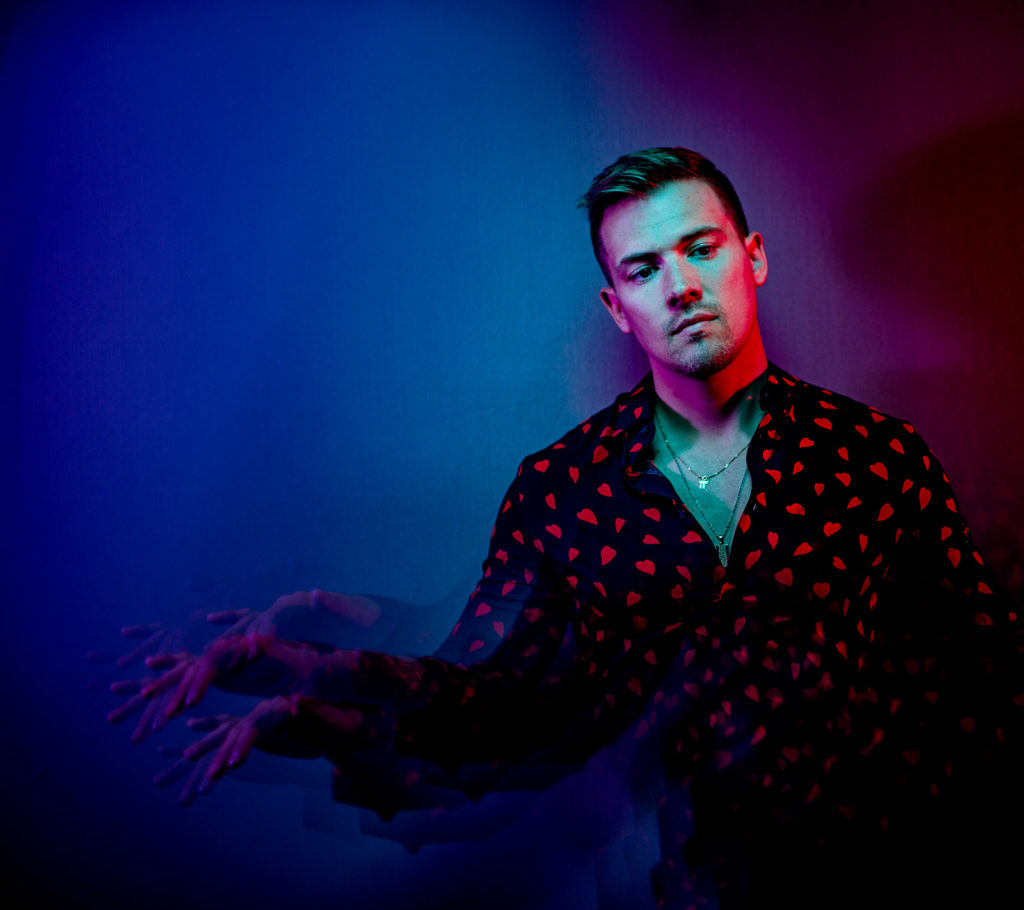 The newest "Wav" features an interview with the talented musician and actor, Davis Mallory.
MTV's Real World 2006 alum Davis Mallory has traded TV cameras for a DJ booth, proving that he refuses to be put in a box.
Growing up in the south, in a very masculine culture, Mallory saw gay men feminized on TV, and wanted to be a masculine gay character on TV to showcase a different way of 'being gay.' With that, in 2006 he left Marietta, Georgia and headed to Denver, where that season of the Real World was filmed.
With family ties in the music industry, Mallory had always established a love for music, but it wasn't until years later that he started creating original music of his own. Mallory lived in NYC for 2 years, working as the Marketing Coordinator at Astralwerks (label home to David Guetta, Swedish House Mafia, NERVO, Eric Prydz). It was there that he attended a lot of DJ sets, learned to DJ at Dubspot School of Electronic Music, and began songwriting–initially writing toplines over EDM beats some producers gave him. In August 2013, he left Astralwerks and moved to Nashville to pursue songwriting and begin recording his own original music.
In his first few years in Nashville, Mallory wrote an incredible amount of songs. In his first two years, he wrote music with Roger Murrah (BMI Songwriter of the Decade), Scot Sax (Grammy winner for Tim McGraw/Faith Hill's "Like We Never Loved At All"), Matraca Berg (3-time Grammy nominated songwriter for Dixie Chicks, Kenny Chesney, Martina McBride), Robert Ellis Orrall (producer of Taylor Swift's debut album) and many more up-and-coming artists.
Off the heels of that People-magazine featured track, Mallory continued writing, releasing his second official release with the same co-writers of "Beautiful Girls" titled "Anyone Would Know," a song about his ex-boyfriend in NYC. The song was chosen by Swedish DJ John Dahlback to remix, and this remix would go on to be Mallory's first label song, signing to Armada Records in 2016 and released in the summer 2017.
Since then, Mallory has grown as a songwriter and musician, releasing his EP Loud in 2017, and working with some of the biggest names in the business–co-writing a song with American Idol alum Matt Giraud titled "Faded" (2017), co-writing "Hold Me Down" (2018) by EDM vocalist Notelle and German DJ Noize Generation, co-writing "Top of the World" (2018) by vocalist Mitchell Rose and DJ Landis that released in 2018 on Sony/Thrive, "Dance with Me" co-written by Mallory and produced by French DJ Loic Penillo, "Thinking of U" which was signed to Warner Denmark's Quattro Records, and featured in many Spotify House playlists.
Keeping busy, Mallory also has forthcoming projects with Italian model and actor Federico Constantini, an official remix of the song "Blue" by Eiffel 65 released in March 2019 with producer Alex Pizzuti & Adalwolf, a new track with Italian DJ group DJs From Mars coming April 2019 on Italian label Ego, and a song with Danish producer DEX to be released on Sony Orchard worldwide in 2019.
We sit down with him to learn more about his musical career.
Q: Who are some of your musical influences?
A: Some of these include Robyn, Ellie Goulding, Lissie, who were some of my earlier ones when I was doing EDM vocal feature work. Michael Jackson and Prince are also some of my favorite artists. I also enjoy newer artists including A R I Z O N A, MUNA, Chelsea Cutler, SHY Martin, Boy in Space, LAUV, and Troye Sivan.
Q: What's your favorite part about being a musician?
A: I enjoy collaborating, writing and recording songs; and, then, the process of building the song with a DJ/producer to a finished state.
Q: Who is somebody you always wanted to work with?
A: I'd love to work with Calvin Harris, Disclosure, Mark Ronson, Avicii and Max Martin.
Q: To date, what's your most memorable music moment?
A: I'd say my career live performance highlight include playing live during the Denver Nuggets Halftime show in 2018 as well as opening for Eurovision winner, Netta in Sweden at Berns Hotel during Europride. Another highlight was when I signed my first song, "Anyone Would Know" from John Dahlback on Armada Records.
Q: What does the immediate future hold for you in your artistic career?
A: I've got many upcoming releases with other DJs planned. I've been also been making plans to release my own album, so I will be dropping a single from it called "Getting 2 Close" on March 13.
Enjoy some songs featuring him below and follow him on Instagram.
Leave a Reply