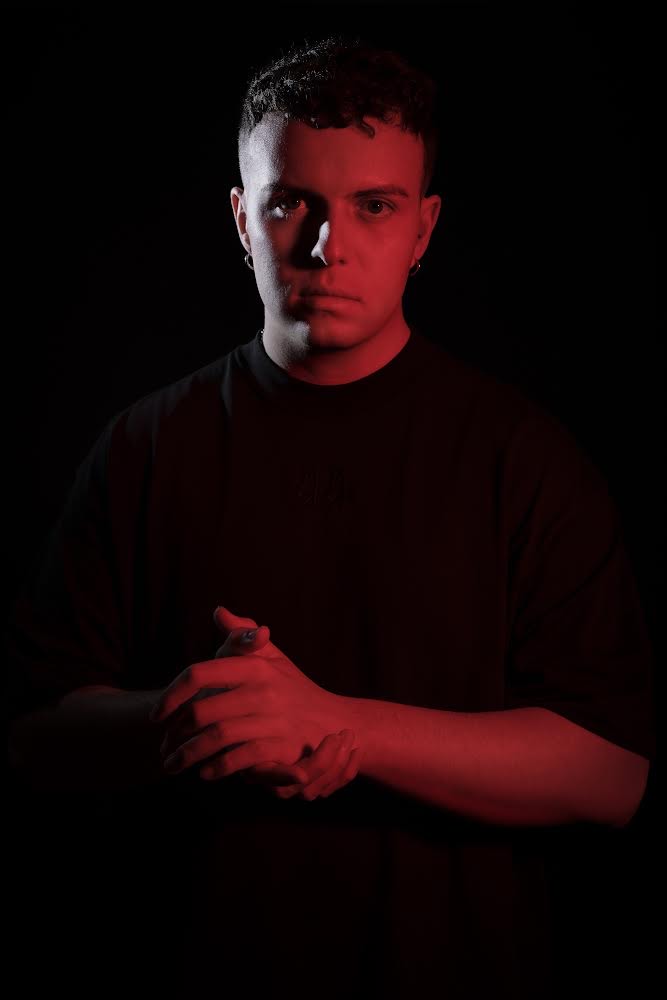 In this Catch A New Wav, we interview the talented artist Dani Novoa known as "Dexphase."
Born in the heart of Madrid, Dani Novoa, better known as Dexphase, is a true emerging force in the Spanish hard techno, rave, and industrial techno scene. From his earliest days, his love for the hardest and fastest sounds propelled him to establish Blackworks in 2019, an event promotion company for the most advanced music in Spain. But Dexphase's vision did not stop there. With the same spirit that drove him to establish Blackworks, he also breathed life into Blackworks Label, a home for the most innovative and hard sounds of hardtechno. This label has become a space for the best hardtechno artists of the moment, helping to shape and define the sound of the genre. Dexphase, as an artist of his own label, has released several notable pieces that have resonated in the music scene. His tracks, such as "Neofuture5000", "Blackworks", "Follow my rules", "Melancholic Dreams" and "Sacrilege committed", have made a great impression and have helped cement his reputation as one of the most exciting producers of his generation. He has shared the booth with giants of electronic music, names that echo on the global scene like 999999999, Brutalismus 3000, I Hate Models, Héctor Oaks, Klangkuenstler, Kobosil, Nico Moreno, Trym and SNTS. He played best clubs and festivals in Spain as Aquasella, Monegros, Medusa, Florida135, Barraca, Industrial Copera and others. Nevertheless, his influence and passion are not limited to the borders of Spain. His music has taken him to perform in places as distant and diverse as Warsaw in Poland, Naples in Italy, Liverpool in the UK, Paris in France, Berlin in Germany, Amsterdam in Netherlands, Antwerp in Belgium and even the lands of Argentina, Chile and Colombia.
As the leader of Blackworks, Dexphase is not only an artist, but also a visionary and a mentor.
His philosophy is based on discovering and promoting talented and emerging artists, giving them the opportunity to debut in Spain, and merging them on stage with internationally recognized names. Dexphase's performances have been praised by renowned magazines such as Resident Advisor, MixMag UK, and DJ Mag. His music has resonated in the best clubs of the industry, demonstrating that this great talent from Madrid is not only here to stay, but is ready to influence and shape the next wave of electronic music.
We learn a bit more about him.
Q: Who are some of your musical influences?
A: My musical influences are very varied, I try to listen to all kinds of music styles to open my mind… Since I was a child my parents have influenced me to listen to electronic music, for example Depeche Mode, Prodigy, Underworld, Massive Attach, Chemical Brothers, Frankie Knuckles, Anthony Papa o Danny Tenaglia. I've been influenced a lot by dark and mental techno, and more classic industrial techno, such as Oscar Mulero, Perc, Lewis Fautzi, Ansome, Scalameriya, among others.
Q: What's your favorite part about being a musician?
A: I believe that as a musician I am privileged. I'm lucky enough to travel, discover amazing clubs and get to know spectacular cities, as well as people from all over the world with my tastes and geniuses. A lot of people – even musicians – are not lucky enough to be able to make a living from their work and enjoy themselves in the meantime, so I think everything I experience on a daily basis is a fortune.
Q: Who is somebody you always wanted to work with?
A: I have never had an idol figure as such. I would like to collaborate or coincide sometime with many artists, even from other genres to make a crazy collaboration.
Q: To date, what's your most memorable music moment?
A: Uff, there are so many unforgettable moments… Recently I would keep my two sets at Monegros Desert Festival and the feeling of playing at Blackworks Festival Madrid.
Q: What does the immediate future hold for you in your artistic career?
A: Things are moving very fast and everything seems to be taking off. I'm planning to visit Colombia and the USA in October, as well as playing at ADE Amsterdam on two very important dates. Then I'm scheduled to play at 3 Blackworks Festivals in 20 days. I can also tell you that I have confirmed my first session with Boiler Room. We'll see what else comes up, every week new projects and gigs come up that I could never have imagined.
Thanks for joining us and follow Dexphase on Instagram and enjoy some tunes below.
Leave a Reply