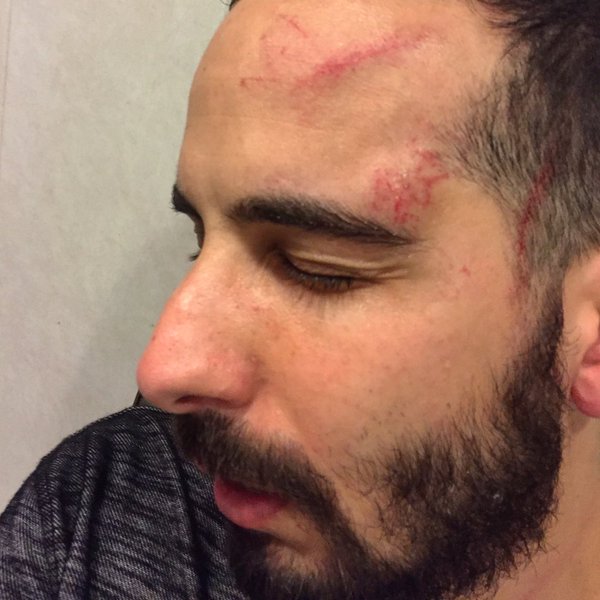 According to the Cash Cash twitter account, moments before going on stage for one of their sets this past weekend, Jean Paul Makhlouf who also goes by JP, was assaulted by the members of the Tyga's entourage.
Cash Cash was scheduled to perform on March 12th in Charlotte, North Carolina at the night club, Label. That same weekend, they were also scheduled to be a stage performer on the four-day cruise; Inception at Sea.
Tyga, a rapper who has been affiliated with the Young Money Entertainment and the Kardasians, was also on the cruise ship set as a special guest performance.
After the incident, Cash Cash took to twitter to posts a three-tweet story of what had occurred. The tweets are time stamped as March 12, giving hints to the incident occurring prior to then In one of their tweets they promise to post a video to get into more detail as to what occurred.  It seems as though it it happened on the cruise, as Cash Cash still performed on March 12th at Label.  Their tweets regarding the incident came after the tweet about attending Label.
At this point in time there has been no further social media presence about the incident or resulting changes in performances from Label, Cash Cash, Tyga or Inception at Sea. If the allegations are correct, it is upsetting to see that this kind of action is being avoided.
As more information regarding what occurred surfaces, be sure to check back to get updates. Also, fi you were there or you have hear any information feel free to message me on twitter @illmatic_tj to let me know about it.
Social Media Posts in Chronological Order:
PUMPED FOR TONIGHT @LABELCharlotte ????

— Cash Cash (@cashcash) March 12, 2016
Last night JP was violently physically assaulted by @tyga 's team mins before our set. Thank u to everyone who helped out. JP is recovering.

— Cash Cash (@cashcash) March 13, 2016
We are extremely bummed we couldn't play for our fans and were completely disrespected by @tyga and his team. More on this coming soon…

— Cash Cash (@cashcash) March 13, 2016
https://twitter.com/cashcash/status/708820461262675968
https://www.facebook.com/SugarSocietyOfficial/posts/1124802950885202
Leave a Reply