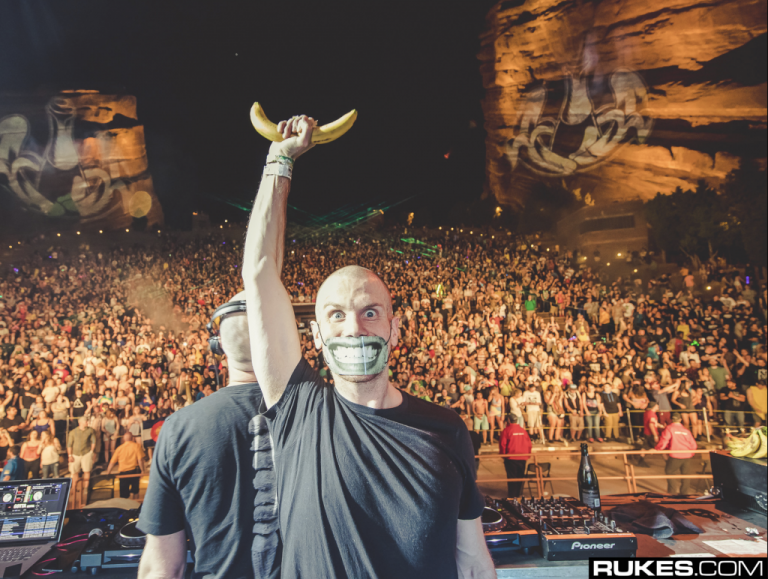 Last year Denver's famous Red Rocks Amphitheater played host to the first ever Dada Land Before Time concert and saw the insane duo pull out all the stops for one amazing Jurassic themed night. This year the banana throwing, champagne-loving Swedes known as Dada Life are back for Round 2 of their cave-man style party, this time with a whole new lineup and a ton of new tricks up their sleeves.
Having been joined last year by an all-star cast featuring the likes of Jauz and Paper Diamond the duo was really going to have to pull out all the stops to one-up themselves and goodness have they done it. This year Dada Life will be joined by another heavy hitting electronic duo, that being the Califonia bass producers Slander. Having played at Global Dub Festival in 2016, Slander are no strangers to Red Rocks and their return to the famed stage is truly no surprise. Having recently released one of the single best Diplo and Friends mixes ever the two have proven that they are more than capable of crafting a truly unique performance and we are excited to see what they bring to Colorado this time.
Next on the lineup is Pegboard Nerds, a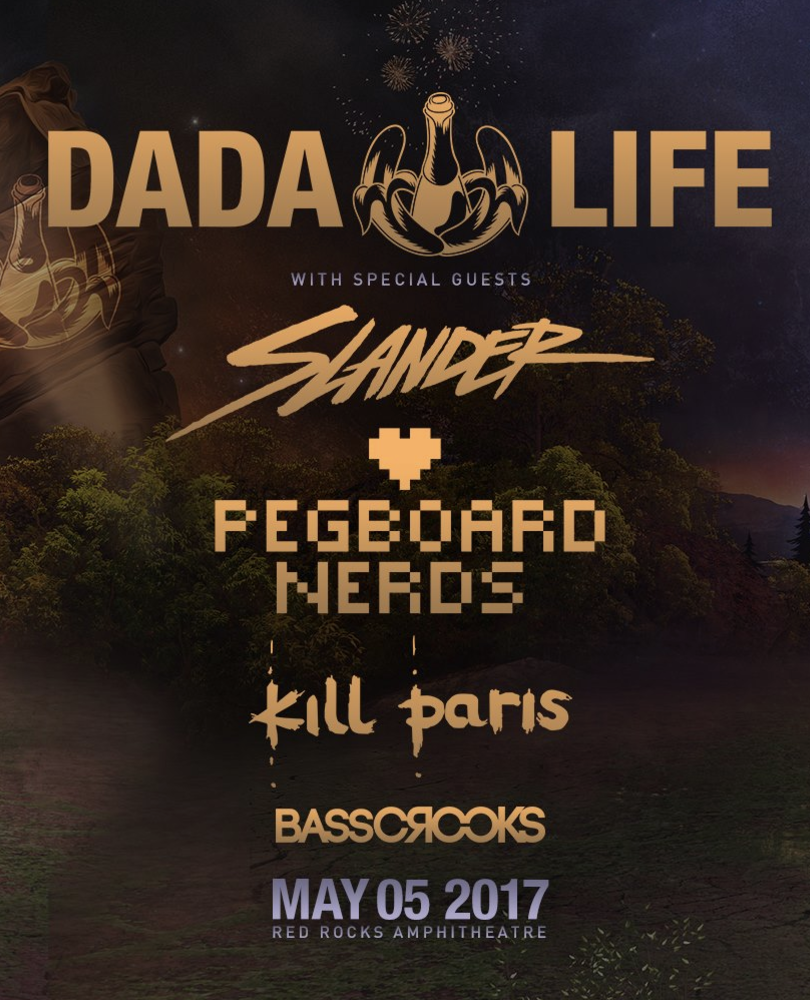 nother Scandenavian DJ group this time from Norway and Denmark. The two have become Colorado frequenters, often playing at the world famous Beta Nightclub and similar to both Dada Life and Slander the group has played Red Rocks more than a few times already. Known for their amazing chart-topping progressive house beats and crazy Adventure Club remix the two are sure to bring a world class performance to the famous venue when they perform later this month.
Last on the lineup is an artist who needs absolutely no introduction due to his fame in the Colorado music scene, that being funky electronic legend Kill Paris. The keytar slaying, "Baby Come Back" remixing, all around amazing producer formerly known as Chill Harris is one of Colorado's favorite artists who has been missing from Red Rocks lineups for quite some time. With his addition to this year's roster, Dada Life has secured one of the most genre diverse shows Red Rocks has ever hosted.
With this sort of electronic talent combined with the insane production value Dada Life has become know for we are sure that this show will be one of the highlights of the entire Red Rocks season. There are still some tickets available which you can grab HERE and be sure to check out the Slander mix we mentioned above which is linked down below.
[soundcloud url="https://api.soundcloud.com/tracks/303887428″ params="color=ff5500&auto_play=false&hide_related=false&show_comments=true&show_user=true&show_reposts=false" width="100%" height="166″ iframe="true" /]
Leave a Reply