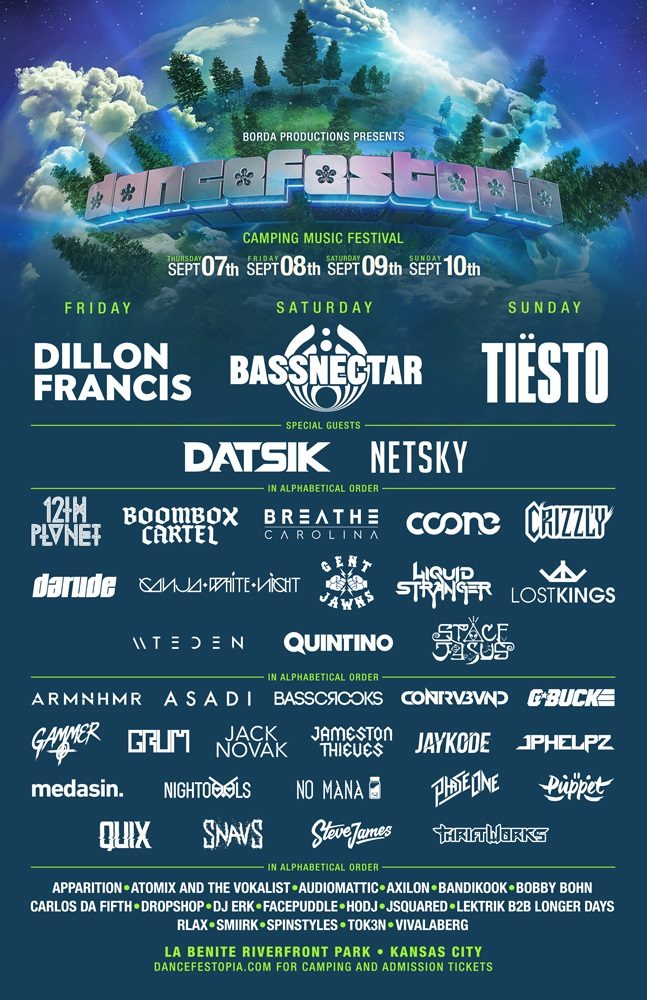 It's here, and with a special appreciation for DFT, we'd like to give you the official lineup for the 2017 edition of Dancefestopia! Having been a huge part of the fest a few years ago, I'm always excited to see the lineup and this year is without exception.
The three headliners are of huge importance, and with Bassnectar comes his huge and loyal fan base, while Dillon Francis will bring some shenanigans for the first night and a legend in Tiesto is set to close out the festival. While I do care what headliners will be at a festival, I've found myself looking more and more at the other names on a lineup to see what sets I'll be filling my days with.
In this case, the likes of Darude (yes, of "Sandstorm" fame), Gammer, Coone, Breathe Carolina, and Mt Eden are some of the names that peaked my interest right away. If you're slightly older and/or musically inclined, you'd recognize Breathe Carolina as a rock band from a handful of years ago, while Mt Eden have been around the dance music scene for more years than I care to count. The last name that I am SUPER excited to see is Mau5trap's own, No Mana, who Deadmau5 himself has praised on more than a few occasions in his residency with BBC Radio 1.
All in all, this lineup has a great set of headliners and artists to fill out your must-see list, not to mention more than a few names that will definitely surprise you. More info can be found at the Dancefestopia website!
Leave a Reply