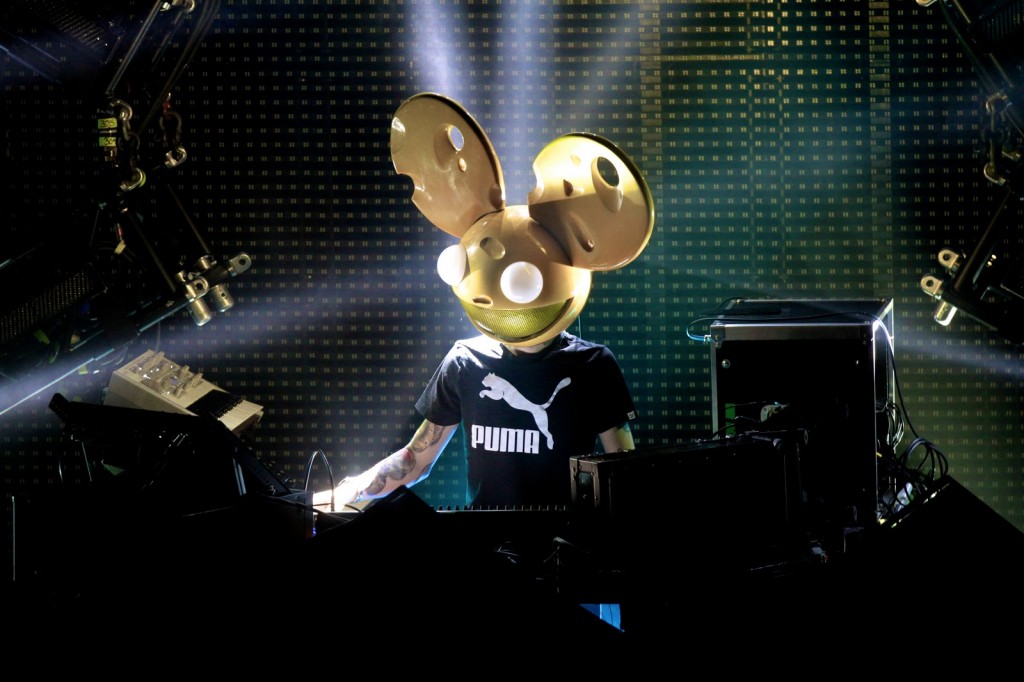 Deadmau5 has a show coming up in the beginning of January in Montreal at New City Gas. The event was to cost $117 total. Like usual, fans took to the internet to complain about prices. Reddit user,  creationchon, stated:
Wow… way more expensive than I thought it would be. PASS for now, unfortunately way above my budget 🙁

Have fun to those that can afford it!!
Nothing vulgar, just expressing his disappointment. Almost immediately, the absent-from-Twitter, Joel, responded to this (and presumably other) complaint with the following messages:
ugh, i hate this shit. i asked for some shows for my bday, coz i didnt really wanna be alone for my bday… so my agency finds venues whod like to host me… then they rape on tickets. god thats frustrating. i wish i had control over that.
Soon after, he wrote this:
making phone calls today./blockquote>

An hour later after those phone calls, they apparently "made a mistake" and was "correcting it."

there. it's getting fixed. apparently "a mistake was made" yeah…. no shit. anyways. its being "corrected". i got your back.

Reddit user stated this after finding out he was making phone calls:

keep us updated, but im sure the venue won't budge 🙁 — all they see is the massive profit$ ugh..
the worst… we pushed off our new year plans to save up for the unhooked show instead, now the new years stuff is sold out. DAMN YOU NEW CITY GAS!!!!!!!!!!!!

Deadmau5 laid down the law:

theyll fucking budge allright.

He made a difference with those calls:

I have a genius solution. fixing. 😀 will make an announcement on twitter real damn soon.

.@newcitygas nice ticket prices… didnt i do a full production / cube show in MTL for 50$ once? yeah. thanks for throwing me under the bus.

— dead mow cinco (@deadmau5) December 19, 2013

my apologies MTL. ill fix this. im just as pissed as you are.

— dead mow cinco (@deadmau5) December 19, 2013

Dont worry horde, were fixing this, a serious mistake was made. hold tight! its still on at @newcitygas just came on to tell you.

— dead mow cinco (@deadmau5) December 19, 2013

i have fixed the New Gas City MTL situation. 🙂 amazing news for everyone in 45 minutes. Lookin out for you, horde! 😀 youll love this.

— dead mow cinco (@deadmau5) December 19, 2013

Okay MTL, here we go! tix are now 50$. AND imma do 2 shows for you. 😀 okie? thanks to @newgascity for working this out with me 😀 <3 MTL.

— dead mow cinco (@deadmau5) December 19, 2013

.@newcitygas thanks for the help on the show(s)! we really appriciate it! the fans will love you, and theyre what matter 😀

— dead mow cinco (@deadmau5) December 19, 2013

PROBLEM SOLVED.
2 shows. 50$ for tix. win win. best i can do to help. 🙂

Tickets are now $50. Each of his sets will be around 2 hours long. He will be playing on the 2nd and the 3rd of January.

Tickets said they were sold out. Joel refuted that:

theyre fixing prices now. itll be up again in a bit.

What was funny was Reddit user, julianday_909
joked about assuming this is how Deadmau5 talked to the New City Gas people about the ticket prices.
Joel tweeted that. Instead, Joel said it went more like this:
hahahaha…. actually was aimed more at my agent. (i swear…. the poor guy… its kinda funny, but i still sometimes feelbadman.jpg for the dude) then again, he signed up for this shit. 😀
I can say I feel Joel's stress:
is real.
Fuckin serious? this is how i end my year? dealing with promoters WAY overcharging for tickets to whats supposed to just be a simple / fun bday shindig? Okay. awesome. throw me under the fuckin bus, make me look like i'd have the fuckin BALLS to charge people 100+ after xmas and new years when everyones just SO LOADED with extra cash to throw around. brilliant.
and trying to launch a fuckin subscription model at the same time and get that live by the end of this week, develop a show for 2014, some new touchscreen software, fuck man…. what else is going to fuckin go wrong before the year is out? cmon! gimme a break. 🙁 halp.
What is good is that he cares about his fans. He cares about his music. We care about him. We care about you Joel.
Leave a Reply