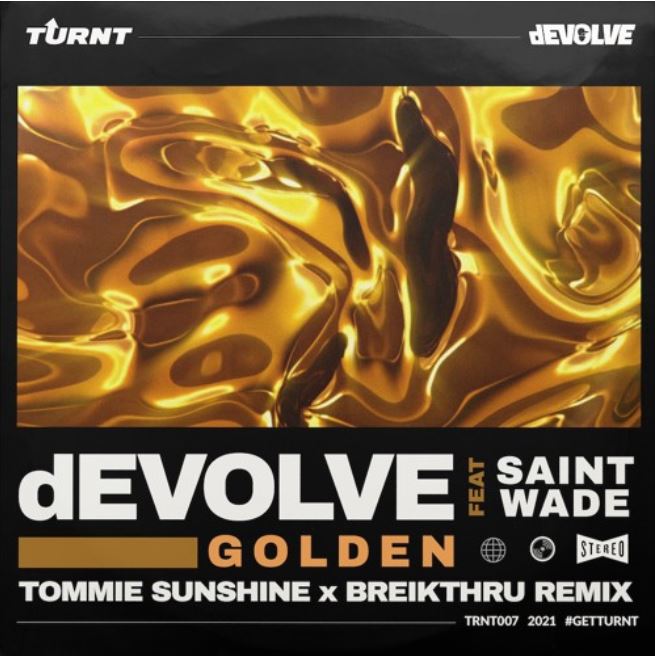 Scoring a massive remix here from the likes of electronic musicians with a combined multi-million stream count, dEVOLVE has hit the head on the nail with this flip. Getting both Tommie Sunshine and Breikthru, (who worked on the smash "Untouchable," together,) to put their vision on, "Golden (feat. Saint Wade)," smooth drums and a passionate piano melody bring a rich level of ecstasy to an already fire music journey.
dEVOLVE has well over 50-million streams and has strong-standing in both realms of USA radio play and satellite radio exposure. He's been in the game for years and embraces a variety of genres, ranging from house, trap, moombahton, and more. More recently, he now has his own Insomniac Radio Show "The Launch," where he's able to bring even more vision and energy to the table.
Tommie Sunshine has been hustling in electronic well before the USA had it's 2009/2010 EDM movement, by 2014 he was collaborating with trending artists at the time like Deorro and continuing to widen his reach and message as he always had. Today, owning Brooklyn Fire and still a hot/unique item that showcases plenty differentiating strongpoints, Tommie Sunshine is gem of the electronic music universe.
Based out of Orlando, Florida, Breikthru is the brainchild of electronic artists DJ Chino and Sky Mareci. Within just 3 years, their emotional direction and focus on genre's around the 110-128 BPM range had them noticed by many, getting signed to labels like 3Beat Records, Brooklyn Fire Records, and Hexagon Records.
Leave a Reply