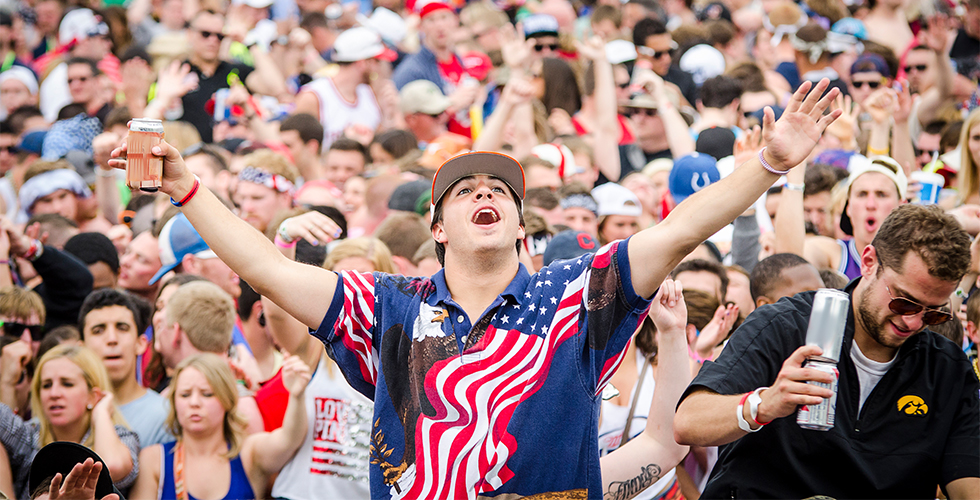 The Indianapolis 500 is one of the biggest events in sports. In the middle of the speedway, people party like no tomorrow and drink until they don't remember anything. Wikipedia says this about the Snake Pit:
The infield of the track in the vicinity of turn one was known as the "Snake Pit." Long known for rowdiness, heavy alcohol consumption, bikers, streaking, flashing, and an overall Woodstock/Mardi Gras-esque atmosphere, the Snake Pit was a popular location for college-age fans to spend time at the track, many of whom had little or no interest in the actual racing activities. Like the infield at the Kentucky Derby, the Snake Pit was often considered a rite of spring, and an excuse to party with abandon. Arrests for public intoxication, disorderly conduct, fights, and drug possession were frequent and common.
How do you not want to go? They also suggest the following items to wear:
Anything checkered or red, white and blue
Swimsuit (You're probably going to get wet at some point. So you should be prepared – and work on getting a tan on as much of your bod as legally possible.)
Amurica-gear (Yes, that means cut-offs and jorts.)
Dress or romper
Hat (Keep cool. Look cool.)
Sunglasses (Protect those eyes so you can see all the sights. Fashionable, too. We give free Indy 500 shades on the Snake Pit Tour.)
Essentially, that means my "back to back world war champions" America tank and my pabst blue ribbon board shorts are prime gear for this event.
To top it off, Dillon Francis, Hardwell, and Nervo are performing. How much? $10. That will be the cheapest you'll see all three unless you are given tickets or sneak in. That definitely tops last year's lineup: Afrojack, Diplo, and Topher Jones.
Leave a Reply