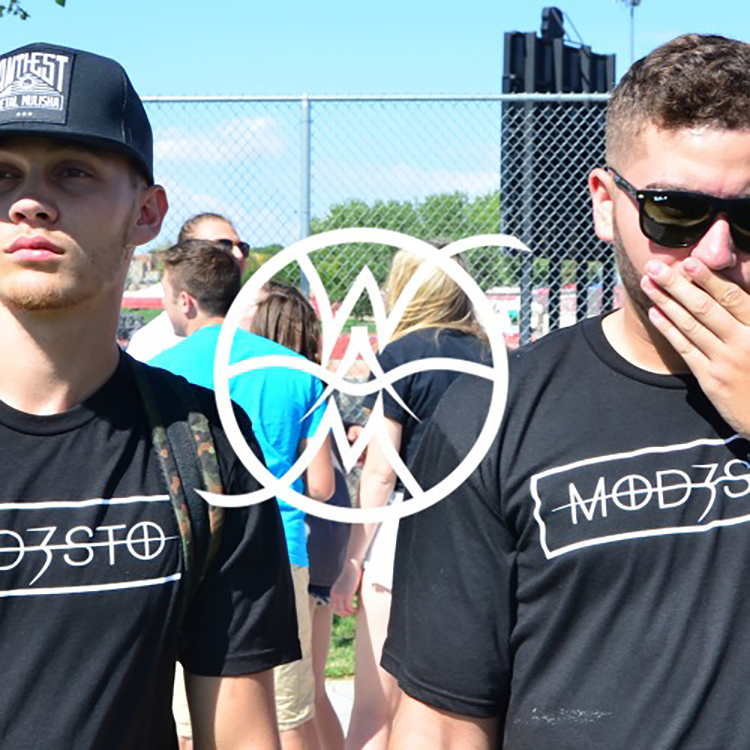 After a few listens of Mod3sto's soundcloud I was curious enough to want to find out a bit more about this duo. Their catchy style and growing fanbase was beginning to catch fire and the bass pulsing out of my speakers told me I had to seek them out to find out the what, where and who. I thank Trevin for giving me this in depth look at Mod3sto.
Tell us a little about your backgrounds, names, age, location, how you met and what got you started?
Trevin Barnhill (19 years old) and Calvyn Clatanoff (20 Years old). We were both born and raised in Albuquerque/Rio Rancho area of New Mexico and met when we were 3 and 4 years old through baseball. The thing is now we live one different coasts. I live in Los Angeles and Calvyn lives in Miami. I used to hate EDM and it took Calvyn about 6 months of hard pushing to get me used to it. It wasn't until we both went to go see Hardwell and W&W at Das Energi, in Salt Lake City, that I  really felt like I truly enjoyed the music. We both have different taste, yet mesh so well together. After being best friends for so long you kind of get put in this place that you work well together in any situation. After that show we began to DJ but realized to separate ourselves from other DJ's we had to become producers and work on our own craft and find our own style.
 Genre preference and influences on your productions?
We both listen to different music than we make. I loves listening to a sort of ambient chill hip hop style instrumentals, while Calvyn really enjoys progressive/trance music. But when we're together we love listening to nothing but bangers. We love going hard as fuck together and that's what we believe sets us apart from a lot of people when it comes to being a DJ. It's our presence and crowd control. Our influences come a lot from Junkie Kid, Hardwell, W&W, Blasterjaxx, Riot Ten, AND many many more. Which goes from hard drops, yet melodic break downs which is why we coined the term MeanRoom House. We have melodic breakdown but hard in your face drops which is essentially adding Trance/BigRoom Breakdowns with Hard house/Hard Electro/Hard Trap drops. It's quite a mix but we think has defiantly been what has set us apart.
 First show and release..how were they and how did you feel?
First show and first release honestly like all beginners were not that good (laughs). Humble beginnings yes, and the struggles because of that has pushed us to work hard and has made us the artist we are today.
Support and help from bigger artists, how important are they to you?
We have support from some pretty big artists, from Tommie Sunshine, Kennedy Jones, Black Tiger Sex Machine, J-Trick, and MANY MORE… But our most important is the support we have gotten from Junkie Kid… He is a big influence on us and being supported by him and being put on his radio show as an exclusive was like a dream come true. Very blessed and we're very happy that these artists are supporting what we are doing.
Collabs and who would you most like to do one with?
We are continuing to collab with our best friends down in Italy, The Two Strangers. We work so well together and all our tracks have been a success as well as First Gift. We have a lot more collabs coming as well from small to bigger artists! Such as DuckWorthSound, Arkad3m, Counta, JVO and more!
What parts of the industry do you most like and which annoys you the most?
The thing we would say we love about the industry is that a lot of producers are always there for you and they love to help. We think there is this boundary between straight dj's who don't produce and dj's who produce. We hate that people who just dj essentially need shows to survive in the game… which is why we think there is always beef and slandering… while producers have themselves to rely on. They can survive on their two feet to be in the game because it's on them.. not promoting a show… not throwing others under the bus.. just being ok with surviving on THEIR music.
What's in the plans for 2016 and beyond?
We plan on signing tracks with certain labels such as Hystreria Records, Panda Funk, Uprise Music and more, as well as signing with an agency. We have over 15 unreleased tracks already and it's only January. We have an arsenal of wonderful tracks that have massive potential. We plan to keep on working hard every single day and trying to be the best that we can be. We also have some shows coming up. Some back in our hometown, some in Texas, some and Utah and some in California. More to come though and we cannot wait.
These guys have their heads screwed on the right way, they work hard, produce some hard-assed tracks that only make you want to have more of them and are doing the hard yards to gain them success. I wish them the best and below you can check out what is blowing up my speakers right now.
https://soundcloud.com/mod3sto/nightmare-original-mix-spinnin-talent-pool
Leave a Reply