Whilst in Amsterdam for ADE '15 I had the pleasure of meeting Marco Janssen aka DJ Merco. Based in Utrecht just a short trip from the 'Dam we had dinner and discussed his blossoming career as a DJ and now producer of his own originals. Hearing his latest ID and the original 'Trap' take I can only see this career taking him further than the surrounds of the Netherlands in the coming months. Take a peek into Merco's world.
At what age did you start DJ'ing and who were the DJ's that got you interested in it?
It all started when my good friend Sven Schaar (who also happens to be my manager) was showing me his DJ controller back in 2011, when I was 17.  He turned it on, showed me his moves and I was sold immediately! Not because of his 'amazing' DJ skills (sorry Sven :P), but because of all the possibilities you have when being a DJ! After that day I started as a DJ on my birthday in March. I set my eyes on on the EDM scene and all of its artists. Artist such as Avicii, Nicky Romero and Tiësto inspired me to start my own career.
Where was your first show and how was the feeling behind the decks DJing first time?
My first show was in a little club in my hometown Houten in The Netherlands, back in 2012. It was awesome! I was very nervous that night. But luckily my nervousness disappeared when all my friends walked into the club. I remember that I really liked to entertain the audience. Not only with my music, but also as an act. They were very positive about me. After my show I heard that it looked like I was DJ'ing all my life. That was great to hear!
Watch this aftermovie from a booking last year from Merco with artists such as Yellow Claw and Tony Junior.
When did you begin producing and who helped you with tutoring and what software do you use?
I actually started producing seriously at the beginning of this year. Before this, I produced a lot of mashups and concept tracks with FL Studio, but that was not my favorite software to work with. Together with a close friend of my, Caz Amarillo, we decided to switch to Logic Pro X. He taught me a lot about producing. Aside from that I learned a lot from tutorials on YouTube. You can find every single part about making music on the internet, which is really helpful! Nowadays I spend a lot of time making music at my place. The decision to make my own music was a big step towards becoming more known. My first remix did a great job and got supported by a lot of deejays. This motivates me to work even harder!
What genre is your most favorite and which DJ's do you admire in the scene now?
I have a lot of DJ's who I admire and like to work with. My favorites are definitely DJ Snake, Boaz van de Beatz and Cesqeaux. All three of them are very innovative in the trap scene and have their own unique sound. As you might have guessed, trap is definitely my favorite genre!
What song would you love to do an official remix too?
There are so many songs that I like and I can pick from right now. I think I will choose the new one from Sam Smith – Writings on the Wall. I really love that song!
When should we expect originals from you?
Before the end of 2015 I will release my debut track. It is an eccentric trap track that I have worked on for the last half year. Right now I am working on a few other tracks for next year. A disadvantage for my fans may be that I'm a perfectionist. I want my songs to be perfect before I play or release them. This makes it take a lot more time before my songs get released, but I think that this will improve them and make them songs you will remember for a long time. I hope it is worth the wait! 🙂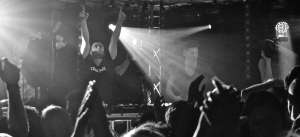 What are your expectations of your career and how difficult is it to make it in the industry?
I don't have specific expectations of my career in the future. I hope that I can continue with entertaining people with my music. My focus right now is working hard towards being original. I want to make unique songs, play original tracks and have a different act than other deejays. It is difficult to be part of this scene, but I think that this will be the right path for me! 🙂
Marco is 21 yrs of age and a man with a mission to succeed, he's honest, hard working and never stops learning his craft. I am excited for his future prospects and hope we'll be dancing to his tunes at clubs and festivals in the very near future and I thank him for his time in doing this interview. Stay tuned for that new song it's as they say 'LIT'!
Leave a Reply