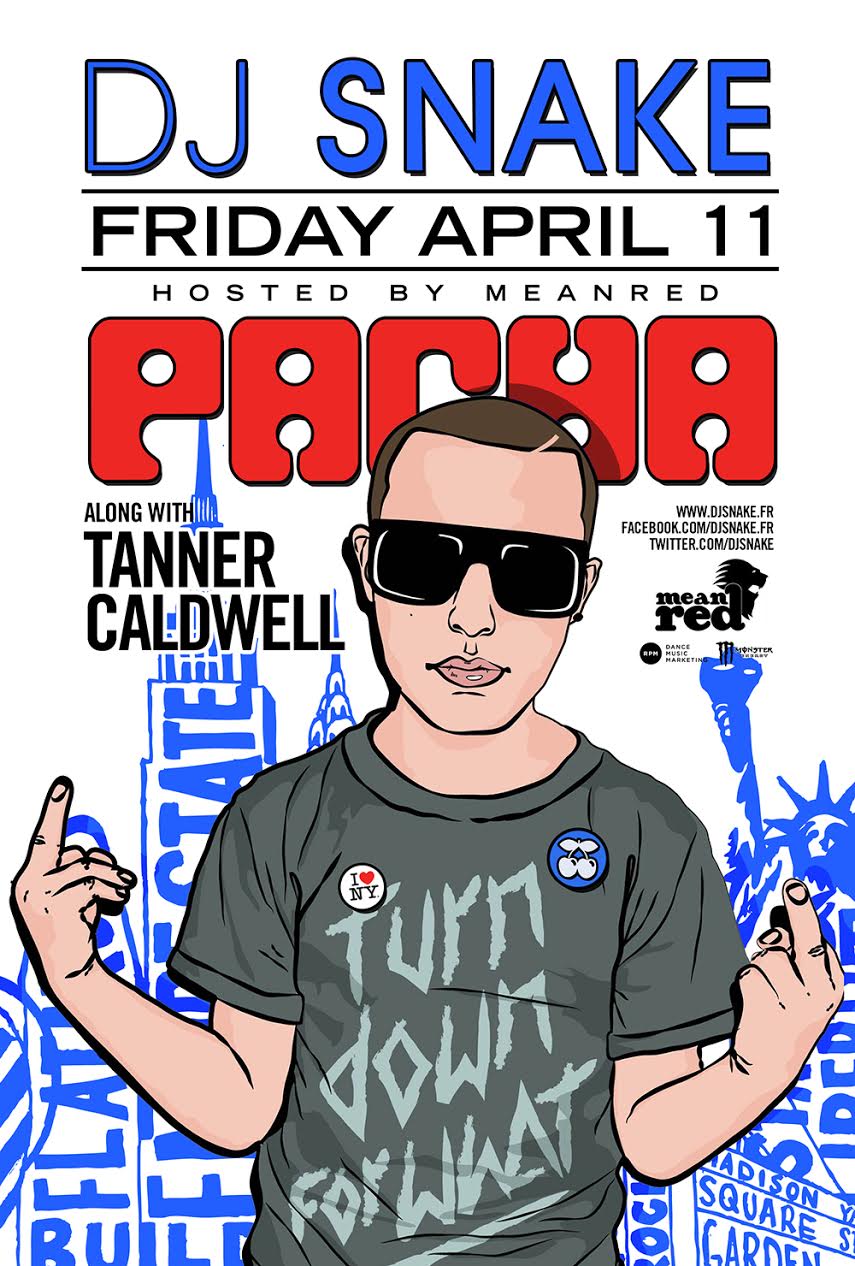 DJ Snake is exactly the type of DJ I think is the most exciting to see. He mixes all genres of music, taking risks and hitting 180's throughout his set. Having a repetitive sound can inherently get boring, whether it's dubstep or deep house. A great way to keep it entertaining for the people coming to see you is to switch it up. Surprise people, make them think you are going to drop one song then drop another. At the same time you have to read the crowd, if they are digging one genre, feed the beast and keep playing the genre. This is what precisely DJ Snake does.
Friday night he started out with a bit of house and the crowd wasn't as hyped you would think. I'm not sure if it was the venue or the crowd itself. Pacha is extremely cramped. Everyone is sweaty and rubbing up against one another. The VIP section encircles the top part of the club with about 5 feet of wiggle room looking down onto the main floor. No matter where you were standing you were bumping shoulders with somebody. At the same time, the sound wasn't that great. There are no speakers facing the back part of VIP, they are all facing outward and not evenly placed throughout the venue. Another downside is that there are objects blocking your view from all angles, whether a light screen, the back of a speaker or the design of the building. It can be frustrating at times. Pacha itself was a huge let down but DJ Snake made up for that.
He dropped his classics like "New Slaves" and of course, "Turn Down For What" but also played a lot of house, a little hardstyle, the "Bass Cannon:" drop (which everyone seems to be doing and is a bit overplayed in my opinion) and some dirty trap. All in all, his set was very diverse and a lot of fun. I have to admit there weren't as many OOO's and AHH's as I'd like which is the reason why this music is so much fun to see in person. If you want my advice go see DJ Snake at a festival,  a pier show, a warehouse or any other club besides Pacha.
Leave a Reply