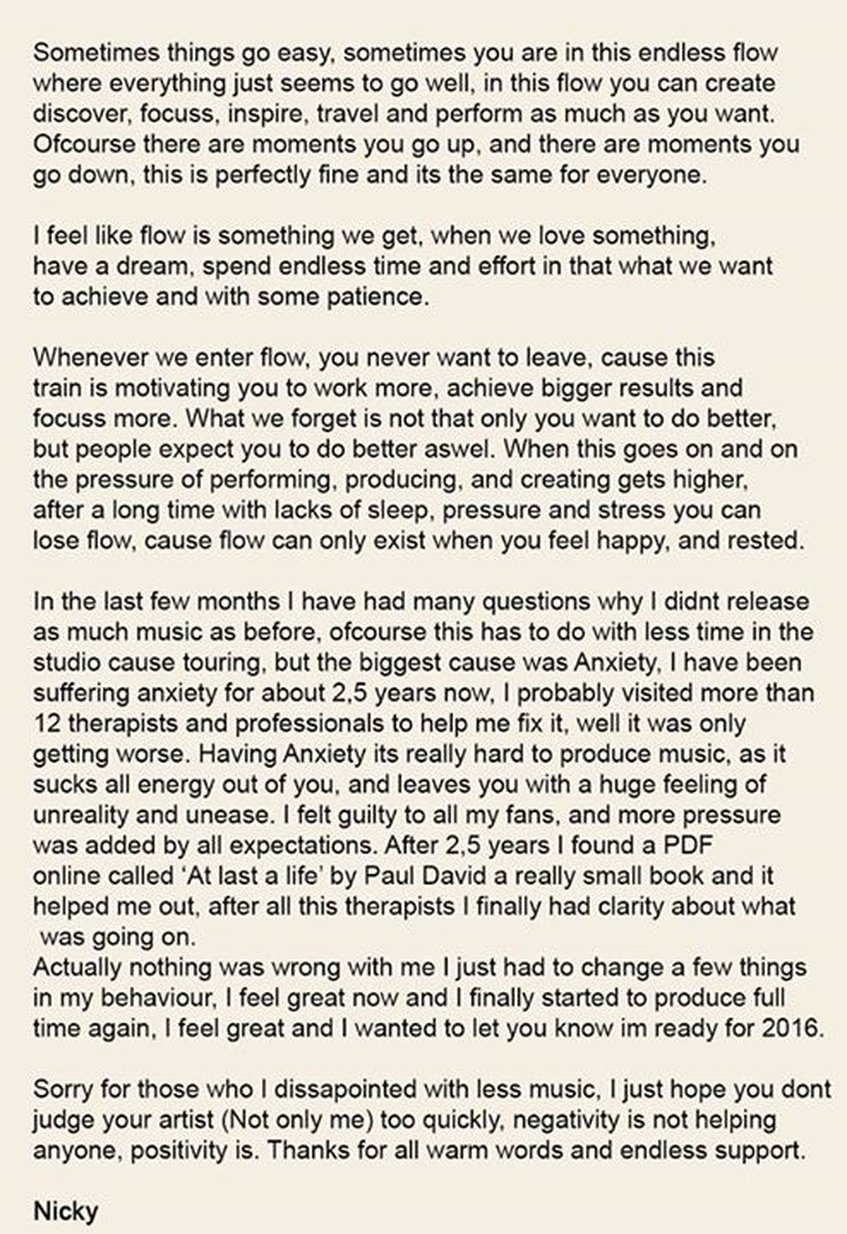 I would like to begin this by pointing out I am not the best to write on this. I do not know what mental illness really is like and I can only speak on what I have learned. This is a serious article, some may find some things in this article as triggers.
As some devout Protocol Records and Nicky Romero fans have noticed, the Electro House/Progressive House artist has been taking a hiatus recently and has not been releasing any new music. On Sunday, November 15th, 2015 Romero wrote his Facebook following an open letter explaining why he has not been releasing anything new.
This open letter, in the form of an image uploaded to his Facebook Like Page, speaks on what Romero has been feeling for the past two and a half (2.5) years.   Romero admits he hasn't been able to produce because of touring but the majority of the time was because of serious anxiety affecting what he, along with many artists, refers to as flow. Romero states,
"…flow is something we get, when we love something, have a dream, spend endless time and effort in that what we want to achieve and with some patience.
Whenever we enter flow, you never want to leave, cause this train is motivating you to work more, achieve bigger results and focuss more."
At one point or another, many different people can say that they have anxiety. But what Nicky Romero is doing is asking for people who enjoy music to not expect more from the artists they love. They may not be getting music as quickly as it is hoped, but that is because the music is a reflection of emotion, and the wellbeing of the artist.
This is all bigger than just a letter from Nicky Romero; its opening the stage for more to be discussed.  Well-known artists are sometimes in the spotlight because they do not feel the need to hide any mental illnesses or anxieties or feelings or sadness, depression, or similar mindsets.
A new artist, asking to remain anonymous chose to point out that Romero coming out is something of a brave and rare, but Anxiety is not the only mental health concern in the musical community. In Electric Dance Music, two well known are Mat Zo and Porter Robinson. These artists, in particular, are open on social media, at concerts, and in person that they suffer from mental disorders like anxiety, bipolar disorder or depression. Their music reflects how these disorders make the artist feel. It is also understandable to see other well known artists, like Tritonal, and artists who choose to remain nameless when connecting mental illness to their music, take strides in having their Flow influenced by how they feel.
For Porter Robinson, for example, at the end of Goodbye To a World, vocals come in singing;
Thank you, I'll say goodbye soon
Though its the end of the world, don't blame yourself now
And if its true, I will surround you and give life to a world
Thats our own
As the lyrics repeat, the vocals become more difficult to understand and start to fade out. "I'll say goodbye soon…Don't blame yourself now" hints to the sadness of suicide that Porter Robinson feels. Robinson does something few feel comfortable doing and puts music to couple the feelings he has. The sadness in the melodies reinforce the sadness of what he is writing.
The loneliness that artists feel can be expressed in ways that the music leads a listener not to believe, but if you listen to the lyrics you can hear how there could be this overwhelming sadness and anxiety in the mind of the artist. Tritonal's Bullet That Saved Me has Underdown singing a set of simple lyrics;
"You hit me tonight
like a bullet from the bright night sky
You saw me fall down
You saw me die

The days went by
And the world was changing
Opened my eyes
To the bullet that saved me"
Listening to the song, nothing is seen as bad because of how Tritonal composed each track on Metamorphic 1 but the lyrics, to many, can be a way that their sadness and a desire for death is translated into their "flow" as Nicky Romero described it.
Finally, an example of sadness is the mellow track 12 of Damage Control; Mat Zo's Fall Into Dreams.
Fly Fly fly,
Rest your weary bones and glide and fall inside,
Snd glide to find,
The coolness of the love and life,
Snd empty your mind, your mind, your mind
That's just how they fall and fall, into dreams.
Fall into dreams, fall into dreams.
Follow. (Fall into dreams, into dreams).
This track can, lyrically, help someone express how they need the escape of substances, or how they can need to escape from sadness. Someone is looking for peace, a way to rest and be in a state of dreams.
These examples of songs from Mat Zo, Porter Robinson and Tritonal are not to simply show that one can find sadness in EDM, but show that the artists that we love, in every subgenre there is, have emotions that influence their music. The mind of a musician is not something that is lineal and works the same way all the time. Artists are hoping that this is becoming more knowledgeable.  There is support, but is it because Nicky Romero is so famous, because the community is really understanding, OR is it because there are those who seek to benefit from it?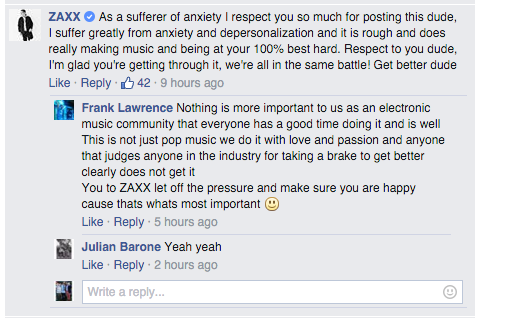 Several times I have written posts involving the idea of P.L.U.R. The letter, R, stands for Respect. I am asking that you respect artist who feel they need time. These artists are not only giving you the music that you desire, but they are also giving hope to their fans who feel the way that they do. There are fans, critiques, and listeners just like you who feel heartbroken, alone, sad, and lost. Artists who feel this way give them something to turn to and make them feel like they aren't so different.
This link is the facebook post that Nicky Romero released his statement on.
Also, an amazon link to the book that Nicky Romero mentioned
Here are the songs mentioned in the post:

[soundcloud url="https://api.soundcloud.com/tracks/79792255″ params="color=ff5500&auto_play=false&hide_related=false&show_comments=true&show_user=true&show_reposts=false" width="100%" height="166″ iframe="true" /]

Leave a Reply