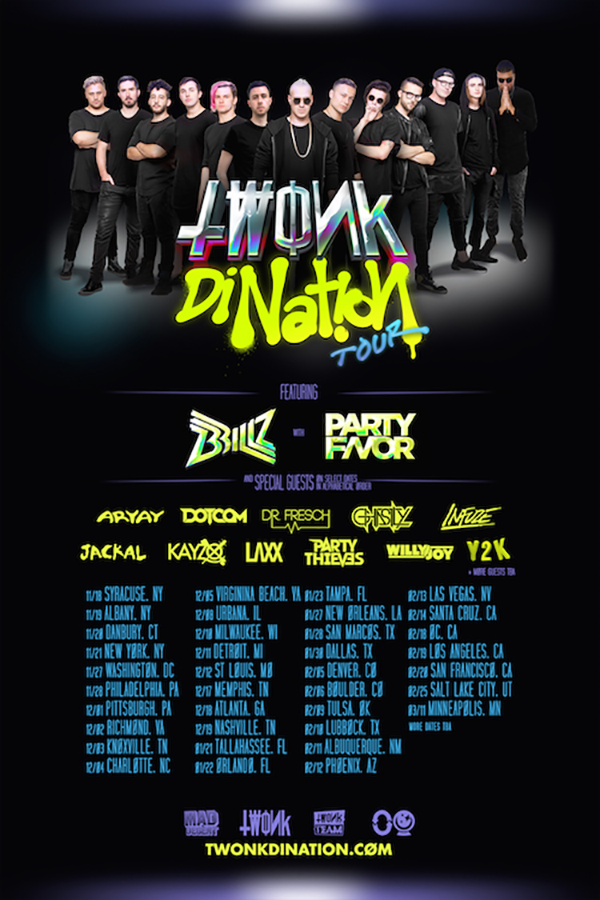 I got to sit down with Brillz on his Twonkdination tour stop in Philadelphia to talk about the new mad decent EP release, upcoming collaborations, and of course his favorite Cheesesteak spot while in Philly! If I were you I would not miss out on this tour!
What is Twonk? If you had to describe it to someone what would you say?
I would describe it as other worldly ignorant intelligence. Exactly that.
Also KaBoosh is Twonk.
With the new ep being released, how do you like collabing with the artists that you worked on it with? Such as Ghastly and Laxx.
Well I met Ghastly through a friend and we were all at dinner and we kicked it off right away and I invited him to the studio and started working on music and we just vibed. We're both from the same planet where ever that is. He came on the tour and has been ripping it since, i love that dude. Laxx and I have twelve songs together that we have to finish up. I really love working with that dude. We don't even really have to talk we just flow. Its crazy how we just springboard ideas off of each other.
On the next EP I have one with Habstrakt who is one of my favorites, and me and Party Favor are working on a sick collab *winks at Party Favor*.
How has becoming a completely sober dj/producer helped you or changed the way you make music?
I think it just makes me more authentic at the end of the day. If your really feeling it, your really feeling it because you're in the moment and I think that was one of the issues and one of the things I know why a lot of the really big producers in the scene don't do any drugs or drink in the studio because you don't wanna alter that perception and think something is dope and it turns out not to be. Sometimes people get hella faded and show up the next day thinking they were on some ill shit and they put it on and say "wow, what is this shit". Ive been guilty of that in the past smoking mad weed but now, I'm feeling really good and authentic and present in the moment when working on music.
But at the same time it has its benefits and it has its downsides. Everyone has to find out the right equation for them, but in my experience, dudes that I personally look up to, make music with a clear mindset and I'm just following in that footstep.
So with the Twonkdination tour finally on the roll, has there been any crazy tour bus moments so far?
Dude, every night is crazy. we're on the tourbus playing chess, making tea, knitting, listening to classic music. Like dude its turnt!
What is your favorite cheesesteak place to go to when you are in Philly?
Ishkabibbles II all day bro. They got that Gremlin Juice thats amazing. Its like an Arnold Palmer but grape juice and lemonade. Its my shit. Thats like the closest thing to booze for me
With the new release of the Twonk vape juice, how long did it take to create it?
We've been working on it for a while now. I can't even count how many batches where we felt like we nailed it. Everyones been giving us great feedback about it so you know its dope that being that picky about it really worked out.
Ok so last question I have for you is: what advice would you give to aspiring artists trying to make it?
I would say try to get around as many creative people as you can that aren't stuck and are inspiring and collab with them. Thats always a great way to get out of a rut. The other thing i would say is, there is a spiritual element to creativity, so when you accept that and kind of go on your own spiritual journey to find that inspiration that will definitely inspire. A lot of the time I feel that people in writing blocks have a negative cloud that you have to get rid of.
Thanks to Ryan for conducting this awesome interview. If you haven't, make sure you check out one of the stops on the Twonkdination tour!
Leave a Reply