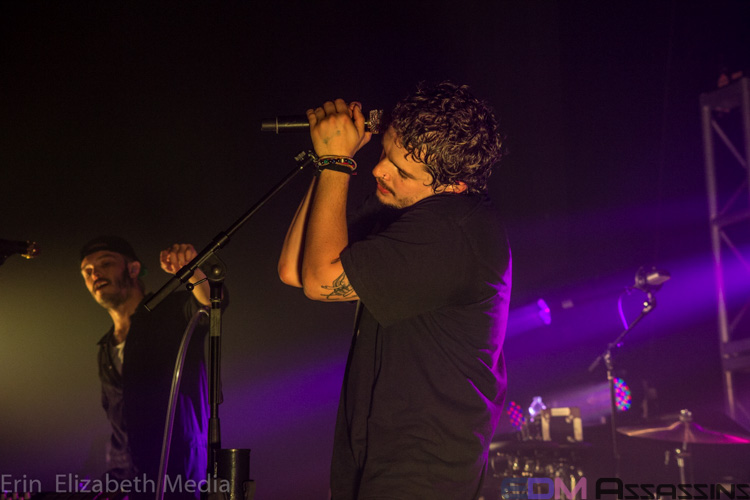 Hey guys! It's a pleasure meeting you; I am going to be conducting the interview on behalf of EDM Assassin today.
Jordan: Thanks for having us!
No problem! The pleasure is all mine. You guys have a unique sound. Is there any inspiration that you have from any other artists on your new album, Bleed Gold Piss Excellence?
Jordan: I mean I guess we have always been into and had a lot of inspiration from Parliament
Jason: For the song Bleed Gold Piss Excellence there is a super strong Parliament vibe to it. That 70s funk kinda groove. Across the record, in general, everything we were super inspired by a lot of the hardware we had in the studio being like drum machines, mpc's, old vintage keyboards, and stuff like that, but also we've been playing with the live band for the past year so jammin' out with each other and being more free form and ya know not being like stuck inside of these lines when we're playing music. When we're playing with the live band we can experiment more and mess around with the groove and that's where a lot of this record is based around. More natural grooves and what not.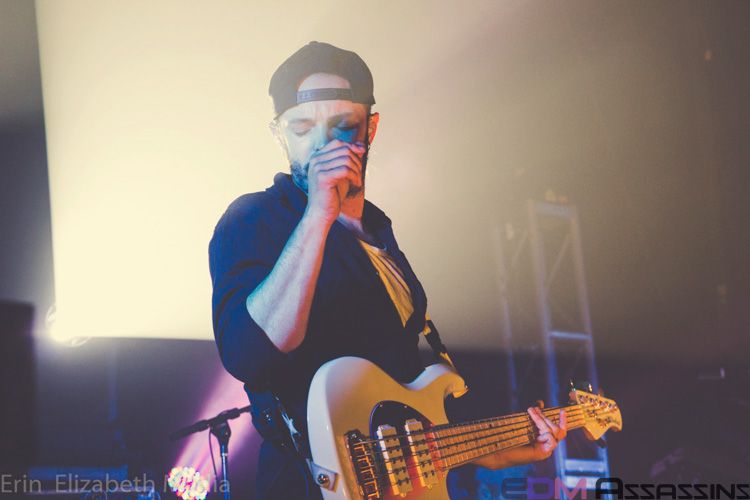 Your newly released song with GRiZ, "PS GFY," is super funky. He said that, "..it was undeniable that somehow the whole time this song was being written for Cherub, they were the perfect fit. We've wanted to work on a song for a long time. GRiZ and Cherub is like wake and bake, Starsky and Hutch, doses and mimosas…" Did you guys have a lot of fun working on the song with GRiZ?
Jordan: Yeah it was cool, he's a really cool dude. We went through like three different versions of it. It was kinda funny, he made a version then wanted to re-record vocals like a slightly different cadence and then he changed the beat for a third time and it was such an interesting creative process.
Jason: It was also cool because it was one of the first collaborations we've done where, it's not something where somebody brought us a beat and then Jordan ended up writing to it, Grant (GRiZ) actually came with the hook and the full first verse and everything and then he wrote the second verse too.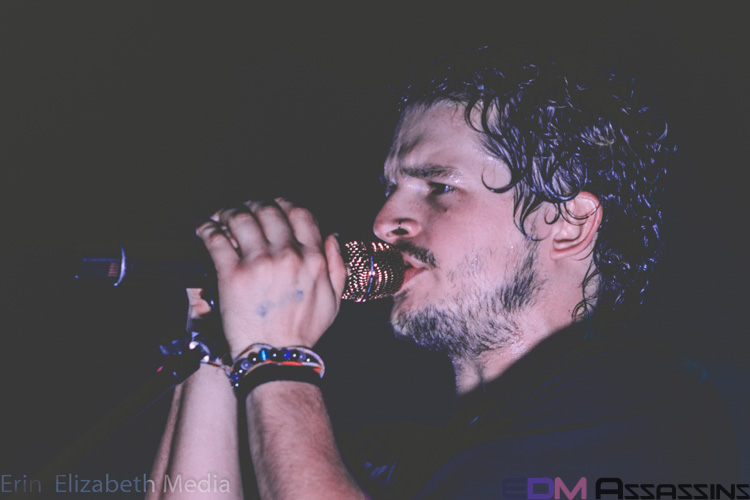 Jordan: Yeah he is a homey so, yes please!? *laughs*
Jason: Yeah, for sure!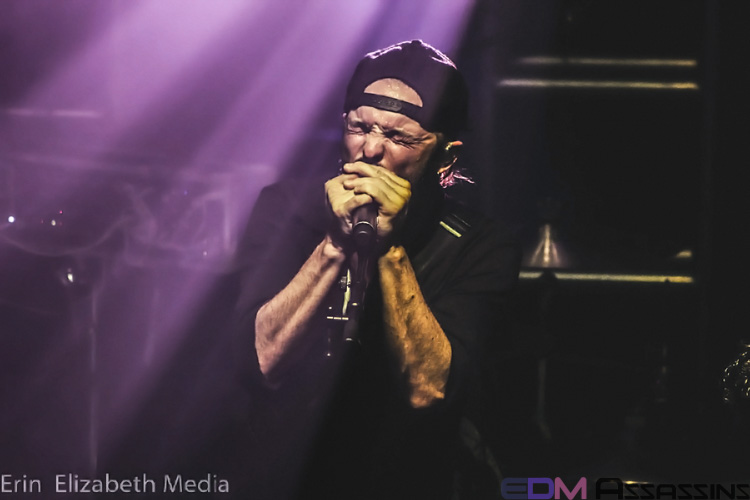 You guys tour a lot. What do you guys enjoy doing in your downtime?
Jordan: Umm getting drunk?! No, I mean we like making music and stuff, we don't really make music on the road.
Jason: Pretty much everything we do is musical related, you listen to a lot of music when you're at home, I DJ a lot. I play with my synthesizers a lot.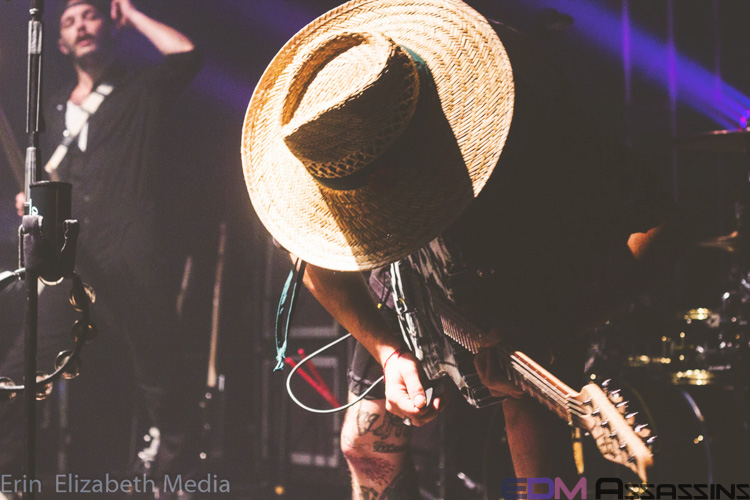 Yeah, I caught your DJ set at bonnaroo on the Kalliope stage!
Jason: I love that stage! It was so much fun! This is the, I guess it's the second year that we've done that, it was super cool. Did you happen to catch the secret set with griz?
I didn't unfortunately, I wish I did.
Jason: We actually ended up popping up in a few places and jammin' with him, he's so much fun to jam with.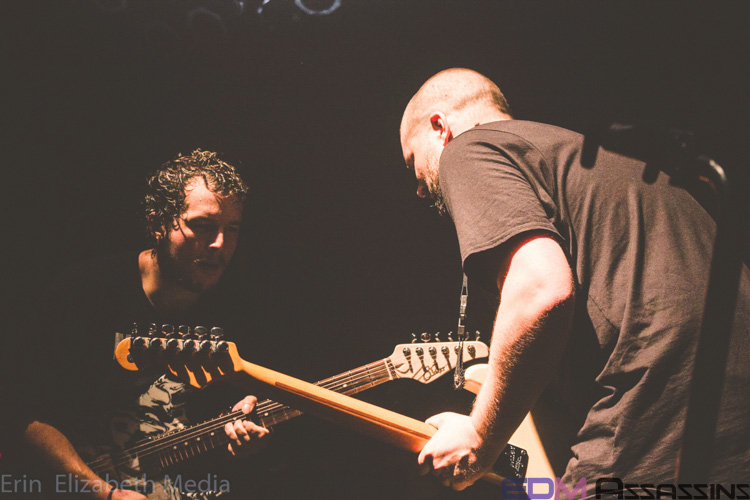 You both have some unique tattoos, which one is your favorite and why?
Jordan: *Looks over at Jason* Is that a Cuban sandwich you're eating? it looks pretty good!
Jason: Mmmmhmmm.
Jordan: *Pulls up shirt sleeve and points at tattoo sleeve* I think this one is my favorite one, it's like the start to a sleeve and one of my friends Spec, she works for a shop in Chicago called Tattoo Candy. Spec's the shit, she's a really good friend and I just trust her to do whatever. She does really, really awesome work and I get super stoked to get a tattoo from her anytime I get one from her.
Alright Jason, how about you? I like your watermelon tattoo by the way!
Jason: That might be one of my favorites! People always comment on this one because it's just very visible. This one's super cool because it's like a hidden banana mermaid and Prob Cause designed it, so that's kinda tight, and Spec actually tattooed it. I also have a matching one up here too, Spec did that one too, she actually signed this one. it's tight.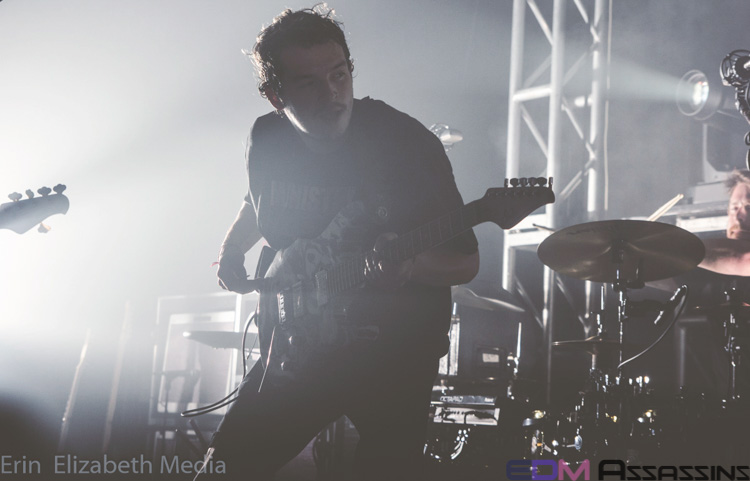 With this tour, are you guys going to focus on your new album or will we get to hear some oldies?
Jason: Since we haven't released the album yet, we're doing a mix. So we are playing like 4 or 5 songs from the new album that have been released thus far but we didn't want to do all new songs because it isn't out yet. We try to mix it up! We try not to play all brand new songs that people haven't heard yet and everyone's like 'what are you playing, we've never heard this'.
Jordan: The only thing i realized is we actually don't play any songs from "Man of the Hour" on our current tour, that's the only album it doesn't have.
Jason: Someone mentioned that last night actually.
Jordan: Yeah, maybe we should make add ons.
Jason: That would be cool, psh don't threaten me with a good time!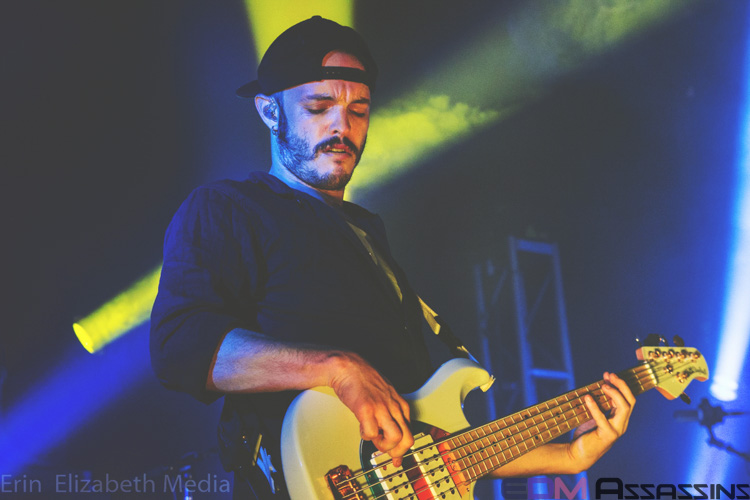 How would you compare this new album to your last album?
Jason: I think it's groovier and grittier, in a good way.
It seems like you guys have a lot of influence from Prince.
Jason: It's a little bit more funky, the drums have a swing to them. It's the stuff that we use though, it's a lot of old 70s and 80s analog gear that just was probably used on a bunch of prince songs.I mean like literally a box of floppy disks that have been put on mp3s. It takes a hilariously long amount of time for those things to load up. You kind of forget about that, it's kind of like, you remember the old aol login with the slow dialup? You pop this thing in and it does that. You forget that there's that whole loading process, it's crazy.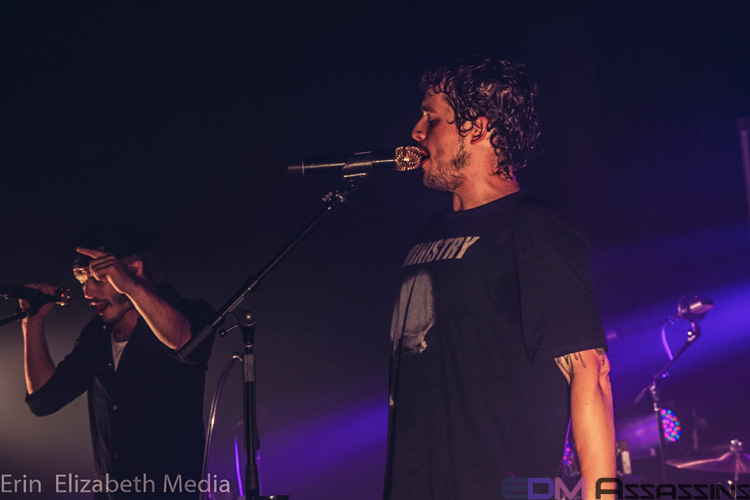 What is your favorite festival or town you've ever played in?
Jason: I mean we loved going to Tokyo because it was freaking weird and awesome, like everybody was so nice and the culture is really cool but really confusing to us as Americans. It was crazy. I fuck with Tokyo pretty hard.
Jordan: They had a kid zone at one of the festivals we played and it was like a whole bunch of 6 and 8 year old just running around. Their entertainment was this cross dressing man in a sailor outfit and like a wig, singing queen songs, but like he was djing off of two ipods on this little tiny dj thing, it's so far from what we are used to here. Kinda like that pachang, or topang..

Jason: Topanga street? Are you talking about boy meets world?

Jordan: Pachinko! You walk into this fuckin' thing and all of a sudden it sounds like fuckin' 30 million heavy metal songs all playing at the same time because its *metal howls* ding ding ding ding, all these crazy horror slot games. Oh my god, it's so terrible.
I feel like you guys should seriously have your own TV show, any thoughts of this?
Jordan: Yeah, once we get cool enough to where people would actually watch it, that would be sweet.
I saw your morning routine video, that was pretty sweet. If you guys had a TV show I would totally watch it.
Jordan: You know what's crazy too, is the label is so worried about lawsuits, so you can do the lifestyle thing but you cannot show any of the music that you like, play any of the music that you listen to, wear any branding on your clothing, we can't wear band t-shirts, and so the lifestyle video turned into this huge headache, like what do you guys want me to do?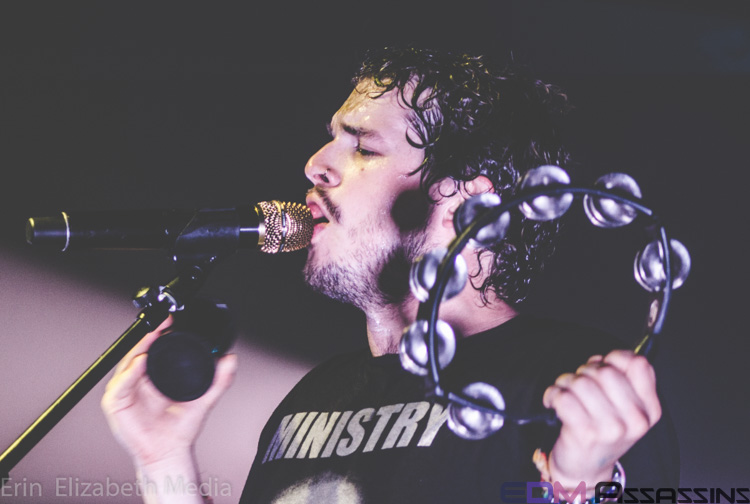 The last question i have for you is who has been your favorite artist to tour with or collaborate with?
Jason: Mike Gibney (GIBBZ). It's hard to say tour with, but we both toured and collaborated with Mike Gibney and it's amazing. Also, Ghost Beach guys, we still keep Eric with us on tour.
Jordan: All the dudes we've been on tour with are fuckin' awesome and it's hard to pick.
Jason: We're really lucky to have gotten the chance to tour with people that are now some of our best friends.
Jordan: We've been super lucky, I don't think we've ever been on a tour where we've been like 'fuck this.'
Jason: The one that's been driving us crazy is Hippie Sabotage, we had so much fun with those guys on tour and then we like end up in town the day before or the day after each other. Not only do we get to hang out with each other but our shows are so close that it's like we are almost in competition with each other. One day we were super lucky because we actually played the same town, in the same venue, on the same day. The upstairs room and the downstairs room, but we thought it was great, because we just parked our buses next to each other and just partied.
Jordan: Yeah, it was tight.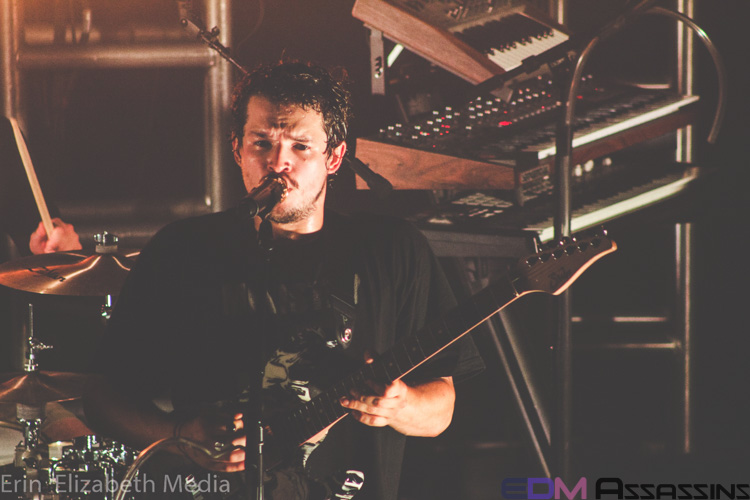 Well that's all I have for you guys today, can't wait for the show!
Jason: Hell yeah thanks for your time, thank for doing this. Hopefully Jordan doesn't vomit on stage tonight! 
Leave a Reply