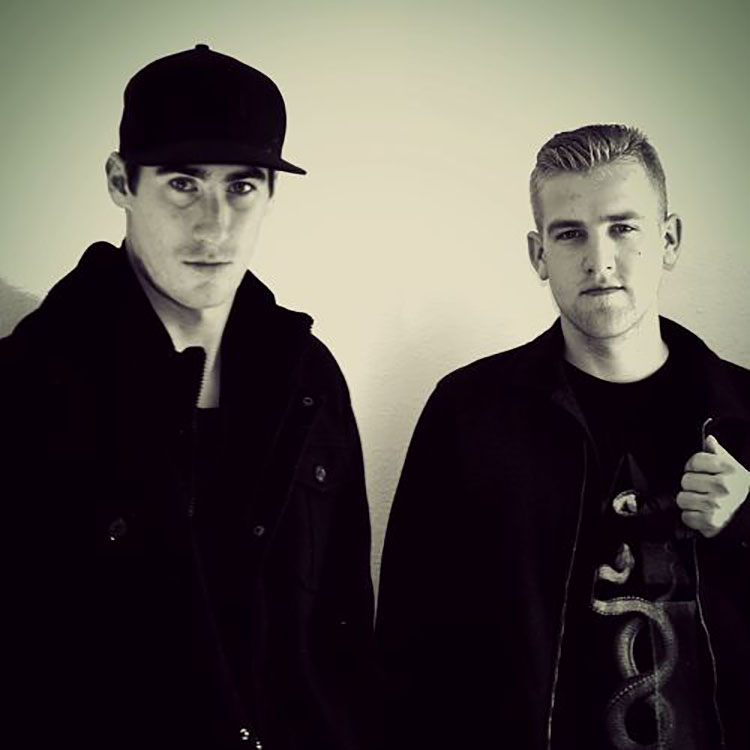 If you haven't already heard of Delta House, here is your introduction. A duo from California we have featured many times here on EDM Assassin. Check out the awesome interview they were kind enough to do for us below and make sure you check out their remix of Tiesto and KSHMR's track, "Secrets."
– Please introduce yourselves and tell us a little about Delta House and who you are.
Our names are Eli Balaban and Cam Cox, we are 23 year old best friends from San Luis Obispo, California and we produce Electronic Dance Music under the name Delta House.
– How did the two of you meet and join forces in making music?
We met in 2010 when we were both freshmen in college at Cal Poly SLO. We had both been dabbling in some music stuff separately for a couple years but we ended up randomly living across the street from each other in 2012. With a combined passion for music, we joined forces and came together in 2013 to form the group Delta House.
– Where did the name Delta House come from?
It comes from the classic college/fraternity movie "Animal House". Delta House is the fun, loud, rowdy fraternity in the movie. We chose the name Delta House for our music because we identify with many of the characteristics displayed by the "Delta House" guys in the movie, we are always trying to bring the party and energy to make it a great time for everyone.
– Who would you consider to be your musical influences?
Eli: Our influences come mainly from outside of dance music; we both grew up listening to a lot of rap and classic rock, and I think both of those really come through in our style. But as far as within dance music, Tommy Trash, Kaskade, Porter Robinson, Swedish House Mafia….those are all the guys that I was really into as I was discovering dance music.
Cam: I agree, while we a have pretty uniform interest music. We both came from a background playing musical instruments. Eli has a strong background in piano, while I grew up playing guitar and drums. We have a similar passion for Rock & Roll music and it certainly has played a large influence in the way we approach writing tracks.
– How did you develop your specific style?
Eli: Our style has developed over 2+ years of making music together as Delta House and really seems to have found its form over the past several months. We've made literally dozens upon dozens of tracks when we were getting started, experimenting and borrowing from electro-house, big-room, tech-house, progressive, melbourne bounce, on and on and on. No one will ever hear these tracks (and they definitely shouldn't!) but this allowed us to find what styles sounded good to us, and more importantly what we enjoyed making. Combine all of this with the influences of what we listened to growing up (Bay Area rap, classic rock, etc.), and that's pretty much how we got to the Delta House sound that you hear now.
Cam: Our music style has definitely developed around our equal love for the "Mainstage" environment. From watching our favorite producers live at shows, to producing countless tracks that will never see the light of day just to learn a thing or two, we have always loved the energy involved in "Big Room" / "Electro House" music. There is something about the upbeat tempo that lights a fire in the both of us. Whether we are in the studio, or on stage, we are always jumping up and down as high as we can. We love to produce music and pride ourselves on continuing to develop a genuine and unique sound.
– Have you had a favorite moment as Delta House yet?
Eli: There have been so many incredible moments and opportunities that we've had so far, but one that comes to mind was June of last year. MAKJ, a San Luis Obispo native and our favorite producer, was in town and was awesome enough to play a free house party…at our house. We set the entire thing up and played the opening set and the entire night was epic but at the end of MAKJ's set he got on the mic and told the crowd that after touring the world for a year, this house party in his hometown was the most fun he had had. Then he says "thanks to these two guys right here" talking about Cam and I. That was an unforgettable night. But I could go on and on. Opening for Autoerotique at Ruby Syke was epic. Playing a sunrise set at Sun & Moon Festival last Fall was awesome. Getting the news that our tracks are going to be on iTunes/Beatport, that was one of the most exciting moments of my life. It's all been incredible and it's been so much fun.
Cam: I have to agree with Eli. The night of the MAKJ party was one of most amazing nights of our young music career. A producer from our hometown, who we idolize as a musician, performed at our house and we had the opportunity to spin an opening set. They even brought their "rave cannons", which launch fog into the crowd upon a single press of a button. I will never forget the moment they Eli get ahold of one of them. That was an amazing night that we will never forget.
Both: Also we've got to add when we found out that Blasterjaxx played our remix of KSHMR & Tiesto's "Secrets" on their Maxximize On Air #050 radio show. We literally found out last night, after we had already written this whole interview, but that was pretty much an unparalleled level of excitement. Like we mentioned earlier, Blasterjaxx is one of our biggest influences so for them to drop our track right alongside their own, and other huge hits from our favorite producers, that was unreal.
– What is the biggest challenge about producing music as a duo?
Eli: Producing in a duo is the perfect workflow for us. We each have our own strengths, but we also never have trouble getting on the same page in what direction we want to take a track.
Cam: Producing as a duo suits our production style very well because we have developed a very efficient system that allows to utilize our individual strengths. We work really well as a team, and our production could have never reached the level that it has without both of us providing crucial steps to complete each track. The other benefit is that I get to take the stage with my best friend who I have shared some incredible moments. I can't imagine being up there with anyone else.
– If you could work with any artist, who would it be and why?
Eli: Within EDM, MAKJ and KSHMR. MAKJ because he is from our hometown and has been an inspiration to us since day one. KSHMR because I think he has an incredible style and way of writing catchy hook after catchy hook. I think we could make a banger with KSHMR. Outside of EDM I would love to work with a lot of rappers and pop artists; Tove Lo really comes to mind. We've actually been talking with a really big rap producer about a collaboration but I don't want to say too much about that until it's concrete. But it will be pretty huge if it works out.
Cam: Eli and I fell in love with EDM watching artists like MAKJ and KSHMR rise to stardom within the EDM scene. Their high-energy tracks and incredibly unique styles have influenced our approach to making music in a huge way. With MAKJ coming from the Central Coast, we have watched his career closely, as he has achieved a lot of what we have sought out as young artists. He has played at some of the most incredible shows out there and his style continues to grow and improve during his recent rise to stardom. I would be more than honored to work with an artist of this caliber.
– Do you have a dream festival or gig you'd play?
Eli: All of them. If I had to pick one of each, Ultra and Hakkassan.
Cam: It is our dream to play any and every Music Festival. Among the many amazing shows out there, the biggest show I could ask to be a part of would have to be Ultra Music Festival or EDC.
– Do you have a favorite song you could put on repeat and never change?
Eli: My EDM answers would be Feel So Close by Calvin Harris, In My Mind by Axwell and Tommy Trash's remix of The Vedlt by Deadmau5. Outside of dance music, Stan by Eminem.
Cam: I would say my favorite songs to play non-stop would be "Language" by Porter Robinson and The Veldt (Tommy Trash Remix) by Deadmau5. And if you play anything by The Arctic Monkeys I will advise you to turn it up!

– Who are your favorite electronic artists at the moment?
Eli: Like I mentioned above, MAKJ and KSHMR are at the top of my list. Calvin Harris is in a league of his own. Dada Life has an unreal energy to their music. Henry Fong, Blaterjaxx, R3HAB, Botnek, there are so many. One lesser known artist that everyone should really know about is Max Styler, signed to Dim Mak. He's from our home town (San Luis Obispo) and he's really blowing up lately. Definitely check him out.
– Do you have any favorites outside of EDM?
Eli: So many. I actually listen to much more rap and rock than EDM for the most part. Eminem is my favorite artist of all time, but some of my other favorites are the Red Hot Chili Peppers, the White Stripes, Andre Nickatina. I'm pretty all over the place as far as what I listen to.
Cam: I grew up on Rock & Roll and was always a huge fan of bands like Guns N' Roses and Red Hot Chili Peppers. I am also a fan of some modern day rock like Muse or The Arctic Monkeys. They all bring such a unique energy to the the stage and it gets me everytime.
– You mentioned you are both from California, what is your favorite thing there you cannot find anywhere else?
Eli: In-N-Out
Cam: I second In-N-Out. No question.
– If you could only use one utensil to eat with for the rest of your life, which would you choose? (Not a knife, fork, spoon, or spork)
Eli: Chopsticks so I would have a great excuse to eat sushi for every meal.
– Do you argue like siblings, or a married couple?
Married siblings.
– Do you have a high score on Flappy Birds?
Eli: Never downloaded it.
Cam: Never played
– What do each of you like to do outside of producing music?
Eli: It sounds funny but Cam and I always feel like we don't know what to do with ourselves when we're not producing music. Our lives pretty much revolve entirely around music in some way or another. But we like watching sports, going out with our friends, working out. We play video games a little. Always NBA 2K15, always on the same team.
It's hard to do anything else but produce music because we both feel like there aren't enough hours in the day to keep working on tracks. We have been known to sacrifice sleep often for this very reason. Eli and I are both very social though so we enjoy going out with our friends and meeting new people. We try to go to as many music related as we can because we love to be around people who share a passion for music. We have a lot of talented friends and it is always fun working on or talking about music with people you are close with.
– Any advice for DJ's/producers?
Eli: In my opinion we are still at more of a place to be receiving advice than giving it, but there are a few things that have certainly helped us get to where we are now. First and foremost, make sure you really love what you're doing. It's going to take most beginning producers hundreds and hundreds of hours before they start to see even slight success. For us it was 2 years of producing pretty much full time before we even got a label release. So it's absolutely crucial that you enjoy the process of learning and spending as much time possible on making music. Aside from that, just take chances and try to connect with as many people as possible, and when you do make those connections be genuine and don't be afraid to ask for help. One of my favorite parts about this scene is how happy most people are to help out and support an aspiring artist.
Cam: As Eli touched on, we still have so much to learn and we continue to seek out advice so we can continue to improve and build our own style and sound. We always talk about how important it is to stay grounded and keep a level head as we move into this industry full of incredible talent. It took us a long time to get to where we are now and we have so much more to learn and strive for, which is all part of the journey. As long as you are doing what you love most, the only thing that stands between you and your goals is your work ethic. But when you like to make music as we do, it feels absolutely nothing like work at all. Have fun with your work, and never be afraid to be creative or try something new.
– What can we expect from Delta House in 2015?
Eli: We've got our first label releases coming soon so look forward to that for sure. Our track 3FJ is coming out on Been Fingered Recordings on May 29, and we've got a couple more releases planned for this Summer. We've got several new shows coming up and as always we'll have a ton of free releases. And definitely a couple collabs that are in the works right now.
Cam: You can certainly expect some brand new music that we are really excited to complete. We are coming after 2015 with a lot of energy and cannot wait to share what we have in the works. #PartyWithDelta
– Any last thoughts?
Eli: We just want to say thank you to everyone who has helped us get to where we're at now, and that this is just the beginning.
Cam: It was a pleasure to have an opportunity to participate in this interview. Thank you to everyone who was involved and a special shout out to everyone who has supported Delta House Music and what we do. We couldn't be more excited for the future and get ready for some heavy hitters!
Leave a Reply