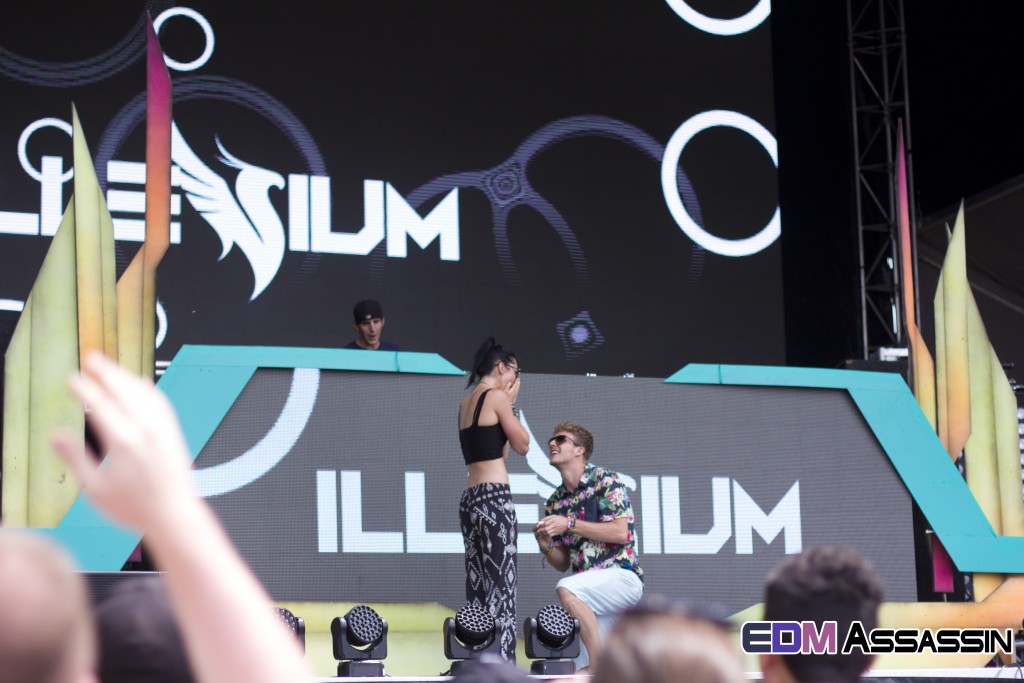 Stepping out into the world of EDM only a short year ago Colorado native, Nick Miller, also known as Illenium has provided us with some of the most beautiful and emotional melodic dubstep you can find today. With a Soundcloud full of mixes, he has definitely proved that he is here to stay. If you were at Electric Forest you were fortunate enough to catch his biggest performance yet.
Opening up Friday at the Tripolee stage Illenium started off by giving us a taste of what he's all about. Towards the middle, songs from well-known artists such as Dillon Francis, Seven Lions and Galantis drew in passerbys causing the crowd to double in size. As the set went on, he went back to his roots playing more of his unique melodic style. Closing with hit Shark, an Oh Wonder remix, he stopped the music and requested for Brittney to come on stage. The crowd chanted as she walked out in front of the LED panel. Following, a guy came out from side stage, got down on one knee in front of hundreds of people and proposed. Tears and cheers filled the crowd as Illenium finished his beautiful set.
Illenium was easily one of the most anticipated sets for this past weekend, and he exceeded all expectations. As if catching his set in the forest wasn't enough, we were fortunate enough to later sit down with Nick and ask him a few questions.
EDM Assassin: You just played at Forest for the first time at the Tripolee Stage and it was super amazing! You said this was your first major festival, and have more scheduled for this summer—Global Dance Festival, Imagine and Dancefestopia, which one are you most excited for?
Nick Miller: I live in Denver so Global Dance at Red Rocks is iconic and like definitely huge, the lineup for Dancefestopia is super super cool though too it's hard to pick one but if I had to I'm in love with Red Rocks so I would have to go with that
EDM Assassin: Of course, totally understand. Since you get to spend the whole weekend here, whose set are you most excited for?
Nick Miller: I've actually never seen Skrillex live, so I'm super pumped for that. I saw Odesza last night. I've seen them a bunch and they are super awesome all of the time. Bassnectar always kills it; but I'd probably say Skrillex since I've never seen him.
EDM Assassin: Yeah there are so many people here it's hard to just pick one. So you dropped some Dillon Francis, Seven Lions and Kill Paris in your set, love it, if you could collab with anyone who would it be?
Nick Miller: Um, such a hard question. As far as like melodics and just learning, Seven Lions. His song writing and melodics are just on point. I also love Porter, his Worlds album is amazing. That would be super fun and he never does collabs so it would be really interesting to try and work with him. I have similar ear for sound as him and I just love his stuff.
EDM Assassin: Porter is playing at Dancefestopia, could you maybe sneak in a little collab there?
Nick Miller: Haha, I've never met him actually and I don't even know if he knows that I exist. But if there is any opportunity I would definitely try.
EDM Assassin: That would be awesome. While you have some music festivals planned this summer, can we expect a tour at some point?
Nick Miller: There is no tour planned right now. Actually just a few months ago I signed with a booking agency so my priority right now is to just keep working on music and getting more material out. But it is definitely in the future. Right now I'm really busy with festivals and all of that stuff. Hopefully I will be making a few stops before the end of the year and then really kick it in gear next year with tours and stuff like that.
EDM Assassin: Last thing, we see you interacting with fans all the time on social media and it's greatly appreciated. Do you have anything to say to your fans right now?
Nick Miller: Yeah I mean it like blows me away how much love and support there is for melodic music. It's extremely emotional for me to create it and when I get responses and talk to fans about it and they are connected with it it's such a mind blowing and amazing process. I just feel really connected with everyone and want to make that clear to whoever is touched by my music, and if I'm doing that at all I'm really stoked. Hopefully I can keep meeting people; it's been an amazing process.
EDM Assassin: It's only been a year; you've got a long ways to go!
Nick Miller: I know, it's nuts.
If you happened to miss Illenium at Electric Forest be sure to catch his set at Global Dance Festival, Imagine Music Festival and Dancefestopia later this summer, as he does not disappoint. We want to give a huge congratulation to the newly engaged couple and a big thank you to Illenium for taking the time to talk to us, can't wait to see what's in store for next time.
Leave a Reply