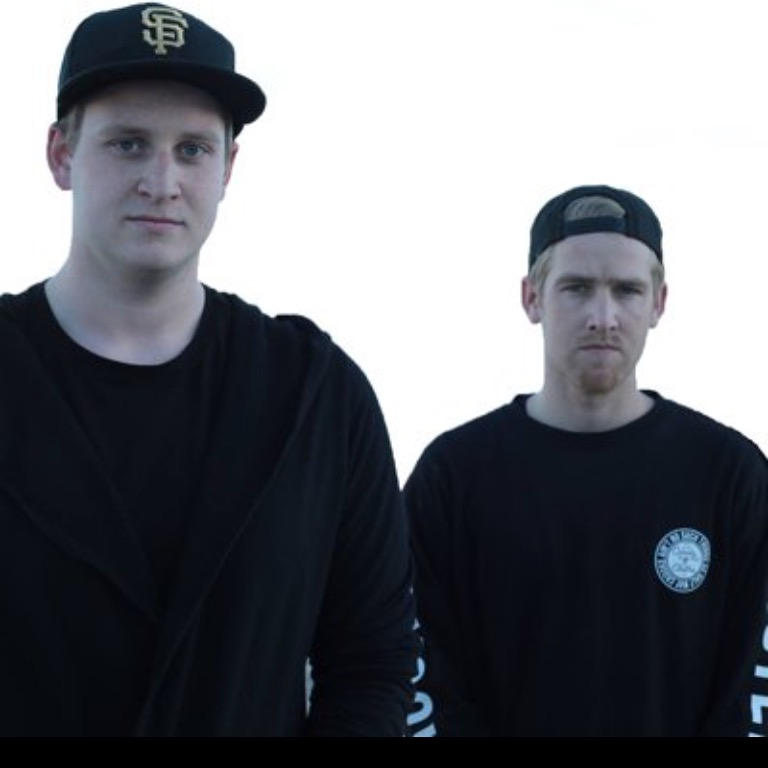 In a short time this Los Angeles-based duo has come a long way. The pitfalls of being young, talented and living in LA together and their hopes and aspirations to make it in the music industry bring about some strong views and determination to always aspire to the dreams they've always had. Jordan Getz and Cam Cox are two guys that are fueled by a desire to make music. When I met them in person in L.A. this April, the passion was obvious and the camaraderie between the two was obviously a part of why this works as it does. Below is how they describe the journey they are on right now in the world of electronic music.
 1. Tell us your names and background firstly and how Tryad came about?
­So we are Jordan Getz and Cam Cox, and we both come from very diverse musical backgrounds. We were put in contact with each other by a mutual friend from a label we have worked with, and as soon as we met, our styles immediately meshed. After that we started TRYAD and the rest is history.
2. What and who are the major influences in your music style and direction? ­
We are heavily influenced by guys like Kaskade, Avicii, Skrillex, and a lot of other producers. I think we are so inspired by these guys because not only are they extremely talented producers, they all changed the electronic music scene forever. Outside of EDM, we both have a passion for Classical, Rock, and Jazz music. These styles have heavily influenced EDM Music and we try to incorporate these styles in our production.
3. There have been notable changes to electronic music in 2016, how has this affected a newly formed duo in production? ­
I think the biggest change is originality. There are so many new up­and­coming producers in this industry that it makes it almost impossible to break­out if you're not doing something original. I think this is a positive pressure on us to make something unique every time we step in the studio.
4. How would you describe Tryad's music, is there a genre or do you simply make what you want and what works with crowds?
­Right now we're starting to be recognized with a specific style of music that we've been creating. Our "Smoke Filled Room" remix is what most people know us by and is what we've been basing our production style off of since. It's really a style of house with many other different genre elements thrown in. But to us, we'd label it as TRYAD.
5. Along with your remixes will we be seeing original Tryad music in the near future?
­Yes! We have tons of new originals we're itching to get out. Almost a full album's' worth. We've been working with some extremely talented singers and we're exciting to release these songs soon.
6. Any surprise collabs or people you'd like to work with?
­We actually have a few collabs we're in the middle of that may come to a surprise to people that follow us. We don't want to give too much away, but you definitely won't be expecting this.
7. This is an industry with many flaws and pitfalls, how does your duo make it work?
­I think the only way to make it work is by staying true to what's really important here, and that's the music. If you let yourself get caught up in the surrounding nonsense you can easily get lost.
8. Any advice for others in how to have a good working relationship?
­Trust. Like any other relationships, you've really got to trust the other person you're with.
9. Where do you hope to see yourselves a year from now? ­
We'll be doing exactly what we're doing right now, and that's making music. No matter how our lives change, we'll never stop doing what we love.
10. Since the demise of SFX, in your opinion what does the EDM industry need to keep itself afloat and does that include acceptance of a mainstream feel? ­
"Mainstream" seems to be a terrifying word lately, and we're not sure why. Too many people are focused on whether something is "mainstream" or not when they really should be focusing on if something is good or not. Music is subjective and mainstream is just a term to describe what the majority of people enjoy. I think it's important people focus more on the music they enjoy, and less on how other people view it.
11. As a production duo, would you be open to produce for others in just a production capacity, like Diplo, Zedd and others do?
Absolutely! In fact we actually have a couple of projects right now where we are producing for a vocalist.
12. Finally are there people you'd like to thank for their help and guidance in your careers?
Jordan:­ I'd love to thank my family and friends mostly. Without the support from everyone from my mom to my girlfriend, Dominique, I would never be where I am today. Everyone has always been so supportive and so helpful along the way. I couldn't be more thankful.
Cam:­ Obviously I could not have come as far as we have without all the love and support of my friends and family. What we are trying to accomplish is not always perceived in a positive light but those I am closest with have always stood behind me no matter what. I also want to thank everyone who has told me or still thinks we can't make it. That's just fuel for the fire and we can't wait to prove you all wrong.
Take a listen to Tryad's Smoke Filled Room Remix below.
Leave a Reply