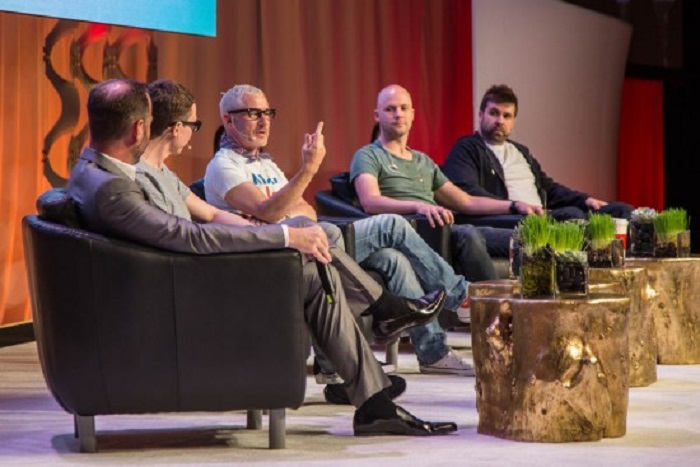 Most of us heading to EDC in the next few weeks will probably choose to skip out on EDMbiz and its many speakers and artist panels. We should all really rethink that decision as it is one of the best times of the year to learn more about the industry that we consider ourselves a part of, our family. This week features many artists as well as big names from all different aspects of the industry that will speak on a variety of subjects that only attendees of EDMbiz will get to here. So if you're heading into Las Vegas a day or two early to get yourselves settle in, why not learn a thing or two and attend EDMbiz? Here is a link for badges for all of the speakers/panels.
Here are our Top 5 must-see panels/speakers from EDC's EDMbiz.
1. EDMbiz Artist Panel
Hearing directly from artists in the electronic music industry talk about their experience and the difficulties that come with touring, producing, and trying to have a somewhat normal life. Because each artist is different, having more than one artist give their take is important as we usually see artists at their best and almost exclusively on stage at festivals and clubs. This panel gives a much more intimate look into their opinions on the state of the music industry and where they see not only their genre going, but electronic music in general.
2. Future of Dance Music Journalism
If you are reading this article, you're participating in dance music journalism. That being said, checking out this panel will help inform attendees about where the industry is going and what changes we can expect to see. While you may not think dance music journalism has an immediate effect on your life, think about what websites you check out for the latest news or when you see some article on social media talked about constantly. That's all dance music journalism and it is quickly changing and finding its foothold in the electronic music community. This is one panel you must see.
3. James Barton, President of Electronic Music, Live Nation
Electronic music is becoming one of the most popular genres around the country and around the world. The President of Electronic Music, James Barton, for one of the largest concert promotions companies in the world will provide an excellent insight into how the industry looks from a promotional standpoint. As attendees to concerts and festivals around the world, we are all familiar with ticket prices and the exposure that some concerts/festivals receive over others. Mr. Barton speaking at EDMbiz provides a great look for all of us with little experience to how that side of the industry is run.
4. Jono Grant, Artist, Above & Beyond
Above & Beyond is one of the most recognizable acts in electronic dance music the world over. Not only performing and producing music, but also with their label Anjuna. This speaker discussion would be great for fans of electronic music who are even the slightest bit familiar with Above & Beyond as his insight as a producer and as a label owner are somewhat unique in the music industry. Jono has plenty of experience working with artists from every genre in both a musical and professional (label) capacity. Any chance to see 1/3 of Above & Beyond speak about music is absolutely worth taking.
5. Ryan Mac, Reporter, Forbes
While Forbes magazine may seem the oddball in the list of musical speakers and panels, Forbes is focused on reporting the news relating to money and as fans of electronic music, we are well aware of how much our favorite DJ's make. There are lists each year ranking the highest paid DJ's and Ryan Mac can provide valuable information as to why their salaries have inflated so quickly and what is to expect from this so-called "EDM-bubble." I urge you to attend his discussion as we all shell out hundreds of dollars for our favorite festivals and shows while the DJ's we dance and sing to are some of the ones to see that revenue.
EDMbiz week is full of interesting panels and speakers and it is well worth pouring over the schedule a few times to select which ones you will attend. Badges (tickets) can be purchased here and will give you access to all of the events and shows related to EDMbiz week. Start your EDC experience off right with speakers/panels and end it with 3 nights of amazing music under the electric sky.
Leave a Reply