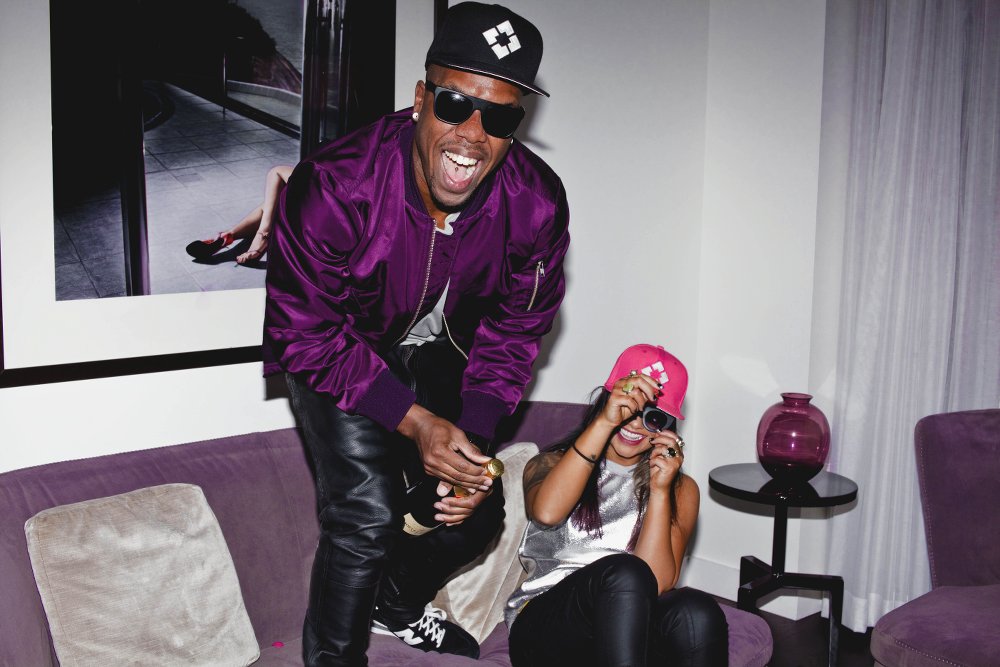 To start off, would you mind introducing yourself for our readers?
Hey guys, my name is 4KORNERS. I'm a DJ / Producer from Toronto, Canada and I'm also the official DJ of the Toronto Raptors NBA Basketball team.
How and when did you discover the passion for music that directed you into producing music?
I've been surrounded by music my whole life. My dad was a musician and had a sick record collection at the house. I grew up listening to those records. Funk, rock, pop, soul, soca, reggae, disco….all day, every day. Then my folks put me in piano lessons when I was 7 or 8 years old. From then I played a bunch of different instruments in school bands. Skip ahead to university, where I started fooling around with my dad's old records and teaching myself to DJ, just as a hobby. It eventually grew into more than just a hobby and I started spinning at clubs around Toronto, then across Canada and beyond. Around 5 years ago I decided I didn't want to just play other people's music, I wanted to make music of my own to play. And here I am!
Do you have any artists or performers that come to mind when asked how you got started in DJing?
My inspirations as DJs? Jazzy Jeff has always been my favourite. Locally I really looked up to the Baby Blue Sound Crew, Starting From Scratch and Dr. Jay. They were local legends who played all of the biggest parties. And Baby Blue were the first to get a record deal and start making music of their own. They were more than just DJs. They were next level. Huge inspiration.
I know that you not only DJ for the Toronto Raptors but also perform at venues and festivals at an international level. What is it like to have the commitment of performing in both areas?
It's pretty awesome. I've always been a huge basketball fan, so playing at the games is super dope. I get to be a part of the game while doing what I love. It's a perfect situation. And touring is even better. I can't explain how awesome it is to be able to see the world, meet new people, perform in front of a different crowd in a different city every night, and actually get paid to do it. Like, this is my job. It's crazy to me, but I love it!
Has performing at the games or in venues been a more rewarding experience for you?
Both are rewarding in their own ways. At the games, I'm performing for people of all ages. It's not a party crowd. It's 20,000 people from all walks of life. Plus I'm on TV a lot so my reach is massive. But, in the clubs is where I really get to do me. It's my natural element where I can do what I do with no holds barred. I truly love them both for different reasons.
I know well-known artists like Drake has performed during Raptor games, what is it like working with artists on this level?
Drake hasn't performed at the games. He works with us as part of the marketing team. He and his OVO brand are attached very closely with the Raptors. Working with him has been awesome. He's pretty much the biggest star in music today and he's from right here. I've worked with a lot of other great artists and celebs too. Kanye West, Justin Timberlake, Major Lazer, DJ Snake, etc… and I'm happy to say I have mostly good stories lol.
With performances not only being at the weekends but also on game days, when do you find time to relax, and what do you do to relax?
Naps. Lots and lots of naps. When you're schedule is as all over the place as mine, you get rest whenever and wherever you can get it.
When not performing, what kind of music do you prefer to listen to? Along with that, who are some of your favorite artists?
My taste in music is really really wide. I listen to everything from hip hop to house, rock to reggae and everything in between. Lately I've had Flume's album "Skin" on repeat. I've also been heavy on my homi, fellow Toronto artist Jazz Cartier. He's going really far!
I listened to a lot of your Soundcloud and I noticed that this is the first track that you rap lyrics on it, is this a new direction that you plan on going in?
Haha, yeah it does. I've done vocals on tracks before but on "Told Me Shake It" I do my first recorded rap verse ever. I, like most hip hop fans, have been writing raps since I was a kid. I've just decided now that I'm making my own music, why not experiment with my vocals. You can definitely expect more vocals of all kinds in my music.
What should people expect from your Changes EP?
"Changes" is kind of like my re-introduction. I've released a few records over the past 5 years, but still I'd say that most people who know me, know me as a DJ. This is my "kick in the door" moment where I make it clear that I'm not one to be put in a box. The music on this EP will reflect that. It's not bound by any type or genre of music. It's full of surprises.
Can you talk a little bit about how Wrong Angle Records has encouraged you and others on the label to explore different combinations of music?
"Told Me Shake It" was the first release on the label, so right now I'm the only artist. But my reason for starting this label was to create a platform for myself and other artists to make music without boundaries. The music biz has changed and people find music to listen to online more than on radio or TV. It's the perfect time to try new things and experiment with new sounds and let the people decide if they like it or not. No big record company executives. We have the power. So I'm using it.
For any young DJs and or producers that may be reading, do you have any advice?
Practice, we talkin bout practice?? Haha seriously though, work at our craft and master it before you take it to the public. There are way too many impatient DJs and producers trying to skip steps to stardom. Be great at what you do. That's the first step.
Do you have any final thoughts?
Just wanna say thank you for speaking with me today, and everyone check out my single "Told Me Shake It," out now on Wrong Angle Records! Look out for the video dropping in August and more new music coming very soon! And to stay up on all of this info, follow me on my socials. Facebook.com/4KORNERS, @4KORNERS on Instagram and Twitter, and my favourite, its4KORNERS on Snapchat! Peace y'all!
______________
I would like to thank 4Korners for sitting down and answering these questions for us. Make sure you check out 4Korners' awesome track, Told Me Shake It, below! You can get it on iTunes, and Spotify.
[soundcloud url="https://api.soundcloud.com/tracks/273813271″ params="color=ff5500&auto_play=false&hide_related=false&show_comments=true&show_user=true&show_reposts=false" width="100%" height="166″ iframe="true" /]
Leave a Reply