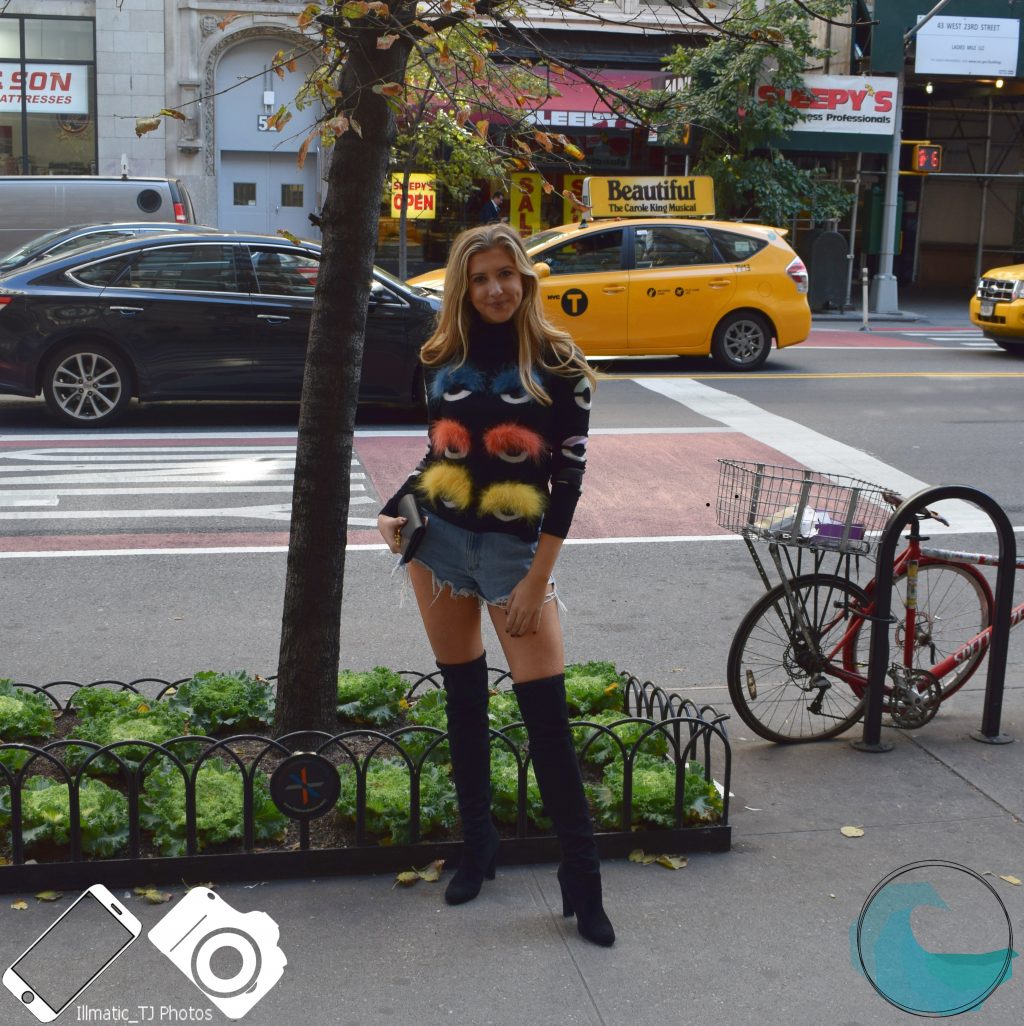 Recently, I got the opportunity to sit down with Australian DJ, DJ Pebbles.  DJ Pebbles is a freshman at New York University and is studying music while trying to make it as a DJ.  DJ Pebbles and I met at the Brooklyn Roasting Company in Manhattan.  When we first met up, we broke the ice about talking about Manhattan.
 Right off the bat she told me a story about funny experiences when she first got into the city. This included getting lost trying to go to MSG via the subway and ending up in the Bronx.  Then, finding out what it is like to be called "White Chocolate."
DJ Pebbles also seemed excited to tell me how whenever she sees a grandma on the subway she becomes extremely happy about how self-sufficient they are being and how content they seem.
Sitting down with her was so amazing, below is what we talked about when we got into the Q&A.
To start off, would you like to introduce yourself to anyone listening?
I first got into EDM/Dance music when I was 15/16 and going clubbing in Australia. I fell in love with how a DJ can control a crowd and the power they have over a person's experience. And I really wanted to learn how to use the materials. I saved up for the equipment and started teaching myself on YouTube.
And then with the singing Randy was super supportive helping me find the kind of sound I wanted to do. I was so interested in the DJing side of it that it just made sense to do EDM/Pop.
Where did you get the idea for your name "DJ Pebbles"?
When I was younger, my mom and all my family used to call me Pebbles because – I don't know if you've ever seen The Flintstones… I used to wear my hair in a bun like in The Flintstones. It was just like everyone was joking around and saying "you should be Pebbles" and it just kinda stuck.
What is it like going to school in NYC?
It is a really different environment than at home because at home everyone gets into college so here it's so competitive. The good thing about New York is you are constantly surrounded by opportunity. That's what I love about it. You can go to the gym with a record label executive or be out with like the head of Cosmopolitan. You can meet so many people in the field and it can really help progress your career. You also get to meet some amazing people.
I love New York because it's so accepting. At home you have to be kind of quiet/conservative with how you dress and how you speak. Here you can actually do anything, and I think that it's amazing. To be able to figure out who you are in the city that kind of never sleeps and you can do anything.
What do you think of NYU?
I like NYU. It has a really diverse community, which is really cool because it has a lot of different people from everywhere. However, it also makes it difficult to get to know people from all different cultures because there is sometimes a difference in sense of humors. But I think it is a great school that is supportive and its really accommodating to people who are trying to pursue a career simultaneously so it's been really accommodating. I enjoy what I am studying. I am trying to figure out if I want to do a single degree or double degree.
It has been kind of stressful managing school work and my music. So that has been an interesting challenge. I don't sleep much, but I feel like no one in NY sleeps.
Between music producing and school, do you get much free time? Have you been able to see the city?
I haven't had that much time. I really try to be very focused so during my free time I am making music. I get to go to parties and clubs through my music and have hone to some museums, but I wish I had more time to do the tourist-y things. I haven't been to central park of the Statue of Liberty – lame things like that.
From there, we talked about going to Central Park over Thanksgiving break and what the winter will be like. DJ Pebbles has come to the conclusion that she will not like the cold New York winters but is looking forward to the fresh snowfall.
What kind of music do you listen to?
I am really open to music. I have always liked a diverse range. Because my parents are so old school so they exposed me to classics. Then I have older brothers who showed me Biggie and things like that. When I go about making mixes, I tend to not to stick to one genre. I tend to cater to different songs and I use a lot of spoken word that has been inspirational in my life – either from movies or speeches like that. Like from movies quotes or speeches that I like. With music I tend to stick mainly to EDM, Hip-Hop or Pop.
I do like include to include some of the classics n my music. I am transitioning to old school hip-hop after being in NY because most of the clubs I go to play a lot of hip-hop. I really enjoy listening to hip-hop, but I've always been an EDM girl. Back home if you go to EDM clubs its straight EDM where here when you go to clubs I have noticed they play a lot of everything
Who are some of your favorite artists/groups?
Probably I would have to go Chainsmokers just because I have to admire how they do that new age DJ: where they also produce as well as DJ.
Kygo, I've seen him perform a couple of times and I admire his way of performing. He really can read a crowd. He's really able to pump people up.
My favorite album at the moment would have to be Elephante. I love his new album ecause I think he did a really good job at making every track dope. Like a lot of times you listen to an album and you hate half the songs where him, I could genially make a mix of his album and thoroughly enjoy all of the songs.
How long have you had this love for music?
I've always loved music. Growing up it was ingrained in our family. I was one of those annoying, lame kids who would make everybody sit down and I would sing for hours. My grandmother would be the only one who would be able to stand it.
It wasn't until I got a little older and started going out to clubs that I discovered electronic music. It was like an explosion in my mind, I didn't know music could be so enticing.
[soundcloud url="https://api.soundcloud.com/tracks/282933514″ params="color=ff5500&auto_play=false&hide_related=false&show_comments=true&show_user=true&show_reposts=false" width="100%" height="166″ iframe="true" /]
Now that you've created To Not Love You, do you prefer putting together mixes or original tracks?
It's hard. Making mixes gives you so much creative freedom. It can appeal to such a large range of people. I feel like in my mix, you really get to know who I am. I make sure everything I put in is music I love and I would listen to. I put a lot of myself into it.
As for the original track, I had to make sure I loved every word and every section I recorded. I wanted to make sure that in those short 3 minutes I created something that appealed to people.
Overall, I would have to go with mixing.
What would you consider your inspiration for creating the original track To Not Love You?
To me it is like an anthem. Because no matter your age, gender, or sexuality everybody has been in that place where they feel like "I really love this person and I can't get over them" — even if it's toxic for you, you still have this urge to be in love with them. And I think that's something everyone feels, so I hope this is something everyone can relate to.
What was it like working with Randy Jackson on this track?
It has been an incredible ride. Randy is so knowledgeable in the industry, but he's really humble. So every day he slips a little knowledge into me, like drip-feeds information. He's always such a blast to be around. He's always like "you're a new artist, you're new to the business, and so what do you like? Do you like that take?" He put a lot of the responsibility onto me and allowed me to have so much creative freedom and never made me feel stupid for asking questions. So he's been great to work with. Everybody who we've worked with on the track and in promotion has been so supportive so I am so lucky to be with the people I am with.
Do you have any big plans for the rest of 2016 and 2017?
New York has opened my eyes to how many opportunities there are in music. Living in Australia, in Brisbane, there weren't as many opportunities. New York has endless opportunities to perform.
I am constantly making mixes and grabbing inspiration. I try to make a mix every two weeks to stay on top of current hits. I am also always working on songs, writing lyrics and writing music. So right now is just the exploratory phase in New York to find out what is my best avenue, what are my resources, and where can I look for inspiration.
When you do tracks do you plan on singing yourself?
That's actually the plan. I am kind of transitioning to that with Ableton. If I start singing a bit more I think I will transition to Pro Tools because I feel like it is better for vocal production. I have been starting to mess around with singing a bit more. I think that is the new world of DJing.
Do you have any suggestions or advice for inspiring artists who read EDMA?
I think one thing would be to 'stay original'. Never include songs or things that you don't like just because they are in the top 40. Make sure you are using things that inspire you, because then you are determined to work harder. It's a lot of hard work and takes a lot of time. Make sure to be a lot more open and notice what is going on around you. Instead of just going to have fun, I think you need to be more hyper-aware.
Are you putting school or music first?
Right now the juggling game, I am trying to balance both. NYU has been so accommodating, so I am lucky to have the opportunity to do both which not a lot of people have. Some schools don't allow it. NYU is helping me through it all.
The industry is obviously hard work, but I would really love to graduate with my degree. So we will see what happens.
Any final thoughts?
My Calvins
[soundcloud url="https://api.soundcloud.com/tracks/288450537″ params="color=ff5500&auto_play=false&hide_related=false&show_comments=true&show_user=true&show_reposts=false" width="100%" height="166″ iframe="true" /]
This is a newer mix based on my influences from being in New York. I have noticed a lot of people here have been trying to combine hip-hop with EDM. My Calvins was me trying to put everything together. Whenever I went to a club I would try to write down three songs that I loved. It was a really different way of working.
Pebbles and Bits
[soundcloud url="https://api.soundcloud.com/tracks/282730856″ params="color=ff5500&auto_play=false&hide_related=false&show_comments=true&show_user=true&show_reposts=false" width="100%" height="166″ iframe="true" /]
This is more straight pop/EDM and has a lot of spoken word in it. I love working with spoken word, but I have noticed I am moving away from it a bit.
Final, final question: When you put these out do you put them out for yourself or for your fans?
It's mainly for me. When I make a mix it is usually an hour/hour and a half/two hours so when I split them into these little bits it allows me to enjoy a quick 15 minutes of it. I think that the 15 minute sis so handy because if someone wants to listen to it they don't need to sort through an hour and a half to find their favorite part.
As an added bonus, DJ Pebbles has asked me to give a sneak preview of a remix by Vida of To Not Love You below.
[soundcloud url="https://api.soundcloud.com/tracks/293526455″ params="color=ff5500&auto_play=false&hide_related=false&show_comments=true&show_user=true&show_reposts=false" width="100%" height="166″ iframe="true" /]
Leave a Reply