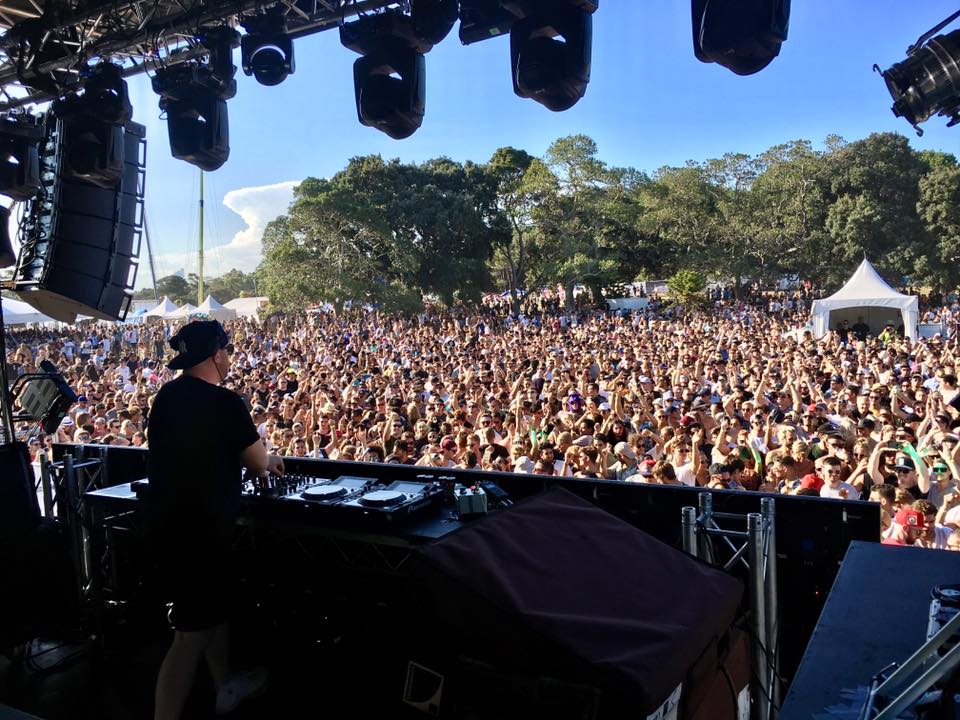 I have to hand it to DJ's who make it to two or three shows in a mere 24 hours, my weekend began on Australia Day in Melbourne with the first time staging of Electric Gardens Festival and ended in Sydney two days later with Armin Only. After the travel, the lack of sleep and the very ordinary eating habits I can attest to their stamina of which I seriously lack. Halfway through this feast of techno to trance extravaganza I began to doubt my sanity at attempting this but I am nothing if not 'foolhardy' to expect this 56 year old body to keep up and take me through to the end. I am writing this which brings me to the point that I survived, somewhat bedraggled but alive and still humming with the music from it all.
I do believe I have a better handle on it and the insanity we ravers must have; not only do we fly ridiculous miles to get to these events and their quite pricey tickets we also endure the heat, the portable toilets which by an hour in make you wish gas masks were handed out with your wristbands and the often inedible food of various cultures at also amazingly high costs. They get the free water correct but there are several things that could undoubtedly be improved on for those who cannot afford the slightly better quality of VIP. I decided perhaps starting off in Melbourne deserved some comfort so forked out for that one and considering the summer sun was grateful to the chill out area with Electric Gardens own VIP stage that gave us an extra set from Mark Knight and the room to really vibe to his music. While Sydney still remains the largest version of Electric Gardens, I thought the Melbourne one worked as a boutique Techno/House festival. A smaller and quite a diverse age group crowd of around 5k were treated firstly to probably the most well credentialed opener ever in Hernan Cattaneo. He set the vibe up nicely to possibly the smallest crowd he'd ever played to but we danced and we enjoyed. First time I had seen &Me and although we were eating lunch his quieter deeper set actually went down well with the Brazilian BBQ on offer. Enter Basement Jaxx and the day started to roll, their infectious mix of house and Salsa beats had the crowd finally coming to life.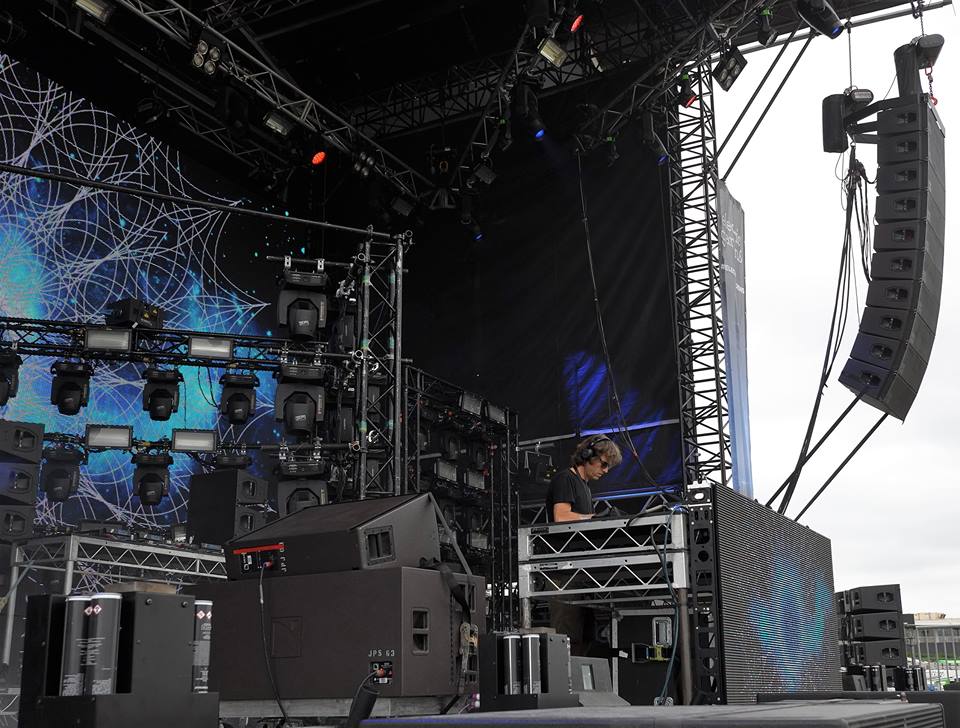 I got the distinct feeling the crowd was swelling slowly by the time Mark Knight hit the stage in early evening and I gathered the headlining of Eric Prydz perhaps caused the Melbourne crowd to put off their arrival due perhaps in part to their lack of knowledge. I am generalising but when you hear things like 'Isn't Cirez D playing' and replies of  'Nah only Eric Prydz, the other guy is doing the after party' I cringed deep down but I could be called a 'snob' for my first thought of 'oh god what a noob' so I tried not to let the crowd's distinct lack of appreciation of the genres ruin my generally good mood.
Mark Knight certainly entertained the crowd with some good old classic remixes and I felt he read the lack of vibe in the crowd well and turned his set to trying to engage them back in. By the time he laid down a remix of Rod Stewart's Do ya Think I'm Sexy the crowd had woken up.
Of course we were all waiting for the arrival of Prydz and the man did not disappoint by starting off with some distinctly Cirez D heavy dark beats, not sure the crowd realized at all but it set the scene for the journey Prydz takes you on and if you don't particularly like it well I hardly think he cares. I found myself watching him intently because of the smaller crowd and he immerses himself in the music, raising an obligatory hand now and again as if to tell the crowds 'hey drop is on it's way' but other than that he's a man with his soul into what he is doing.
Sydney was quite the different  circumstance, crowd is decidedly more EDM with more than a third your typical 'bro's' .  Three stages across a vast expanse of Centennial Park, wherein the humidity of Sydney is dented due to being quite close to the beach side suburb of Bondi, that sea breeze was welcomed on a day of 87 degrees (31C)
Same problems on a larger scale of third world bathroom facilities, food choices of very small choices and the ridiculous drink ticket system which creates queues for hours. Our day in Sydney began on a sour note with my friend Michael being told his 'Gopro' bracket and stick was considered a weapon and would have to be confiscated or taken home. Seeing as we were on the opposite side of the city the latter option wasn't an option and Michael reluctantly gave it up to the security who then said I'll pop it in my pocket and I'll be here at the end so maybe come see me and I'll give it back. Buoyed by this news his new $150 purchase would be saved we entered to then almost think wow give him your phone number and we can pick it up tomorrow. Time of approx. two minutes had elapsed between the two events. Michael went back to be told by the same security guy we had all seen put it in his pocket that he couldn't remember Michael and all confiscated items were disposed of in the bin. Michael searched the bin and of course nothing was there. Now I'm not casting judgement but I think anyone with half a brain can work out what happened to this piece of camera equipment and one wonders how many end up on sold by shady security guys at a later date. We did report it to the supervisor and wrote a letter but I sadly feel the item is gone regardless of Electric Festival's rules not stating that part of equipment was on their banned lists.
Anyway we tried to put it out of our minds and headed for the shade of the tent to listen to some local techno/trance DJ's before setting up camp under the copse of welcoming tree's until And Him hit the stage. My friends had waxed about how he really enjoyed their sets and again being an early set we had a great view on the rail to dance and immerse ourselves.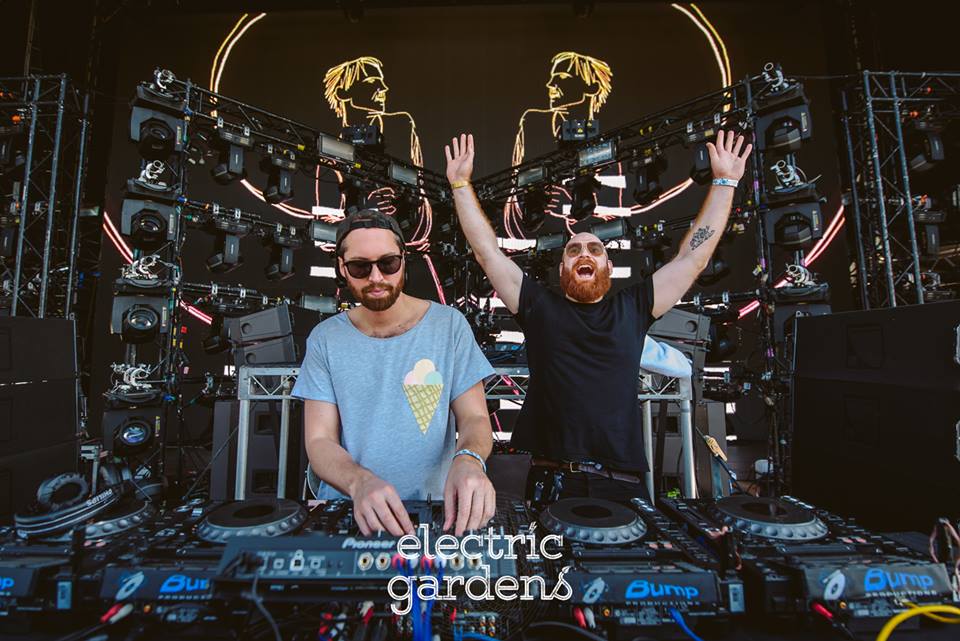 While I wasn't overly impressed by the duo's seemingly disjointed approach whereby one did all the work while the other drank partied and waved to his mates, the transitions were good and the pure techno beat put the warming crowd into a good mood albeit quietly due to the festival sound crew seeming to keep the decibels under a certain level until later in the day. We morphed from that stage to lunch and to set up a good position in which to see the Cirez D set we anticipated would be a highlight. I doubted the man would let us down with a good deep dark dose of techno and he did not. The sound cranked up and the Mouseville logo lit up the Code stage as the beat hit you and drove straight through every bone, vibrating your entire body as you dived in with him. Sadly the sound system did not appreciate this and halfway through the set Cirez D blew out the entire sound and while we all stood quietly amused Prydz fixed it basically by himself and was back into it with not a word spoken. Diving into Into The Red, Century of the Mouse and turning the clock back to Raptor and other classics it was two hours of driving force the likes of which I felt privileged to witness.
We wandered then for a little more Mark Knight and Basement Jaxx plus Sasha in the tented stage and bided our time for Prydz to re enter the arena and this time it was a far more progressive set than in Melbourne. We got the gold of Liberate, Choo, Opus and every tune the crowd would know and respond to and perhaps that was due to the subdued reaction in Melbourne that he changed it up, I'm only assuming but for pure techno fans they felt slighted and the more EDM fans were rejoicing but again this is Eric Prydz so for me it was heavenly either way.
Surprisingly the three of us were still standing and we headed to our hotel for a freshen up at Olympic Park for the finale of Armin Only. One was slightly underwhelmed by the thought of a trance show to end a weekend but for the rest we were anticipating our God and of course Armin did not let us down. We did however encounter some problems with the set up of the event. A small gate at the side of the pavilion with security letting in about 50 at a time to then go through security and then the checkpoint for your ticket scan seemed slightly ridiculous and caused gridlock that also made the 10.30pm start a farce. Armin began at midnight due to the crush and delay, the space was so much smaller than the Intense show three years early and that also created problems in a very heavy humid Sydney night.
We got the strains of the trumpet to herald the arrival of Armin on stage to the Embrace theme but unlike the Intense show it was not a journey through each song off the album but more a set that wandered through every hit of Armin's and the Embrace album in between. The visuals were stunning for all of it but it didn't give that heralding journey of an album and I felt it was more a Best of Armin Only show like the one he intends to finish with in the Netherlands. Having said that, a night filled with Euphoria, Save My Night, Mirage, his psytrance venture with Vini Vici and some pulsating hard trance with psytrance bass lines I was totally lost in his state of trance as always.
The onset of a major migraine was the downside to the entire weekend which saw me have to bug out slightly early and miss an hour to take my own drugs! Combination of heat and dance I guess the cause but Armin in my eyes delivers and his vinyl set even saw a transition go wrong and instead of hoping the crowd didn't notice he became the human in the room and let us all know that sometimes we do mess up. He couldn't fix it so just cut it and moved to the next song with a smile and a shrug. It was nice to see a hero of mine be as human as the next person. I'm now in my own recovery session but oh those memories I have are pure gold.
(photo credits – Electric Gardens/Armin Only Official)
Leave a Reply