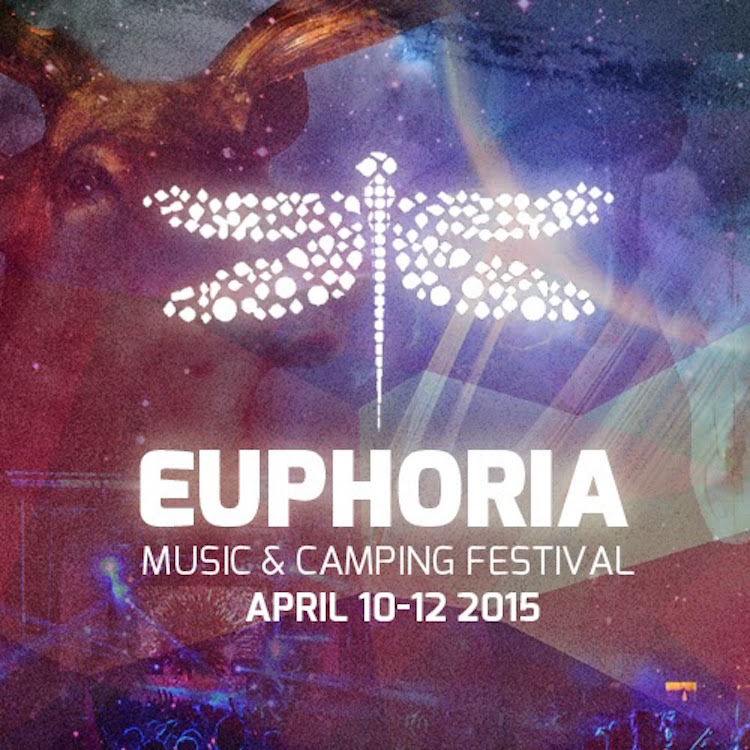 We are 7 days from the beginning of Euphoria Music and Camping Festival and the anticipation is quickly climbing. There are 80 artists spread out over the three days and the lineup is incredible. Euphoria has done a great job this year of providing a diverse lineup and an experience for attendees that will not be rivaled. Located minutes from downtown Austin, Carson Creek Ranch is a 20 acre paradise for Euphoria attendees next weekend looking to camp and enjoy the music, or just drive down for the day to see some of their favorite artists.
Diversity
The first thing I noticed after the initial lineup release is that there certainly is something for everyone. The headliners are diverse with the dreamy melodies of Pretty Lights to contrast with trap and hip-hop influences of RL Grime. Looking through the rest of the lineup we see more diversity as the bass heavy Adventure Club will play alongside the saxophone stylings of Big Gigantic.
It is important for festivals to introduce a diverse lineup to build a widespread fan base, instead of booking the same acts as previous years and drowning attendees in a sea of familiarity. Euphoria has gone above what is expected and given us 80 artists that can all be considered unique from one another. Austin is home to the famous SXSW conference where diversity is key, and it is great to see the tradition of excellence continue from the city and Euphoria itself.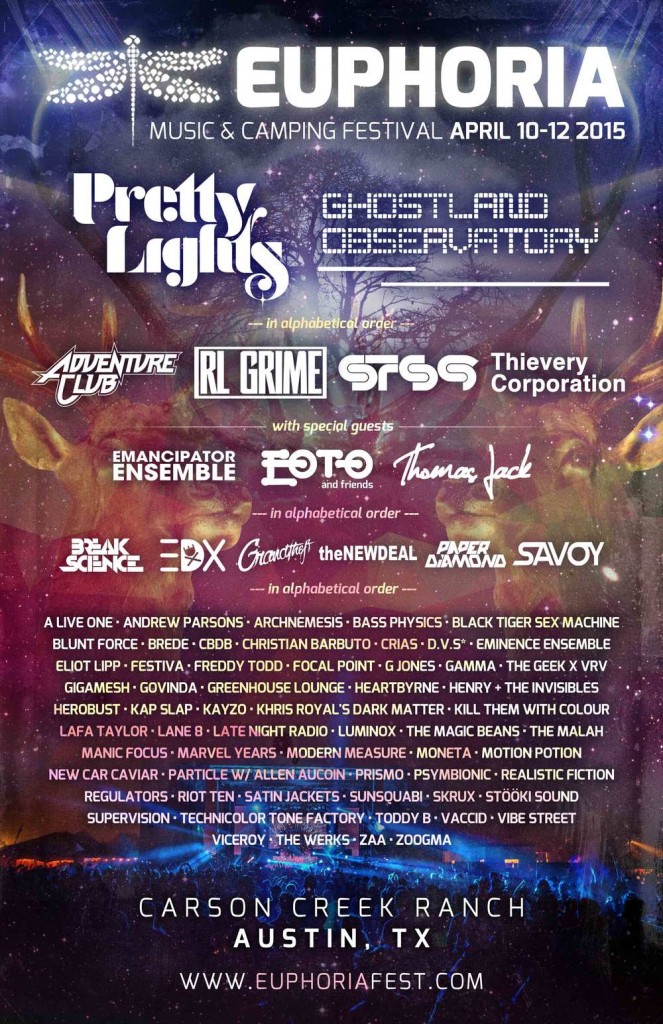 Colorado Acts
Though Euphoria is a festival being held in Texas, I noticed that there are many acts on the lineup from my home state of Colorado. To name a few, Pretty Lights, Big Gigantic, Savoy, Bass Physics, and Late Night Radio will be taking over Euphoria. Colorado has been noted as a national force in the electronic music scene for a number of years and it is great to see artists come up through our scene here and make an impact on a national scale. I was able to sit down with a Colorado group, Bass Physics, and speak with them regarding the influence of Colorado and what it means to them to be playing Euphoria. Shout out to Euphoria as well for booking so many great Colorado artists! I'll be repping my Colorado pride at Euphoria and thinking of how great Austin is.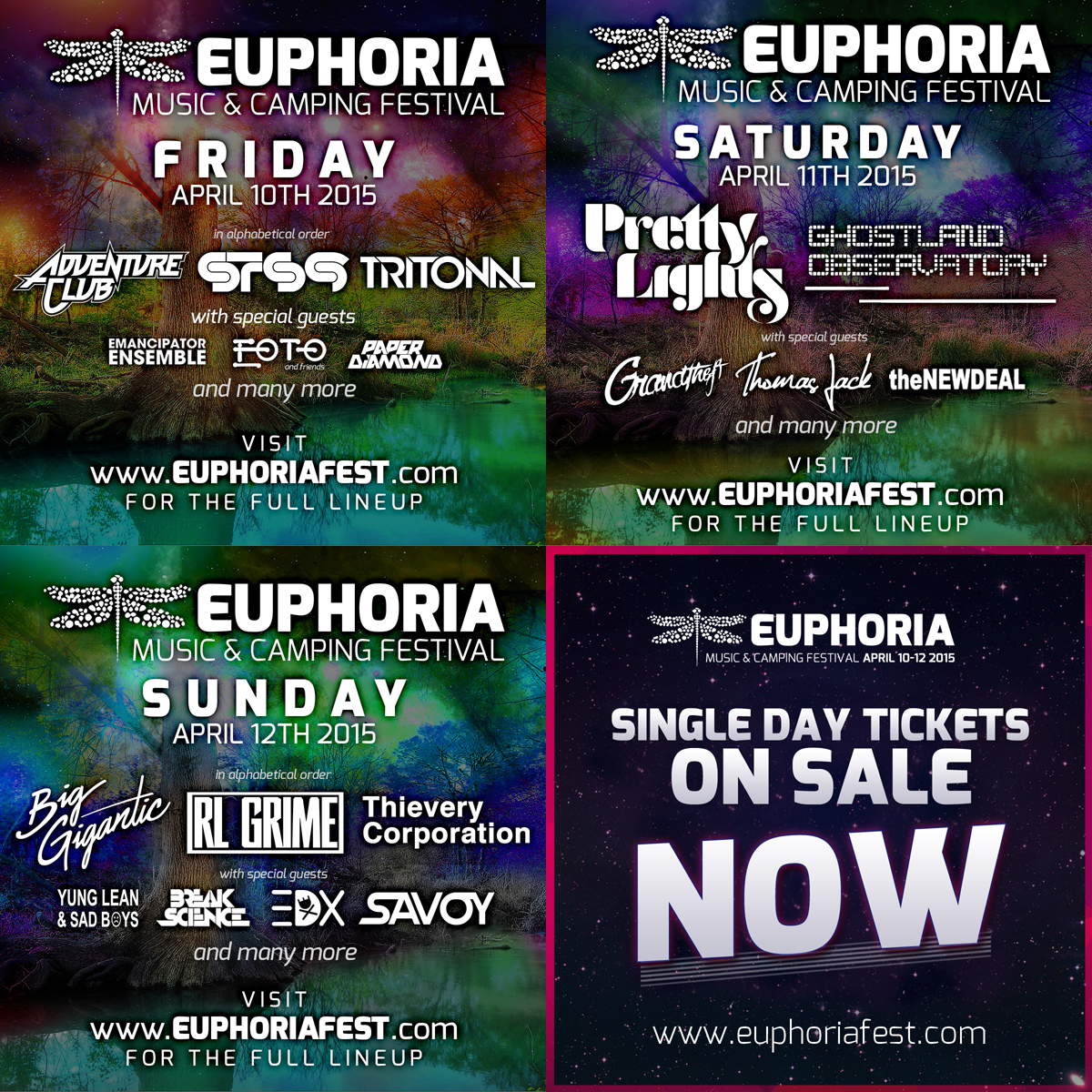 Manic Focus Interview
Recently I was able to talk with Manic Focus about playing Euphoria this year, as well as how his music will bring diversity to a lineup that features a variety of genres. A classically trained pianist at a young age, Manic Focus brings his hip-hop roots to the electronic music scene and provides us a unique style of music at Euphoria. Check out the full interview here!
Bass Physics Interview
Colorado natives, Luke and AP, or Bass Physics, will be playing Euphoria this year, their first festival outside their home state. I sat down and talked with both of them about the diverse lineup they are part of and what that means to them. We also chatted about their roots as a duo and what Colorado has done for them emerging into the electronic music scene. The audio of the transcript is posted below and you can check out the full coverage of the interview here!
[soundcloud url="https://api.soundcloud.com/tracks/199094548″ params="auto_play=false&hide_related=false&show_comments=true&show_user=true&show_reposts=false&visual=true" width="100%" height="150″ iframe="true" /]

Pretty Lights
Ghostland Observatory
Adventure Club
Big Gigantic
RL Grime
STS9
Thievery Corporation
Tritonal
Emancipator Ensemble
EOTO
Thomas Jack
Yung Lean & Sad Boys
Break Science
EDX
Grandtheft
theNEWDEAL
Paper Diamond
Savoy
A Live One
Andrew Parsons
Archnemesis
Bass Physics
Black Tiger Sex Machine
Blunt Force
Brede
CBDB
Christian Barbuto
Closed Caption
Crias
D.V.S
Dominick Reed
Eminence Ensemble
Eliot Lipp
Festiva
Freddy Todd
Focal Point
G Jones
Gamma
The Geek X VRV
Gigamesh
Govinda
Greenhouse Lounge
Heartbyrne
Henry
The Invisibles
Herobust
Hicks With Sticks
Jamiroqueen
Kap Slap
Kayzo
Khris Royal's Dark Matter
Kill Them With Colour
Lady Parts
Lafa Taylor
Lane 8
Late Night Radio
Louis Futon
Luminox
The Magic Beans
The Malah
Manic Focus
Marvel Years
MSCLS
Mikey Rodge
Modern Measure
Moneta
Montu
Motion Potion
Mr MPH
The Naked Maja
New Car Caviar
Particle w/ Allen Aucoin
Poe Junior
Prismo
Psymbionic
Realistic Fiction
Regulators
Resonant Frequency
Riot Ten
Rob Garza
Satin Jackets
Sunsquabi
Skrux
Stooki Sound
Supervision
Shwann
Technicolor Tone Factory
Team Unknown
Toddy B
Vaccid
Vibe Street
Wrestlers
Willgood VS Jay Fresh
The Werks
ZAA
Zoogma

Leave a Reply