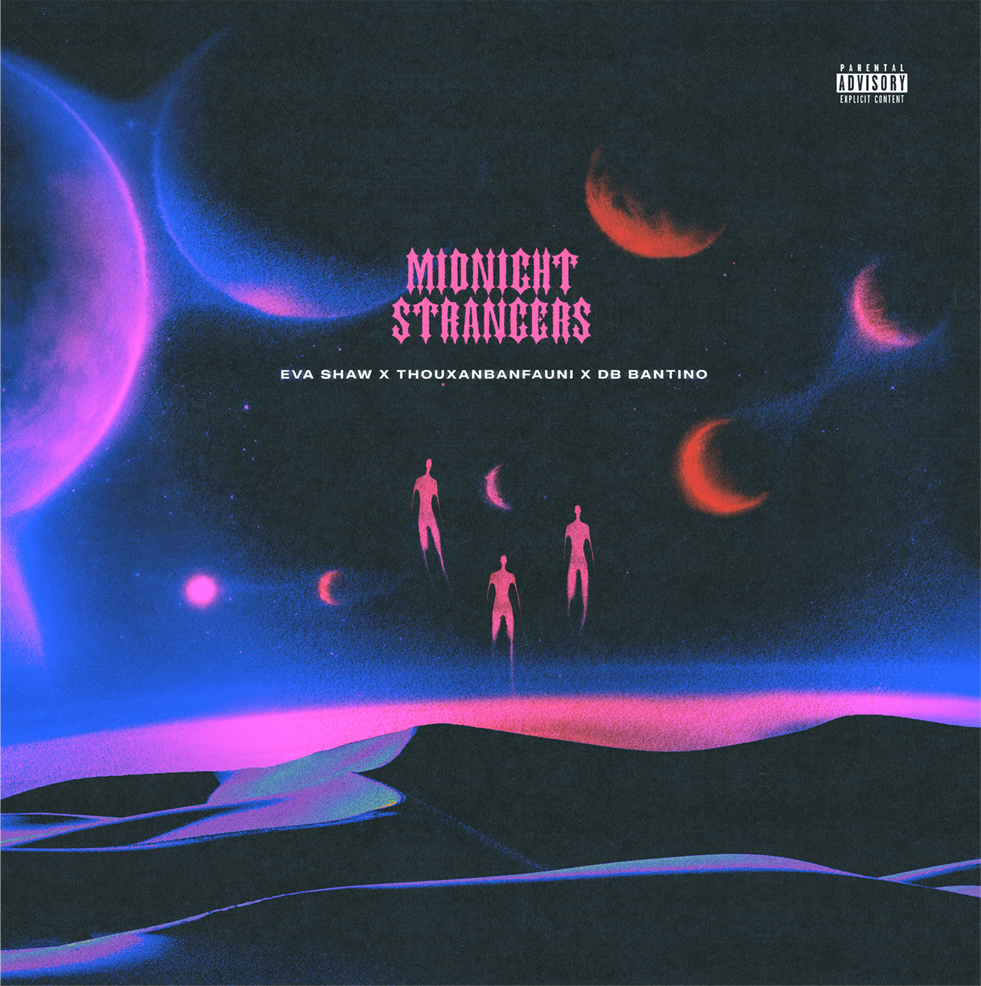 DJ/producer Eva Shaw returns to the release radar with a new single "Midnight Strangers" with Thouxanbanfauni and DB Bantino via her very own imprint, Mad Fatti.
The song immediately kicks off with a hypnotizing groove, directly paired with Eva Shaw and DB Bantino's vocals and features a prominent bass sounds. The track showcases pulsating production elements and a soulful atmosphere and at the halfway point Thouxanbanfauni's lyricism and flow take over, carrying listeners further.
Eva Shaw told us "Midnight Strangers is sexy, but also kinda dirty. I like R&B vibes with an edge and I feel like we got there with this record. Fauni and I have been working together for a minute now ('Home Invasion', 'STRIP', 'Diamonds' & 'RAQX') and he's def one of my favorite rappers. As soon as I got the demo going with DB, I immediately thought of Fauni to put his swag on it. He tells it like it is, in a unique way, like no other rapper. His way of saying shit just makes sense. DB is forever one of my favorite artists as well. His voice is crazy and the way the melodies just flow out of him inspires me. When I was working on finishing the track, I started thinking about music videos (as usual) and I just had this feeling like I wanted a female vocal somewhere in there to add some dynamics. So I was like, fuck it, I'm gonna try this myself. Took me more takes than I'm gonna admit (those notes are mad high) but I kinda liked it. I sent it to the guys to make sure I wasn't delusional about my own voice and they loved it."
DB Bantino added "This song became a reality when I started to think about the dynamic of a relationship that I was in. I started to realize that I only see this girl after everything in my day seemed complete. We could go for days even weeks without talking and then link up like not a moment was wasted. She approached everything the same way. It's almost like we spoke in code just sending each other emojis when the time was right and we both just knew what It meant. It felt like we weren't even thinking about each other until a specific moment. When she would come to me the first question she always asked was 'did you miss it?' And out loud I would say yes but in my mind I would know the truth. I knew that I wasn't even thinking about it until after midnight and she felt the same."
Enjoy it below.
Leave a Reply