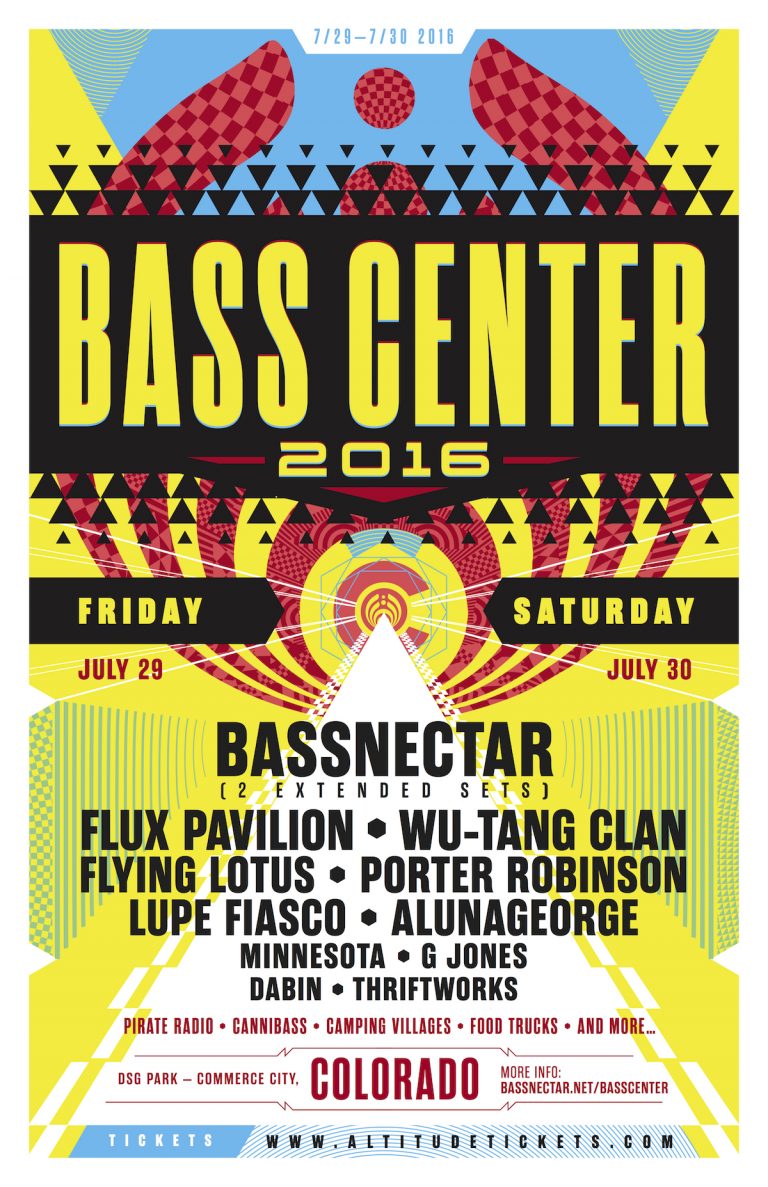 Since we live in a little city named Denver, which you may have heard is the bass capital of the world, you may have heard of a little event called Basscenter. Happening July 29th and 30th, this one-of-a-kind event will feature a HUGE supporting cast to the legend himself, Bassnectar. Playing two extended sets, and a proclivity for not playing even remotely the same set twice, bassheads the world over are in for quite a treat.
This is all going down next weekend at Dick's Sporting Goods Park where camping and plenty of other amenities will be available, whether you choose to stay or not. While only Bassnectar would be necessary to sell this place out, attendees will have the pleasure of seeing the likes of, Dabin, Minnesota, G Jones, Wu-Tang Clan, AlunaGeorge, Lupe Fiasco, Porter Robinson, and Flux Pavilion. Hopefully you sprung for the two day pass so you didn't have to choose between the other acts, and you'll see both sets of Bassnectars.
Fresh off the release of his "Unlimited" album, Bassnectar has been a mainstay at Red Rocks for years, routinely selling out 2 and 3 night runs at Red Rocks, it was about time for something a little different, I think this is exactly what he had in mind. Bassheads from around the country will make their way to Commerce City to spend the weekend amidst bass without the same noise restrictions as the rocks, plus plenty of camping and other late night fun with all of the after parties.
Supporting Bassnectar are heavyweights Flux Pavilion and Porter Robinson. Neither are strangers to Colorado, we tend to see them in a headlining role bringing their own cast along for the ride. With the release of the "Party Drink Smoke" EP, Flux and Doc P are back at it again, making sure fans around the world know Circus Records is here to stay. Porter on the other hand hasn't released anything since his remix of Nero's track "The Thrill". Though I did hear a rumor that Porter played something new for those in attendance at Electric Forest last month…
While those three names are impressive in their own right, the lineup gets even better with AlunaGeorge, Lupe Fiasco, Wu-Tang Clan, and more bringing a variety of genres to Colorado. We know Denver is all about that bass, but we definitely love a little variety here and there.
Should you be in attendance next weekend, make sure to bring proper ear protection as the music will be loud, the days will be hot, but most of all, the weekend will be awesome as Bassnectar makes his return to the Mile High city bringing along some of the best dance music there is.
Bassnectar
[soundcloud url="https://api.soundcloud.com/playlists/230541304″ params="auto_play=false&hide_related=false&show_comments=true&show_user=true&show_reposts=false&visual=true" width="100%" height="150″ iframe="true" /]
Flux Pavilion
[soundcloud url="https://api.soundcloud.com/playlists/230378605″ params="auto_play=false&hide_related=false&show_comments=true&show_user=true&show_reposts=false&visual=true" width="100%" height="150″ iframe="true" /]
Porter Robinson
[soundcloud url="https://api.soundcloud.com/tracks/200818581″ params="auto_play=false&hide_related=false&show_comments=true&show_user=true&show_reposts=false&visual=true" width="100%" height="150″ iframe="true" /]
AlunaGeorge
[soundcloud url="https://api.soundcloud.com/tracks/271399134″ params="auto_play=false&hide_related=false&show_comments=true&show_user=true&show_reposts=false&visual=true" width="100%" height="150″ iframe="true" /]
Leave a Reply