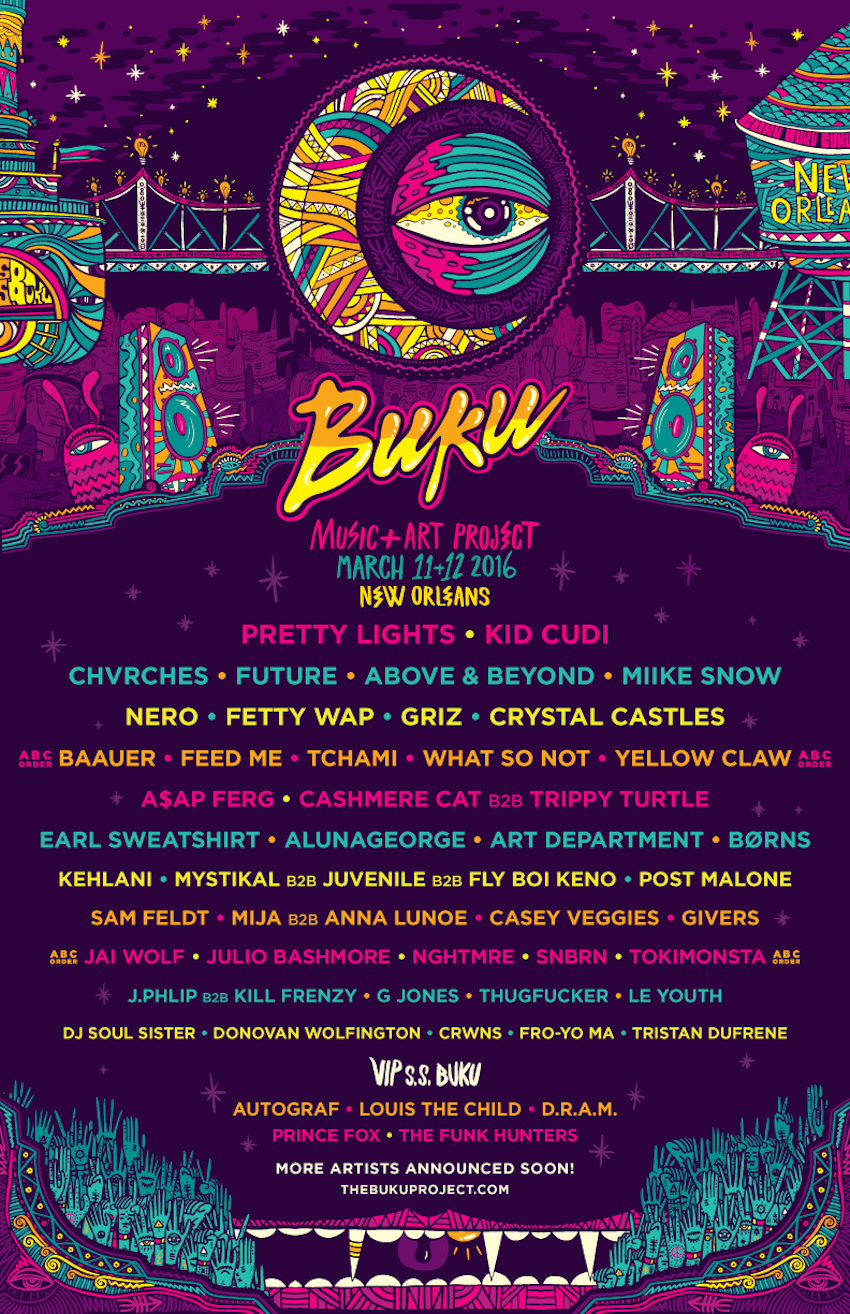 Down in New Orleans, Louisiana, March 11th & 12th, BUKU Music + Art Project is returning for it's 5th year, and the anticipation is only growing. BUKU is not only a music festival, but it's also a spectacle of different styles of art and performing arts. The famous "BUKU graffiti wall" is something to be sure not to miss checking out while you're there! They've put together 5 stages this year, featuring it's the newest edition, The Front Yard.
The Front Yard is made up of 6 musical performance groups and they are filled with local talents from jazz, to bounce, to hip-hop. Be sure to check out some of the local food and take a breather in their Geo Dome Lounge. it is sure to give you a break from all the action and that southern humidity, even this time of year. There is plenty of food to choose from and with the rich culinary history of NOLA, you are absolutely sure to try something you'll love. Make sure you get something different every day to get the full experience.
The Power Plant stage is outdoors and sits between an active railroad and the Mississippi River. Just beyond the stage you can see the old power plant still standing. Acts performing here are Pretty Lights with his live band, Kid Cudi, and Above and Beyond. The Float Den stage is a stage inside of a warehouse that actually MAKES Mardi Gras floats! One of the most prolific festivals in the world, and you get to dance where they make some of the main attractions. This stage looks to have a lot of production put into it, so it's definitely a good spot to get weird. G Jones, Mija b2b with Anna Lunoe, Datsik, and Yellow Claw are gonna be blowing the roof of the Float Den.
The Ballroom stage that will house Purity Ring, Cashmere Cat b2b with Trippy Turtle, and Crystal Castles, is basically a huge concert hall with a balcony and this year they've added new lighting & decorations to satisfy your senses. Get ready to rave on the riverside at the Back Alley stage with the soft blaze of the bridge across the river. They've brought back another fan-favorite, the VIP S.S. BUKU. The riverboat is specifically for VIP ticket holders where they'll get to see special performances not open to the rest of the festivalgoers. Some of these include Autograf, Sweater Beats, and Illenium.
Get #TOOBUKU this year and bring yourself on down to the Crescent City for this two-night celebration of art & it's many forms.
Here are some links to some of the artists that are going to be at BUKU, be sure to give them a listen.
Pretty Lights-
[soundcloud url="https://api.soundcloud.com/tracks/145381365″ params="auto_play=false&hide_related=false&show_comments=true&show_user=true&show_reposts=false&visual=true" width="100%" height="150″ iframe="true" /]
G Jones-
[soundcloud url="https://api.soundcloud.com/tracks/235449132″ params="auto_play=false&hide_related=false&show_comments=true&show_user=true&show_reposts=false&visual=true" width="100%" height="150″ iframe="true" /]
Mija-
[soundcloud url="https://api.soundcloud.com/tracks/243903080″ params="auto_play=false&hide_related=false&show_comments=true&show_user=true&show_reposts=false&visual=true" width="100%" height="150″ iframe="true" /]
NGHTMRE-
[soundcloud url="https://api.soundcloud.com/tracks/245105721″ params="auto_play=false&hide_related=false&show_comments=true&show_user=true&show_reposts=false&visual=true" width="100%" height="150″ iframe="true" /]
Purity Ring-
[soundcloud url="https://api.soundcloud.com/tracks/243727486″ params="auto_play=false&hide_related=false&show_comments=true&show_user=true&show_reposts=false&visual=true" width="100%" height="150″ iframe="true" /]
Leave a Reply